The team on Honda Marine felt a range of emotions yesterday after winning a third-straight JJ Giltinan Trophy but the overriding one was still elation.
David McDiarmid, Matt Steven and Brad Collins sailed impressively all week in trying circumstances to take the 18-foot skiff world title by four points over Winning Group. Smeg were a further 23 points back in third.
They will now return home and face the prospect of self-isolation due to the Covid-19 outbreak and return to a New Zealand that is very different to the one they left two weeks ago.
"There was a lot of relief [after claiming the title] because it had been a bit of an unnerving week with all the uncertainty," Steven said from Sydney airport. "Every day we didn't know what was going to happen by the end of the day. It was a massive relief.
"They told us the night before [each day's racing] they intended to race but they didn't know if they were going to be closed down. They were quite punchy. They were the only thing running in the whole of Sydney, pretty much. We were always keen to stick it out unless we had no option but to come home.
"We are stoked. It was a pretty special moment last night. We were still buzzing off it for sure. It's a bit different, a bit weird, but finishing racing yesterday we were really happy."
Honda sailed consistently well all week, never finishing outside the top four across the nine-race regatta, and relied on their speed and slick boat handling to get them to the front of the fleet. There were a couple of sticky moments yesterday, not least of all when they nearly tangled with the Manly ferry a couple of times in the penultimate race, even though there was barely any other traffic on Sydney Harbour.
"Normally you are crowded by cruising and pleasure craft so it was quite nice, actually," Steven said. "Basically it was an open race track. There was not much interference apart from the ferries, which gave us a bit of a false sense of security and in that second last race we got caught out twice, nearly quite badly, but we managed to deal with it.
"We pretty much had to go across the bow of a ferry or stop completely and wait for it to go past. We were close, probably 200m. If the ferry had tooted us that's an instant disqualification. We put it on the line a little bit and it came good."
Most things came good all week with only Winning Group presenting much of a challenge.
Of the two other Kiwi boats, C-Tech (Alex Vallings, Sam Trethewey, Matt Coutts) finished 11th and Maersk Line (Peron Pearse, Eli Liefting, Harry Clark) 14th in the 26-boat fleet and Maersk took out handicap honours.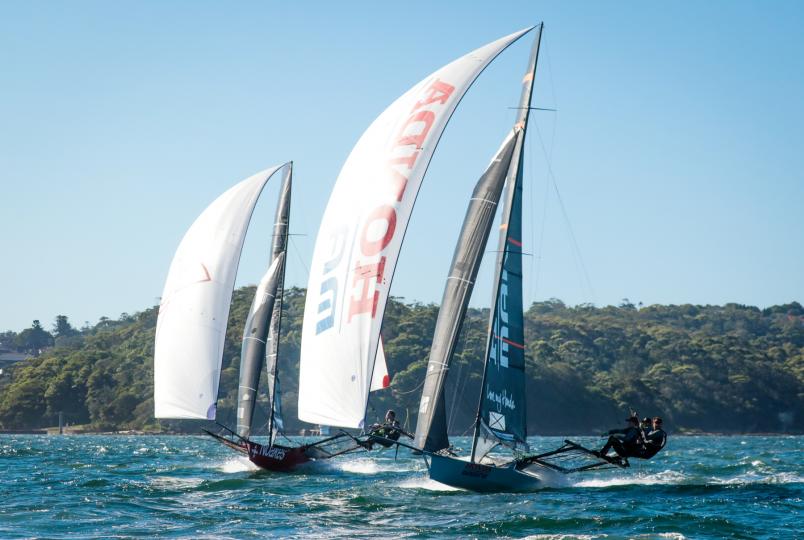 Steven said Honda Marine would love to go for a fourth JJs title but didn't know when, or where, that might be. They are unlikely to return to Sydney next year if it clashed with the America's Cup.
The team have been petitioning for the event to be staged in Auckland for some time, to bring it in line with the historical approach when it was rotated around various venues on both sides of the Tasman, but to this point have come up against staunch opposition from organisers determined to see it remain in Sydney.
"There are a lot of Australian sailors pretty keen to come over during that America's Cup time [and race a JJs here]," Steven said. "We have definitely made steps forward, there's more talk about it.
"Whether or not it will be the JJs we are not sure but there are positive talks there will be an event in Auckland. We would love it to be the JJs to bring back the tradition and history of the event but we will see what happens.
"We always used to run the Anzac regatta around Anzac day and would get about eight boats come over from Australia. Last year was the first year we hadn't run it for about 10 years because they decided not to come. There's definitely quite a lot of interest."
For now, McDiarmid and his family face two weeks in self-isolation at their home and Steven and Collins, who share a flat together with three others, plan to jump on Steven's family cruising boat for the next fortnight.
It won't be the homecoming they might have imagined, when they could share their victory with family and friends, but the trio will be relieved to be home. And in the current climate, that is something to be cherished.
Results and standings from the JJ Giltinan Trophy in Sydney:
1st: Honda Marine 1 1 3 2 3 1 (4) 1 2 - 14 points
2nd: Winning Group 4 2 4 (5) 1 3 1 2 1 - 18 pts
3rd: Smeg 5 4 7 (15) 8 2 3 8 4 5 - 41 pts