Classes go through cycles of popularity and there would be few enjoying such good growth as the 29er right now.
A record 30 boats turned up at the Howick Sailing Club for the 29er national championships over the Queen's Birthday weekend, jumping up from 23 for last year's nationals and 18 in 2017.
Campbell Stanton and William Shapland took out the title, winning on countback over Eli Liefting and Jack Frewin, with Brayden Hamilton and Pat Morgan only three points behind in third.
Sophia Fyfe and Holly Liefting, who will soon head to Poland as part of the NZL Sailing Foundation Youth Team to compete at next month's youth sailing world championships, were the leading female crew and 14th overall. 
The four-day regatta was initially hit by strong winds, which tested many in the fleet - the second day was cancelled - before light winds took over. It meant only nine races were staged so every point counted.
There was a bit of a buzz around the 29er when it was first introduced to the country in the early 2000s but it has been up and down in the intervening years. Numbers were fairly low about five years ago but have seen a steady increase in recent times.
There are various reasons for this, including the desire by many youngsters to get into faster boats, the perceived pathway into 49ers and 49erFXs and success on the international stage, but just as importantly was a collaborative approach by a number of clubs to try to build the fleet.
This gained greater traction when sailors from the Kohimarama Yacht Club bought about five boats to ensure a meaningful Auckland fleet.
Various have a go days were also held in an effort to appeal to sailors unsure about their next move, making the class both accessible and visible.
"The collaboration between clubs has been exemplary," 29er president Jason Morgan said. "We also have a very good relationships with the clubs feeding into the class."
There was a strong representation of sailors from outside of Auckland at the nationals, with some from as far afield as Dunedin in the south and the Bay of Islands in the north.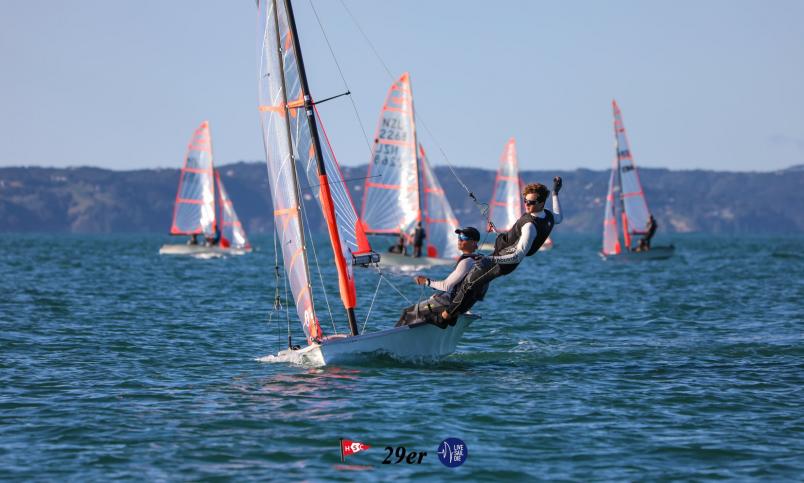 Eli Liefting and Jack Frewin finished second on countback. Photo: Live Sail Die.
Those in the class talk about a three-year progression. There's usually a lot of swimming in the first year as youngsters get to grips with the new boat followed by a year of sailing it properly and then a final year racing it properly.
Many of those at the top of the fleet are likely to be moving on, meaning there should be some good second-hand boats hitting the market soon.
"You can get a good second-hand boat for about $9000," Morgan said. "If you have two people paying for it, then it works out cheaper than a new Starling. You do your training in an older boat and then look to get a newer one later."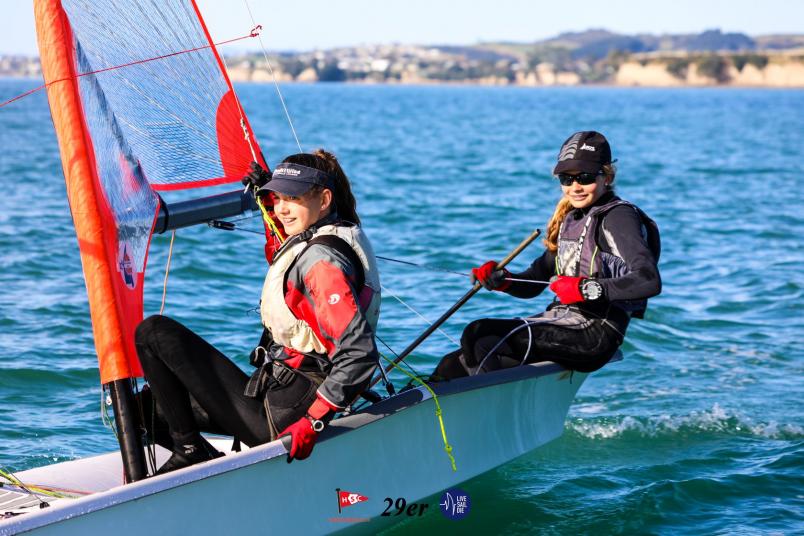 Meg Catley (left) and Stella Bilger sailed in their first 29er nationals together. Photos: Live Sail Die.
An encouraging aspect of the national championships was the presence of five female crews and seven mixed crews and it's part of Yachting New Zealand's strategy to grow and then retain female numbers.
Stella Bilger and Meg Catley, who teamed up for their first 29er nationals over the weekend, summed up the appeal of the class when they said: "We like the 29er because it goes really fast and we can talk together and make decisions together while we are in the boat." 
Results and standings from the 29er national championships at the Howick Sailing Club:
1st: Campbell Stanton / William Shapland (MBSC/KYC/RNZYS/RAYC) (3) 3 3 1 1 1 2 1 (6) - 12 points
2nd: Eli Liefting / Jack Frewin (RAYC/HSC) (7) 2 1 (3) 3 2 1 2 1 - 12 pts
3rd; Brayden Hamilton / Pat Morgan (WBC/KYC) 1 1 2 2 (4) (7) 3 4 2 - 15 pts
1st females: Sophia Fyfe / Holly Liefting (RAYC) 10 10 10 (31 UFD) 7 10 (31 UFD) 31 RET 15 - 93 pts