Pleasant Point Yacht Club are making rapid progress with the rebuild of their facilities eight years after their Rat Island site was destroyed by the first earthquake in 2010.
The 2018/19 season will be the last one the club will operate out of the five containers on the South New Brighton Park they have used for more than five years, working with no power, showers or toilets.
The official opening of the club's new facilities will take place on the club's opening day for the 2019/20 season, which will be some time in September.
Pleasant Point had originally planned a bespoke building but, after more than a year trying to raise funds with little success, made the hard decision in late 2017 to go in a different direction in order to deliver new facilities to the club's loyal members.
In December 2017, the committee decided on the purchase of two 12m by 12m relocatable buildings originally built for the University of Canterbury as cover for their earthquake-damaged buildings.
The university had more than 100 of these buildings constructed for them in 2011 but are now surplus to requirements and are being sold off in a package that includes shifting them off the university site and onto their new owners' land.
Pleasant Point will use one as the 144 square metre clubhouse with an open plan layout, including kitchen, trophy cabinets, tables and chairs and lounge furniture. The second building will be built as a changing room/toilets block but will also include the start box and a committee meeting and lecture room.
Extensive decks that look out over the Avon-Heathcote Estuary will join the two buildings.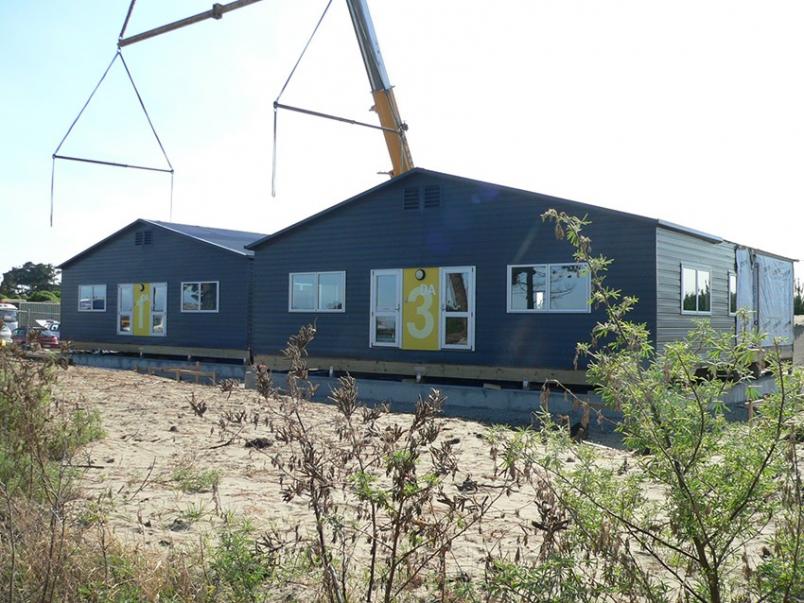 Work started in early January with site clearance and foundation building, with the two buildings being brought onto the site in early March. Then the work started in earnest, converting the two buildings for their future use.
"This was never going to be sprint," Pleasant Point Yacht Club spokesman Nigel Humphreys said. "We knew it would be a marathon, but in reality it has turned out to be several marathons, but now the finish line is in sight.
"The club acknowledges the support we have had along the way from the local Coastal-Burwood Community Board, the Christchurch City Council and numerous other individuals, companies and organisations who have assisted the Club get back on its feet. And we wouldn't have gone anywhere without the funding assistance from the New Zealand Community Trust, the Rata Foundation, Lotteries and the America's Cup Community Benefit fund."
Once this part of our re-build is complete, the club will set about fundraising for a new boat shed to house their rescue boats, club yachts and club member's yachts.