There will be something, or more accurately someone, missing from this weekend's Yachting New Zealand annual general meeting and it won't feel the same.
Hal Wagstaff passed away recently aged 88 after a short stay in North Shore Hospital.
He was a regular attendee at the AGM, and was usually found resplendent in his blazer and Yachting New Zealand tie. 
"He was always very courteous, professional and proper and was sometimes quite picky about correctness and protocol," Hal's eldest son Stephen explained. "He was always willing to share his knowledge and opinions and always willing to have a discussion with people."
Hal Wagstaff had plenty to talk about. He was an architect, sailor, yachting administrator and international judge and umpire but probably best known as a renowned boat designer. 
He trained as an architect, moving to London in 1953 and, after working for several years in and around the UK merged his interests and began designing yachts. He built his first boat aged 16.
Hal developed, among others, the R Class, Cherub, Javelin and various keelboats. He enjoyed designing boats within classes that allowed innovation and evolution and designed and built the first moth to New Zealand in the 1960s and developed the design which was later adopted as the international Moth.
The class has recently joined the foiling revolution and it's something Hal probably approved of given his philosophy to design.
Hal Wagstaff's first Moth, Puriri, was the first in New Zealand of what is now known as the international Moth. Photo: supplied.
Speaking generally about yacht design in 2004, he said: "Many of the designs in use today were devised 40-50 years ago. Heavy and dour, they don't stimulate the spirit. It's important to move on, or we'll lose out to whatever marine sport makes kids feel good.
"Looking back is fine, but as our national champion Sir Edmund Hillary says, don't get bogged down. Use what you learn about the past to move forward."
Hal was able to bring this approach to yachting administration over more than 70 years.
He had been a top youth sailor at Wellington's Evans Bay Yacht & Motor Boat Club and joined the club's administration in the 1948/49 season.
This developed exponentially and, among his many roles, he managed the New Zealand sailing team to the 1972 Olympics, was a member of the executive on the New Zealand Olympic Committee (1970-93), Yachting New Zealand president (1989-91) and in 1994 he became the first New Zealander appointed as a vice president of the International Sailing Federation (now World Sailing).
As an international judge and umpire, Hal officiated at more than 50 major international or world championships regattas.
He was widely recognised for his service and accomplishments, receiving an OBE in 1985, membership of the New Zealand Olympic Order in 1994, a long service gold medal from ISAF in 1998, life membership of both ISAF and Yachting New Zealand and he was also made a fellow of the New Zealand Institute of Architects.
But Hal was much more than a list of titles and accomplishments. He cared about the sport and the people within it. 
"His personality was waggish and droll and he could tell a joke with the best of them," said Adrienne Greenwood, who was Yachting New Zealand chief executive when Wagstaff was president. "Hal and I had a very good working relationship and over the years after his presidency we became good friends.
"Throughout the time I knew Hal, he played a very good hand. With his artistic and architectural background, he sent Christmas cards, all hand drawn, of some interesting place or thing. They became iconic. He did not forget old friends and I simply reflect on how time has flown since we were both involved in sailing."
Current Yachting New Zealand president Greg Knowles, who went to two Olympics as a sailor, remembered the first time he met Hal.
"My lasting memory of Hal Wagstaff was at Kiel Week in 1987," Knowles explained. "Murray Jones and I had been T-boned in our Flying Dutchman by a port tacker who had put a massive hole in our boat which just about sank us. We were shell-shocked when we got back to the boat ramp. 
"Then Hal turned up in the boat park out of nowhere (I had never met him before) and said, 'come on guys, we can sort this out'. With Hal's help, we repaired the damage and were back out on the water for racing the next day. He was a positive force for sure."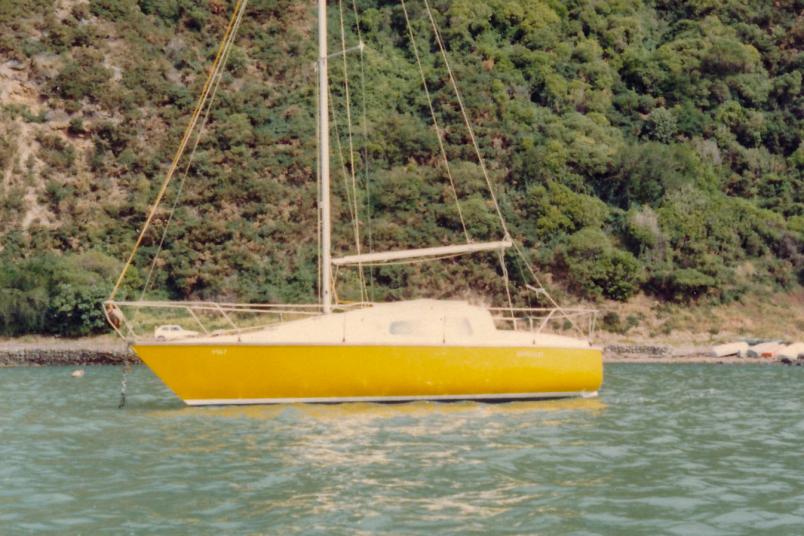 The Harmonic 24 was the most popular of Hal Wagstaff's designs and he enjoyed sailing his own Harmonic Advocaat. 
Hal's own racing career continued until 2009, winning various regional, island and national titles, and loved nothing better than to sail and compete with old friend Don St Clair Brown on Dragons and then Anticipation. Many of his designs also enjoyed considerable success nationally and internationally.
"Hal Wagstaff will be a great loss to yachting in New Zealand," Yachting New Zealand chief executive David Abercrombie said. "He had an unparalleled career in design and service to New Zealand yachting.
"Hal rarely missed an AGM, always kept a close eye on what was happening around the country or on the international stage and loved to pick up the phone and, in the most polite way, offer a clear and precise perspective on whatever was topical. Hal was generous with his time and expertise and could be described as one of life's true gentlemen."
Pic: Hal Wagstaff (right) pictured with Ken Searle, who competed in one of Hal Wagstaff's designs. Photo: Royal Akarana Yacht Club.