Dorian van Rijsselberghe has a website called the Life of Dorian.
Like a lot of athlete websites, it talks about his past, his present and his future – his journey as a windsurfer.
For more than 10 years he's been accompanied by his coach, New Zealander Aaron McIntosh. The pair have worked together since 2008 and in that time van Rijsselberghe has won two Olympic gold medals (the only windsurfer to win back-to-back golds), two world titles and last year was a nominee for World Sailor of the Year.
Last year's world championships in Aarhus was doubly special for McIntosh, with another of his charges, Kiran Badloe, winning silver in a Dutch one-two.
"I'm super-happy with Aaron," van Rijsselberghe says. "He's made me into this racing machine when I'm on and got all the talent and potential out of me that I have. He's seen me from this quirky little 19-year-old into a 30-year-old who's married with two kids. It's been a journey."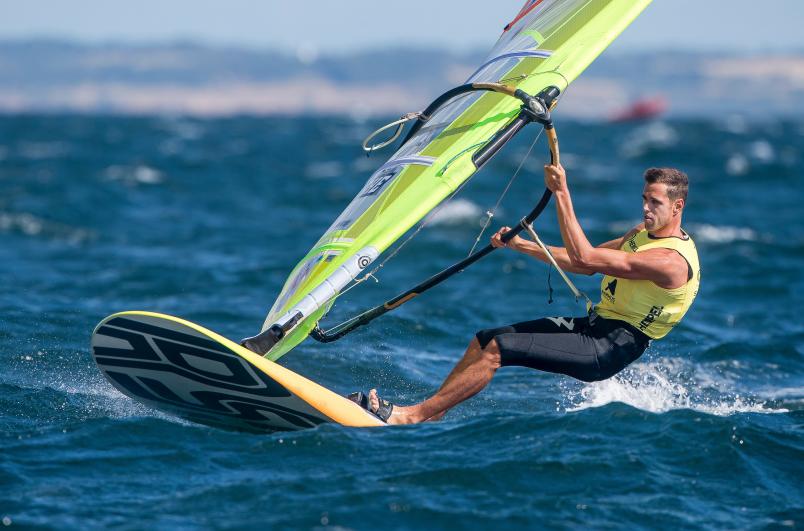 Dorian

 van Rijsselberghe won his second world title last year. Photo: Sailing Energy / World Sailing.
Banner image: Kiran Badloe, Aaron McIntosh and 

Dorian

 van Rijsselberghe celebrate a Dutch one-two at last year's world championships. Photo: Sailing Energy / World Sailing.
McIntosh was part of a golden period of New Zealand windsurfing that netted seven Olympic medals and multiple world titles. He won bronze at the 2000 Sydney Olympics and three world titles and has enjoyed continued success as a coach - last year he was named Netherlands sailing's Coach of the Year.
The 47-year-old still lives in New Zealand, spending six months of the year on the road, and each year his sailors venture to this country to train during the northern winter.
They have more company this summer, and a big international contingent are competing in this weekend's RS:X national championships at Takapuna. They're all here to familiarise themselves ahead of next February's RS:X world championships, when as many as 150 of the world's top windsurfers will compete.
The world championships will be used as a final Olympic selection event for the Dutch windsurfers and whoever gets the nod will have a good chance in Tokyo.
In fact, Dutch hopes will be high in a number of classes at the Games, especially after they finished on top of the medal table at last year's sailing world championships. McIntosh is very comfortable with his role in the system but admits his methods can sometimes draw attention.
"Everyone says, 'you look like you are having too much fun, when are you going to get serious?' Well, we are actually serious about everything. We love what we do and keeping it fun is a bit of a disguise for getting the work done. As soon as it becomes a chore or becomes work, you have to be creative on how to get the job done.
"When it becomes race time, it's pretty simple. It's just you, your mind, your body and your equipment. Then you go racing. All the work is done. It's very complex to start with but becomes very simple at the end."
One of the ways McIntosh mixes things up is by going foiling windsurfing, or windfoiling, and as many as 20 international windsurfers recently travelled up to the Bay of Islands for a foiling week. McIntosh can often be found windfoiling, and was among the competitors last week, and he's convinced it's the direction the Olympics needs to go.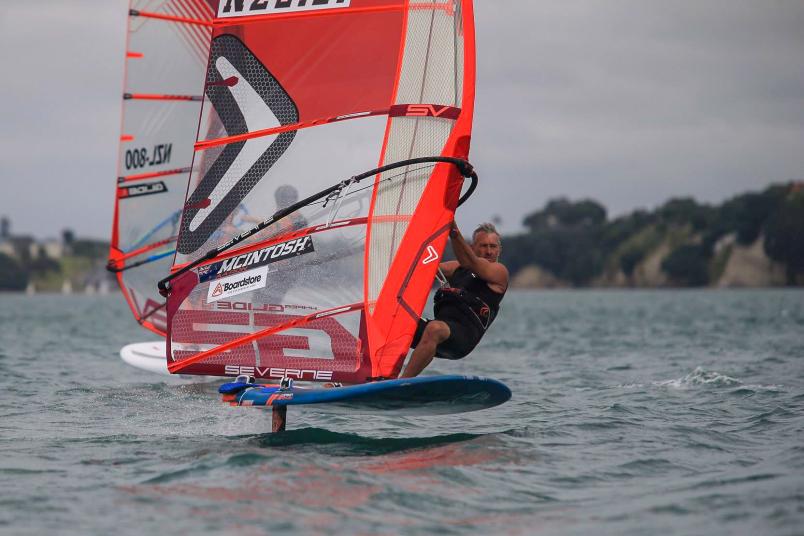 Aaron McIntosh is a big supporter of windfoiling. Photo: Warwick Jaine.
At this stage the RS:X has been chosen for the 2024 Paris Games but is subject to equipment re-evaluation. McIntosh has been involved in presenting a possible windfoiling package to World Sailing and fellow Kiwi Bruce Kendall has also put forward an alternative windsurfer, a Glide 2990, for consideration.
"Windfoiling has the potential to turn Olympic windsurfing into something very, very special," McIntosh says. "It performs in 6-25 knots quite comfortably, is fast and spectacular. It's removed the physical element, so the pumping is not in there. What I think it's done is rejuvenated the windsurfing spirit in New Zealand.
"I think the key is to really inspire a new generation. Sailing has evolved and windsurfing has evolved, too. Everyone is foiling these days. You can capture the imagination of the young generation. Sailing four knots upwind is not really acceptable any more. We are doing 17-18 knots upwind in 12 knots of breeze. That's phenomenal."
It could be argued McIntosh and his sailors have the most to lose if windfoiling replaces the RS:X, given their success on the RS:X over the last decade.
"There's a bigger picture at play," McIntosh explains. "We just want to share something really special. If our guys are as good as they are, they will jump in the other class and dominate that class as well. It's just another yacht, it's just another boat. What I teach is applicable to all the Olympic classes."
It's all just part of the journey.