The future of Olympic windsurfing is likely to be decided next month and it is appropriate that at the forefront of discussions are options put forward by a couple of Kiwis who once ruled the sport. 
Aaron McIntosh and Bruce Kendall both have packages up for consideration by World Sailing to be the equipment of choice for windsurfing at the 2024 Paris Olympics. Five options are presently being tested at Lake Garda in Italy with a World Sailing committee likely to make a recommendation for the full World Sailing council to vote on in November.
The RS:X was first used at the 2012 London Olympics and will again feature in Tokyo next year but has many detractors, including many of the sport's top sailors and coaches who say it is too expensive for what it is, not durable enough and far too physically demanding. Even two-time Olympic champion Dorian van Rijsselberghe, who is coached by McIntosh and who it could be argued has the most to lose with any change, implored World Sailing to consider a different option.
Among the five windsurfers being tested are three windfoiling packages, the RS:X and Kendall's Glide design.
The one perhaps capturing the most attention is Windfoil1, which is being driven by a handful of individuals including McIntosh and fellow Kiwi Antonio Cozzolino, van Rijsselberghe and America's Cup sailor Glenn Ashby. The foiling revolution that is transforming sailing has also reached windsurfing and it's seen a resurgence of the sport in New Zealand. 
As many as 50 competitors took part in this year's inaugural national championships and many others can be found buzzing around harbours and lakes throughout the country.
"Windsurfing has gone through a dramatic change over the last two years," says McIntosh, who won bronze at the 2000 Sydney Olympics and three world titles. "It's all happening above the water. We are flying. It's faster, more dynamic and windsurfing is cool again. The current classes are quite stagnant and stuck in the past. Windfoiling has taken windsurfing to another level and that's pretty exciting.
"I think the key is to really inspire a new generation. Sailing has evolved and windsurfing has evolved, too. Everyone is foiling these days. You can capture the imagination of the young generation. Sailing four knots upwind is not really acceptable any more. We are doing 17-18 knots upwind in 12 knots of breeze. That's phenomenal."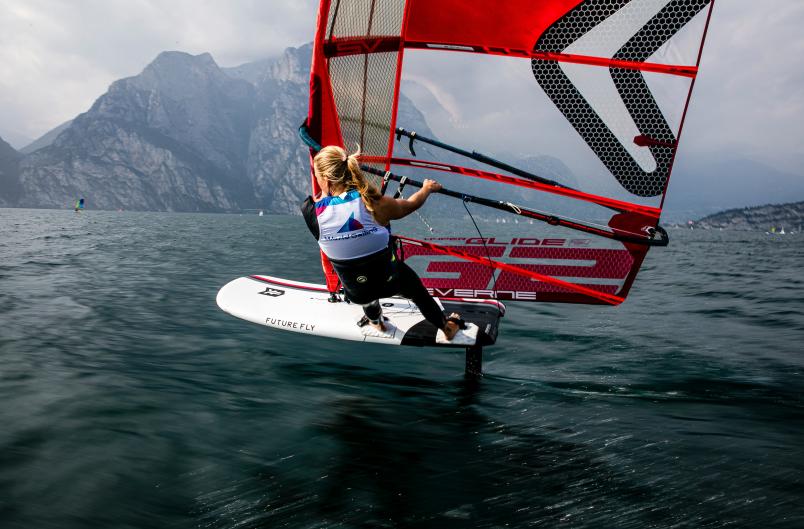 The Windfoil1 being tested this week. Photo: Sailing Energy / World Sailing.
Kendall enjoys windfoiling but is concerned it will become too expensive like, he says, many other Olympic classes.
The two-time Olympic medallist and sister Barbara, who won three Olympic medals, didn't come from a privileged background and believes affordability should be at the top of World Sailing's list.
"If you look at my results, the only time I did well was when the equipment was provided at the Olympics and world championships because I could never afford to buy the top-of-the-line gear," he says. "It's very important someone from my financial background has the chance to win an Olympic medal and currently that's not the case. It's wrong. It's totally against the whole principles of the Olympics. 
"The Olympics should be a competition between the athletes, not the equipment. Rather than complain about it, I've come up with a solution."
What he came up with was the Glide, a design that Kendall says is lighter, faster and more durable than the RS:X. It also comes with an 8.5m rig for both men and women to help reduce manufacturing costs and make it easier to resell.
It was a design that came out of a request by multiple world windsurfing champion Peina Chen, who wanted a windsurfer that could be used by the learn to sail and learn to race market as well as at high performance level. About 100 have been made since production started at the beginning of the year and comes with a price tag of about $7800.
Kendall knows his design is up against it at the World Sailing table.
"The hard thing is the foiling crew have done a really good job of promoting foiling," he says. "Let's face it, foiling is awesome. It's really good fun but I can't afford that stuff. Everyone would rather race a Porche than a Mini Minor but not everyone can afford a Porsche. 
"Should Olympic windsurfing be chasing the new thing all the time? No, it shouldn't. I still support the RSX for the next Olympics. That's plan A. The reason is there's a lot of second-hand equipment out there. I really want yachting to be a big global sport which can only be achieved by reducing costs and yachting continues to rush into the newest and more expensive thing and I think it's fundamentally wrong. The Glide is an excellent plan B if the RS:X issues are not solvable."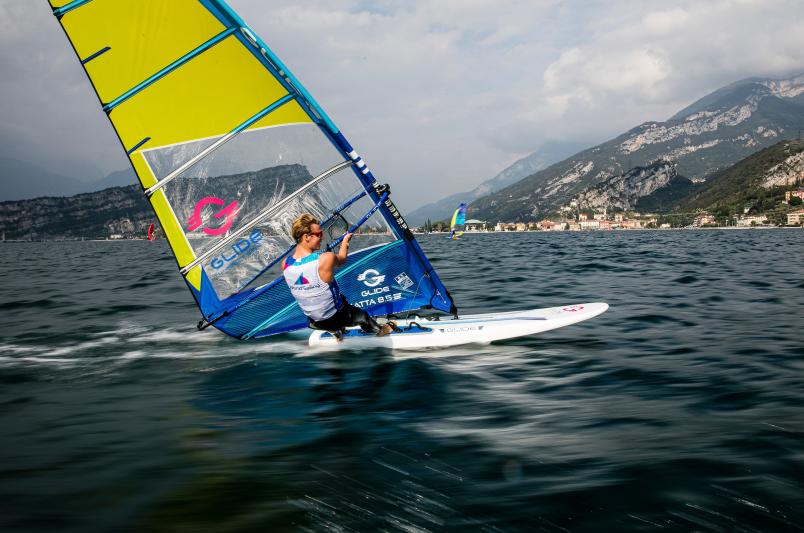 The Glide being tested on Lake Garda this week. Photo: Sailing Energy / World Sailing.
McIntosh disagrees that windfoiling is expensive, citing the fact an entry package costs about $2000 (an Olympic package would be about $10,000-$17,000), and said it was time World Sailing listened to what athletes wanted. Part of his vision is also to introduce multi-format racing on a variety of short, medium and long courses.
"We're a scrolling society," he says. "If there's the option to watch a three-minute, high-octane race with some super athletes, you're going to do it rather than watch a 20-minute medal race or 40-minute standard race. We don't want to remove the racing and traditional side of the sport but we want to include other formats that maximise engagement."
The delay in confirming the windsurfing equipment to use at the Paris Olympics appears to have played into windfoiling's hands, with proponents like McIntosh able to spread their message further. It's also coincided in considerable growth of the sport.
"Everything is quite late. For windfoiling, that's a blessing because the engagement and uptake from a year ago is massive. A year ago it probably wasn't a viable consideration but right now it's almost the only choice."
The other four designs might dispute that but it's certainly an interesting time for the sport.