Yachting New Zealand are getting behind Live Ocean, a marine conservation charity set up by Olympic sailors Peter Burling and Blair Tuke, and have encouraged members to join them in sponsoring a GPS satellite tracker to help save the Antipodean albatross.
The national sports organisation have contributed $1000 towards the $6500 needed to fund a GPS satellite tracker, which will be placed on one of the Antipodean albatrosses. The trackers can pinpoint the location of the birds to within a few metres and that information is then overlaid with global fishing watch data to identify and work with fishing fleets on ways to keep our albatrosses safe from being hooked.
"Albatrosses have a special connection with sailors and one of the reasons we are getting on board is that we believe albatrosses reflect the heath of the world's oceans," Yachting New Zealand chief executive David Abercrombie said. "This is one way we can make a positive impact on the oceans and survival and growth of the Antipodean albatross. We have to ask ourselves if we're willing to let this incredible ocean navigator disappear forever."
New Zealand is the seabird capital of the world and more species of seabirds breed on our mainland and offshore islands than any other country.
However, a shocking 90 percent of our seabirds are threatened with, or at risk of extinction. In addition almost one-third of marine mammals are threatened and less than 0.5 percent of our marine territory is fully protected.
Burling and Tuke, who are fresh off winning their fifth 49er world title, recently announced the creation of Live Ocean and their first initiative is to work with the Southern Seabirds Solutions Trust to identify and accelerate positive action including satellite tracking, seabird smart fishing practices and innovation.
"It's hard to imagine just how big they are until you see them, with their 3m wingspan," Burling said. "The albatross has a special connection with sailors and this project to track them is the first step to saving them."
Tuke added: "We have our blinkers on when it comes to the ocean. It's much harder to see the issues than on land. The Antipodean albatross is an indicator of what's happening in the ocean. We need to step up as a team because there are things we can do today to save them from extinction. These birds are New Zealanders."
The breeding population of the Antipodean albatross has declined from 17,000 in 2004 to 6000 in 2019. This means around 800 are dying each year - that's approximately two dying on average a day. It's believed they're dying as a result of interactions with long-line fishing fleets in the north Pacific.
Antipodean albatrosses breed only in New Zealand, on the Antipodes Islands, 750km south-east of Dunedin. They have a 3m wingspan and are known for their exceptional navigational and voyaging ability and spend most of their life at sea. One tracked last year as part of a trial of the trackers found one did 178,000 km in nine months.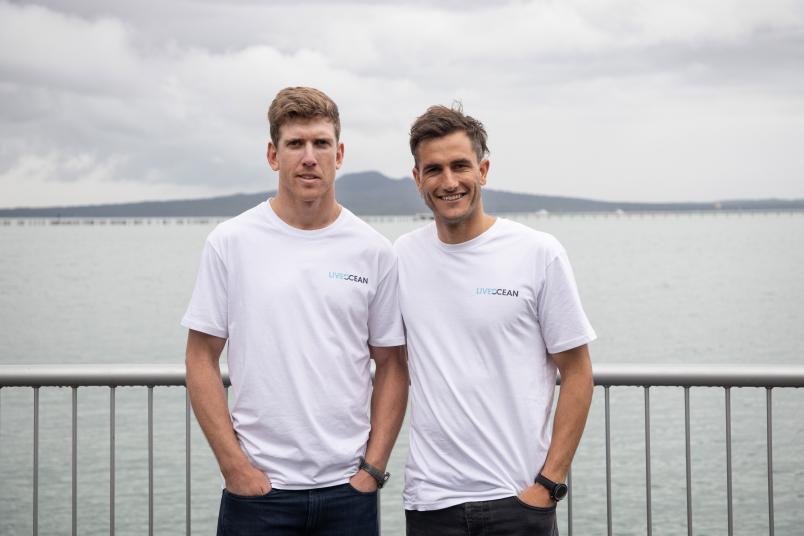 Peter Burling and Blair Tuke recently set up Live Ocean. Photo: Nick Reed.
Donate to the satellite tracking project
Each tracker and data is $6500 and will be fitted to the birds by DOC researchers over January and February when they head down to the Antipodes Islands.
Yachting New Zealand are looking to raise funds for at least one tracker - 100 percent of donations goes to Live Ocean's projects and public can donate at www.liveocean.com. There is a tab in the donation field that tags Yachting New Zealand donations.
The researchers will be able take a photo of the Albatross and give any known information about it.
The trackers can pinpoint the exact location (within a few metres) of the bird in near real time. The birds can be monitored via DOC's albatross tracker app is then overlaid with the activity of individual fishing vessels using an interactive map developed by globalfishingwatch.org.
DOC researchers Kath Walker and Graeme Elliott have been studying these albatrosses for more than two decades and aim to understand the flight paths of these birds so governments, environmental interests and other influencers can work with the fleets most likely to be causing risk to these birds.
"This is the only way we're going to save these albatrosses is to find out where they're going and how they're getting killed," Elliott said. "We need people to know about them and care about them and help them."
Walker added: "The satellite trackers tell you in the here and now where the birds are, where they're getting into grief, the fishing fleets they encounter and which oceans they're in."
There are three practices longline fishing vessels can use to avoid catching albatrosses; setting baited hooks at night when the birds are less active, adding weighted swivels near the hook to sink baited hooks quickly, and deploying a bird scaring line (tori line) above the point where baited hooks land in the water. A new device called a hook pod has recently been developed, and this shields the barb of the hook until the hook has sunk beyond the diving depth of seabirds.
As many as 3000 longliners are currently registered as fishing the Pacific Ocean, but only a portion of these will overlap with Antipodean albatrosses.
Ultimately, the aim is to reduce deaths of Antipodean albatross with fleets using 'seabird smart' measures to be used on high seas vessels.
Main photo: James Blake / Volvo AB