"It was epic, absolutely epic," Darryl Honey enthused when reflecting on the inaugural foiling week in the Bay of Islands which finished up yesterday.
He had every reason to feel chuffed after as many as 40 foiling craft from Moths and Nacra 17s to windfoilers and kitefoilers took part in Bay of Islands Mach 2. Some even turned up late - one competitor "pulled a sickie" and made the dash to Paihia after seeing footage on social media, saying there was no way he was going to miss out.
It was a week with a difference, with fun races, short races, island races and some traditional races. One of the features was the Banging the Corners Cup, which was a series of races each night that, in the case of the kitefoilers, was over in under two minutes.
"I've never seen every sailor come off the race course and say they've had so much fun," Honey said. "They were short, intense sprint races around a triangle course.
"The island race was also great, and it was something different for those international windsurfers training in New Zealand who are used to working and training. For them to have a day when they raced out to an island, have a buffet lunch and then sprint home... those guys got such a kick out of it."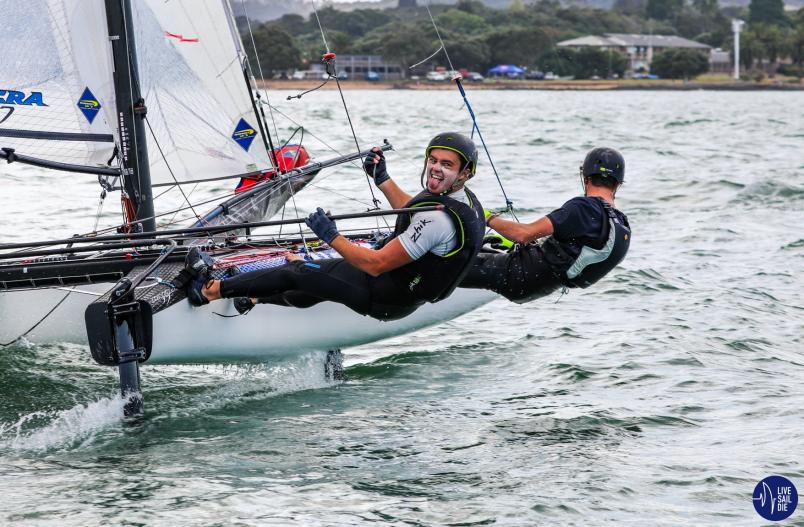 Micah Wilkinson spent some time sailing with local Jack Honey. Photo: Live Sail Die.
They weren't the only ones. New Zealand's top three Nacra 17 crews used the event as part of their training but also as an opportunity to keep things fresh.
"It was so much fun," said Erica Dawson, who sails with Henry Haslett. "We did loads of fun racing and it was so cool to do something so different to other regattas. It was great to use it as part of a training camp and our accommodation was only a three-minute walk to the boat park.
"The club looked after us so well and you could see how much enjoyment they took out of watching us. I would definitely do it again."
Honey is already planning for next year's event, which will be called Foil Bay of Islands. He has three dates in mind (one after Bay Week in January and the others at the end of February/start of March) and wants to do it at a time to capture the best and largest fleets he can.
This is not an easy assignment and this year a number of those competing in the 49er and 49erFX national championships over the weekend expressed their disappointment at missing out.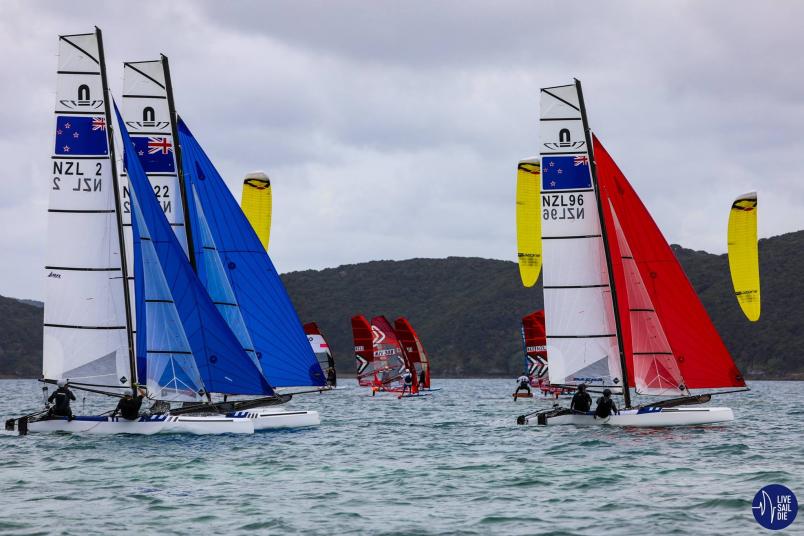 The island race, with a mass start, was a popular feature. Photo: Live Sail Die.
A feature of last weeks' event was the breadth of people who took part, with three 12-year-olds and a 64-year-old competing. Sailors of the future also had no doubt which class excited them the most.
"At the end of the regatta we asked the kids who helped out what type of foiling they would like to do," Honey explained. "They all said kitefoiling because it looks so cool.
"I couldn't be happier after the week. It was exactly what we wanted to do."