They tout themselves as the best excuse in West Auckland not to mow your lawns in the weekend and now the Taikata Sailing Club are working on ways to make sure your lawns grow out of control.
The small club on the end of the Te Atatu Peninsula have come up with a plan to reinvigorate a club that has suffered falling memberships since their heyday in the 1970s.
Back then Taikata used to attract 55-65 Frostbites to racing every second Sunday - the peninsula is so tidal racing isn't always possible - but that number is closer to 16 these days. They're hoping to improve on that this summer and there are two main parts to the club's plan to achieve that.
The first is to make the Frostbite dinghies more accessible for sailors wanting to try the class. When a Frostbite comes on the market, the club buy the boat and actively finds a skipper, feeding sailors directly to the fleet.
The second is an extension of that racing, in which parents can bring their child to the club with any two-handed sailing dinghy and use that to give their child an introduction to dinghy racing.
"The advantage of our piece of water is that it's dead calm, regardless of wind direction, and you can have the entire course within view of the clubhouse," Taikata committee member Adrian Pawson said. "We are aiming at five years old plus and their parents.
"We want to offer a soft intro to dinghy racing for these young kids and hopefully make the idea stick in their minds and then they can go to a racing club and take the sport further. We are never going to be able to compete with the premier clubs when it comes to teaching kids how to race in Optis. What we can do is be the first point of contact to the sport and provide a good experience for kids to build on."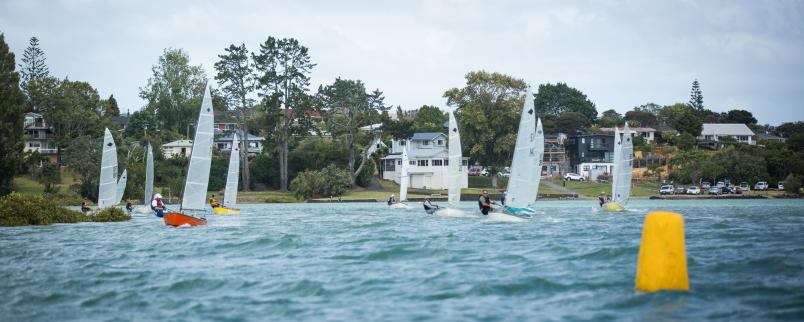 Racing is usually close to shore. Photos: Supplied.
An initial marketing campaign (read Facebook post) returned interest from about 20 parents, including some well-known sailors involved in the marine industry.
"They were people who are in the industry who are really wary of putting their kids off yachting in an Optimist," Pawson said. "The quality of respondents was really high. A lot of parents had bought Sunbursts just to take their kids sailing. We can provide a platform for people to do that, as well as offer a social aspect and run some races."
Those races will provide a point of difference.
There could be Le Mans starts based on the reverse finishing order from the previous race as well as others in which combinations will have to perform a special activity like drawing a picture or posting a Tiktok video while sailing and points awarded based on the quality of those creations. 
"We'll modify our racing activities based on feedback from the kids," Pawson said. "We want to mix it up a bit and try to give everyone a taste of victory but, most importantly, the kids need to be having fun with their parents.
"We are going to do the first parent and kid race as soon as the weather warms up and the plan is to run a full six-day series over summer. We expect to go from 16 boats to 30 on a Sunday."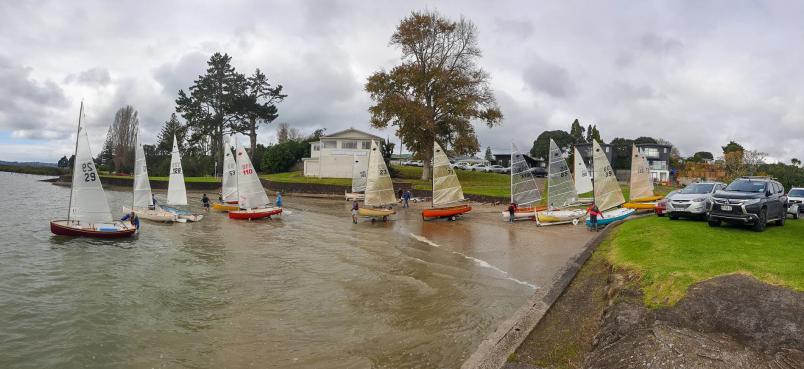 Taikata hope to attract as many as 30 Frostbites this summer.  
Taikata have clearly recognised they need to do things differently in order to survive, but they also retain a lot of what made the club so popular in the past.
The Frostbite is still their principal class and a handful of younger sailors like Pawson have joined in the last five years to improve the quality of the fleet. They've also evolved the rules to allow carbon fibre masts and more modern sails.
"The racing is tight and our sailors take it pretty seriously, but we don't do protests and the whole fleet goes back to the club for a beer afterwards. That's part of the deal. The social aspect of sailing is fundamental to us. 
"Our environment attracts a different type of sailor to what the other clubs do. Most [dinghy] clubs don't really cater well for casual adult sailing - it's about youth and Olympic classes - so there are opportunities for a place like Taikata to pick up those sailors.
"We're not looking to diversify our fleet as such. With the Frostbites, we get a solid fleet every race and the racing is competitive. We're not so much looking to get into competition and try to get Zephyrs and Lasers etc. I think we need to invest in our current fleet and do a really good job of that instead.
"If we can get a reasonable fleet of mixed-class boats for the parent and kid series, then I think there's more opportunity there. Sunbursts, Laser 2s, 420s, Arrows, Cherubs, Flying Ants; basically, all the boats that don't get a lot of action anywhere else at the moment. It's more a case of what can we do that no one else is doing."
Some well-known sailors have emerged from Taikata over the years, including the Nicholas brothers Peter and Terry (Peter went on to win the 2002 470 world championships with Simon Cooke), and multiple national champion Derek Snow.
It's not known if any of them are good gardeners but Taikata make no apologies for that. They figure there's a better use of your time.