Ross Whitburn doesn't mind admitting he might have had a little moisture in his eye last season and it wasn't because of any irritating dust that might have blown down the Otago Harbour.
The Macandrew Bay Boating Club commodore was peering out over the bay one Sunday and counted up the number of boats being used. 
"We had 16 boats out there," he explained. "I nearly shed a tear. It was just fantastic. All the boats were being used, which is exactly what we want."
It hadn't been that long ago the club were in jeopardy. They still had numbers but there was a concerning trend.
"Our average age on the start line was about 65, which is good but it needed to change," said Whitburn, who has been involved with the club since he was a child and had a stint as commodore 25 years ago. "The club wasn't going to survive. It was going to be a case of the last person left, turn off the light switch.
"We had to have the youth. If you get two kids, you get four parents and you can get the parents involved. All those parents have a lot of skills as well and it opens up more opportunities. If you get your culture right, your club is going to survive and kids will want to sail for life. If you get it wrong, it won't."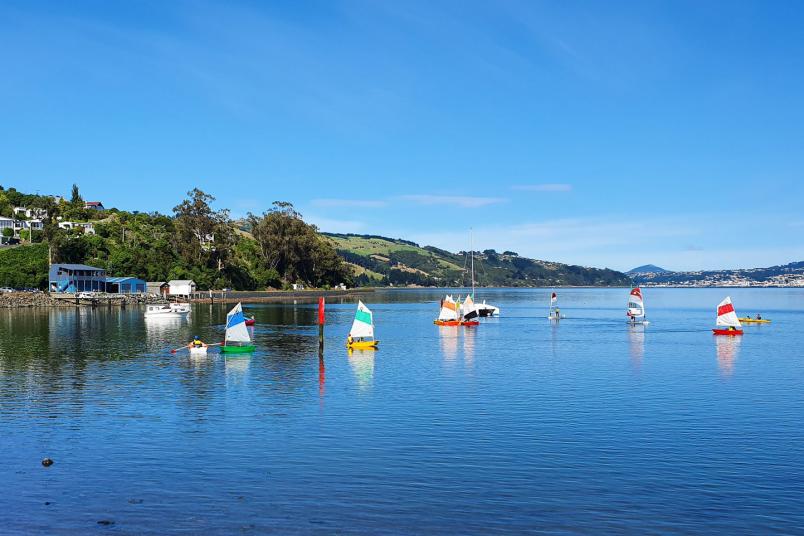 One of the key changes was hiring a club coach, Polly Wright, and she was backed up by Ollie Gilmour for half of the season. Previously this had been done by parents and committee members but it was clear to Whitburn that this model needed to change.
"We're not the right generation to be coaching these kids," he said. "We're all old fuddy-duddies. The kids relate better to younger coaches. It's worked really well. 
"It was seen by some as a risk to pay someone to coach but we made the commitment. You have to make it work."
It certainly has on the evidence of last season. The number of juniors and youth sailing at the club doubled and they've recently added four O'pen Skiffs and four RS Fevas to their fleet to provide different options. The interest from potential and returning members has the club looking for a second coach for the upcoming season.
There's still a mixed focus at Macandrew Bay, with a healthy smattering of senior members in mostly Sunbursts and Lasers as well as a few paddlers and canoeists. As they say in their marketing, they're situated on the "sunny side" of Otago Harbour and cater for a "range of sailing and boating interests" among the small community. 
They've also recently added a new rescue boat, to replace the 50-year-old one previously in operation, thanks to $50,000 from the Lottery Fund for Community Benefit related to the 2021 America's Cup. And next month the Dunedin City Council will install a new pontoon to replace the one damaged and removed six years ago.
Whitburn said the advice and guidance from Yachting New Zealand regional support officer Ian Gardiner had been invaluable in reinvigorating the club and was excited about what lay ahead.
"We just want to grow the club, we want to be in front of it, we don't want to be last. None of this is rocket science. If you get the basics right, it's going to happen."