Winter might not be the most appealing time to sail but it works perfectly for the Elliott 5.9 class who hold most of their events when the days are shorter and temperatures on the chilly side.
There are good reasons for this. A significant proportion are keelboat sailors and a large number also have children who have sailing commitments in the summer.
It makes it easier to find gaps in the calendar for their popular traveller series and they are in constant contact with other classes and event organisers to try to find weekends largely free of other commitments.
"We have to talk to each other," new Elliott 5.9 Class Association president Stu Clarke said. "There aren't enough people around to not do it."
There are plenty sailing Elliott 5.9s at the moment and the class is enjoying something of a resurgence. As many as 13 boats competed in May's national championships in Napier and 12 boats will turn up for this weekend's second round of the traveller series at Lake Rotoiti, and that's without three regular entries.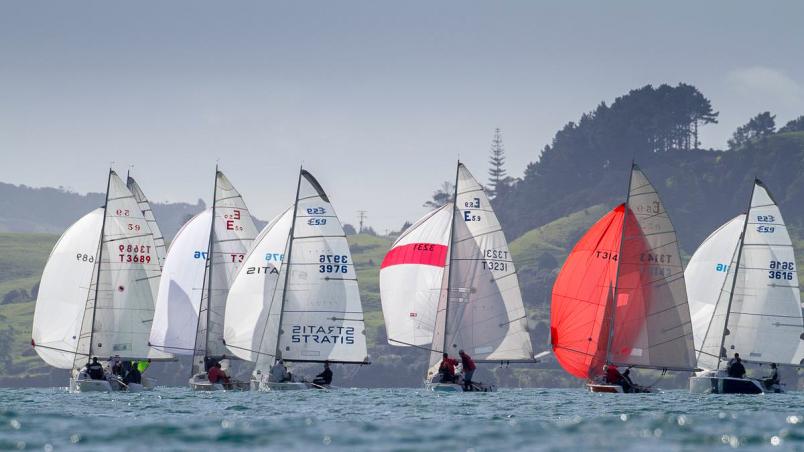 The Elliott 5.9 attracts good-sized fleets for their traveller series. Photos: Elliott 5.9 Class Association.
Designed by Greg Elliott and first released in 1983, the Elliott 5.9 is a three-person trailer yacht that has attracted a number of handy sailors, including former America's Cup, Ocean Race and Olympic sailors.
It might have something to do with the fact it was the class many of them used in the early days of the Royal New Zealand Yacht Squadron's youth training programme but also the fact they are simple, one-design boats that don't take much effort to maintain.
There's a growing base of female sailors littered throughout the fleet - and there was one all-female crew at the national championships - and an attractive feature is the fact the loads aren't as great as some boats.
But perhaps even more important than all of those aspects is the social scene and accent on fun. Most of the sailors come from Auckland but most regattas are in smaller venues.
"We don't race in Auckland because part of the attraction is the weekend away," Clarke said. "We find it loses its atmosphere if we do it in Auckland because the majority are from Auckland. If there's a desire to go somewhere, we're always open to trying new venues but we also try to keep the travel times reasonable so you're not in the car all day.
"We're working a lot harder these days on everyone getting accommodation close by to keep the social aspect of the whole thing rumbling along. It's a good weekend away, a bit of yachting and you stick the boat in the driveway and forget about it for six weeks until the next event."
There are some Elliott 5.9s in the South Island but the large proportion of the fleet is in the north. One crew travelled from Nelson for the national championships and they're also competing in the traveller series this weekend.
"We gave them a bit of assistance to get them across [to the nationals]," Clarke said. "Once we got them to Napier we had them hooked. We talked them into leaving their boat in Napier and they are coming to the next regatta at Lake Rotoiti and will tow it home after that. We appreciated their efforts, hence why everyone is helping them out."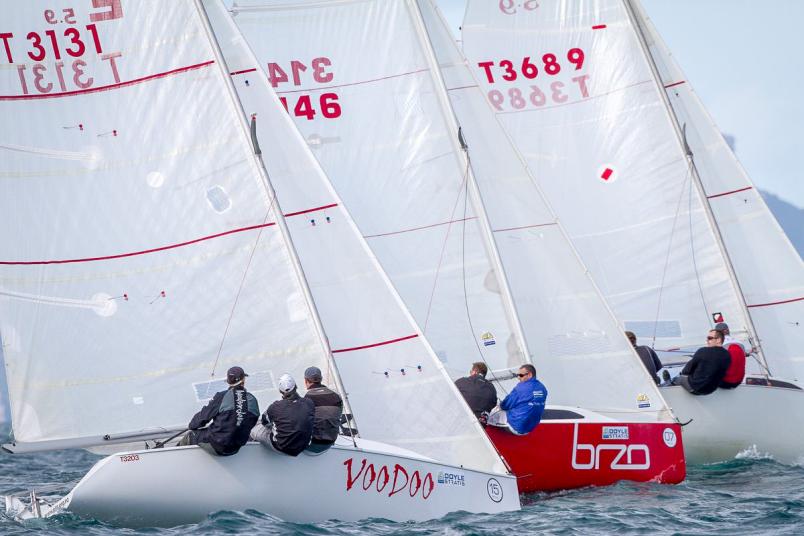 The boat is relatively affordable, especially if shared between three people.
Clarke said a competitive second-hand boat was worth about $12,000-$15,000 and boats produced in the last build about five years ago go for about $25,000. The class own the moulds and the pricing for a new build should be available soon.
But it's not always about having the latest gear and many at the front of the fleet are more than happy to provide advice on the best set-up.
"We are working on making it clear that you don't need one of these super boats with the newest boat, newest mast to do well," Clarke said. "A good example of that is probably Brzo and Slam Dunk. Both are old generation boats.
"Brzo was one of the first to be built and is still very competitive. They were third at this year's nationals. Slam Dunk is a fibreglass boat built in the early-'90s and achieved a couple of seconds and a third at the nationals over the last few years. There's nothing special in the top boats."
A dozen boats will hit the road later this week and converge on Lake Rotoiti. It might be chilly but the banter will be warm and the racing even hotter.