Yachting New Zealand have thrown their support behind a group who plan to protest a council proposal to extend Queen's Wharf by 90m.
The group, Stop Stealing Our Harbour, are calling on all boaties to join them for a protest at Queen's Wharf on March 10 (3pm). They plan to protest on the wharf but are also calling on boaties to gather in vessels just off the wharf to highlight their dissatisfaction with Mayor Phil Goff and the council.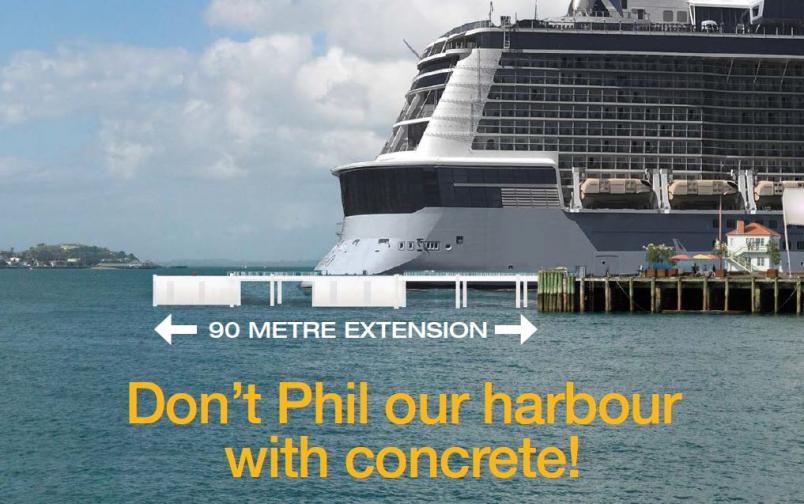 "In 2015, we all helped stop the port's 90m wharf extensions," they said in a statement. "Mayor Phil Goff said, 'not one more metre of concrete in the harbour', but now he has done a massive U-turn and we've got to stop his council from adding 90m to Queens Wharf.
"They're about to spend $14 million of your money pouring more concrete into our harbour to create two massive structures with connecting gangways just to dock a few oversized, foreign-owned cruise ships that arrive in the morning and are gone by the afternoon. 
"Come and help save our harbour for future generations and stop Phil Goff selling it off for a few extra dollars, most of which will end up in the pockets of foreign-owned shipping corporations. Phil's forgotten that a promise is a promise."
Panuku Development Auckland have applied for the wharf extensions, which they say is necessary to accommodate many of the larger cruise ships arriving in the city annually.
As many as 283 submissions were received by council opposing the scheme, with 44 in support and one neutral.
Along with Stop Stealing Our Harbour, a number of groups oppose the project including Urban Auckland, the Auckland Architectural Association, Civic Trust, City Centre Residents' Group, Parnell Residents' Group, Devonport Heritage and Splice, a central city community group.
Yachting New Zealand chief executive David Abercrombie said the planned opposition was a cause worth supporting.
"I don't think it is appropriate and understand there are far more efficient methods for securing large vessels that don't require concrete structures as being proposed," he said.
The Auckland Yachting and Boating Association, who represent 49 yachting and boating clubs in the area, are also opposed to the wharf extension and lodged a submission with council in opposition. The Royal New Zealand Yacht Squadron and Ponsonby Cruising Club were others to do so.
"It's another 90m taken out of our sailing waters," AYBA chairman Ian Clouston said. "It's going to be dangerous and we don't really need it."
A similar protest in 2015 attracted about 2000 people, including sailing notables Peter Montgomery and Chris Dickson, as well as politicians Jacinda Ardern, David Shearer and Nikki Kaye.
Dickson told the gathering in 2015 that the harbour used to be 2000m wide and was now less than 1000m.
"The same amount of water goes in and out as it always has but it is squeezed through half the space. That means the current has doubled. It's a rip. There are whirlpools, there are overfalls. It's dangerous.
"It's an asset we shouldn't be losing. We have got boats out here protesting for good reason."