Graeme Sutherland has been trying to win the Yachting Developments New Zealand Match Racing Championships for a number of years and finally got the monkey off his back over the weekend.
Sutherland and his team of brother Logan Sutherland and NZL Sailing Team members Sam Meech and Micah Wilkinson beat defending champion Nick Egnot-Johnson and his Knots Racing team 2-0 in the final sailed in very breezy conditions at the Royal New Zealand Yacht Squadron. 
"I first started doing this event when I was a young fella," Sutherland said. "We had to jump into the MRXs and learn how to play the old man's game and now I'm an old boy and here I am racing against the younger guys in small boats again.
"It's taken me a couple times to get back into the young man's game, but I loved it I had a great team and it was some really great racing."
With 16 teams taking part this year, the fleet was split into two pools. Pool A raced a round robin on Thursday, with Reuben Corbett topping the pool after going unbeaten with seven wins, closely followed by Leonard Takahashi on six.
Pool B raced on Friday with Egnot-Johnson unbeaten and Sutherland close behind on six wins.
Competitors were then ranked for the Super 16 Knockout Round on Saturday. The breeze was cranking at 20-25 knots, as it did for the majority of the regatta, and the super 16 matchups didn't disappoint with plenty of action, fast downwind sailing and lots of spectacular wipeouts.
Despite this, there were no upsets and the top eight teams all made it through to the quarterfinals.
Finals day on Sunday lived up to the hype, with the breeze again pounding in from the north-east, allowing for some superb match racing conditions.
The third quarterfinal between Takahashi and Jordan Stevenson was the pick of the bunch.
Takahashi and his Pacific Racing Team took out the first match fairly convincingly, but the second was a real ding-dong affair. Stevenson and his RNZYS PP Vento Racing team were leading the final downwind but were carrying a penalty.
They quickly dropped their kite and did their turn right before the finish line and got their bow narrowly over the line ahead of a fast-finishing Takahashi.
The final match was also a close one, with both teams picking up plenty of speed downwind but this time it was Takahashi who took the win and cemented a spot in the semifinals.
Corbett, the highest ranked competitor, then chose to race Sutherland in the semifinals with Takahashi and Egnot-Johnson going head-to-head in the other.
Sutherland looked dominant in the pre-start while the normally composed Corbett looked a bit flustered, picking up a penalty and trawling his kite at the first bottom mark rounding.
Sutherland was able to extend and went on to win the first match with ease. Corbett fought back, though, winning the next match to send it to a decider but Sutherland again got the better start and things were made even easier for him when Corbett went to the wrong top mark, virtually handing Sutherland a spot in the final.
"It was great racing against Reuben," Sutherland said afterwards. "I had a bit of extra motivation there because I really wanted to beat Harry Thurston so that just kept me going and hiking that little extra bit harder.
"He got a bit flustered in a couple of pre-starts and picked the wrong mark at one point, but we still had some great races. He was probably the favorite all week, so it was great to take one off him."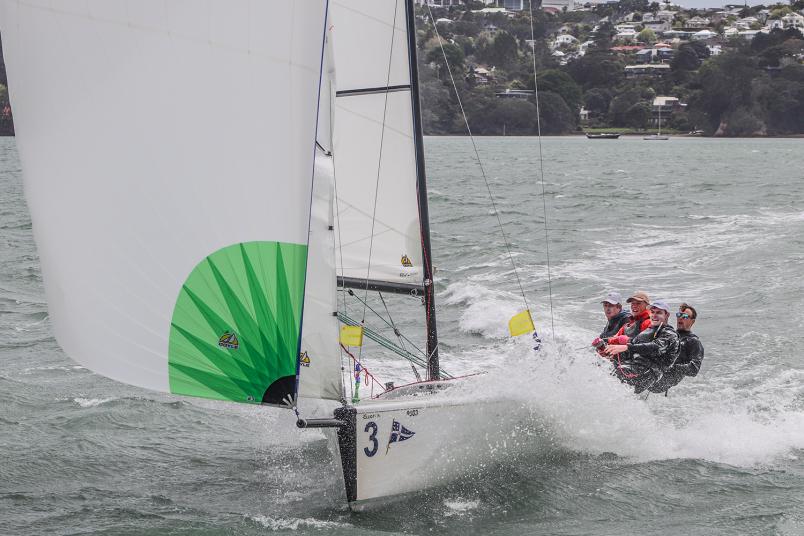 Pic: Nick Egnot-Johnson and his Knots Racing team. Main pic: Graeme Sutherland and his team celebrate winning the national title. Photo: Andrew Delves / RNZYS.
Takahashi and Egnot-Johnson have dueled numerous times over the years and the match-up didn't disappoint.
Egnot-Johnson took the first point with a convincing win, but Takahashi fought back to win the second by a good margin after Egnot-Johnson hit the start mark and copped a penalty.
The decider was a close battle with Egnot-Johnson edging ahead on the final downwind to cross a couple of boat lengths ahead of Takahashi.
The wind was now howling for the grand finale, but Sutherland had the edge throughout to claim his first title.
"I've been coaching Nick and sailing with him for a couple of years now," Sutherland said. "He's a very talented sailor and they are a very talented team.
"They were probably the favourites going into the final in these boats - his boat handling was the best out there all week - but we kept the pressure on him in the pre-start and just backed ourselves around the racetrack, didn't give him any passing lanes and that was it, job done.
"I think anyone in the top group could have taken home the win today. They were all really solid teams. Every race was a good battle on what was a very shifty race course in big breeze. It was all on but we just a kept a roll on from the quarters all the way through, so we are really happy to get the win."
The RNZYS would like to thank regatta sponsors Yachting Developments, race officer Brian Trubovich and his superb race management team, and chief umpire Collette Kraus and her expert umpire team.
A big thank you also goes out to all 16 teams who put on a real show with four days of brilliant match racing.
Final Placings from the 2020 Yachting Developments New Zealand Match Racing Championships at the Royal New Zealand Yacht Squadron:
1st: Graeme Sutherland – Sandspit Yacht Club
2nd: Nick Egnot Johnson – RNZYS PP Knots Racing
3rd: Reuben Corbett - RNZYS
4th: Leonard Takahashi – RNZYS Pacific Racing Team
5th: Jordan Stevenson – RNZYS PP Vento Racing
6th: Robbie McCutcheon – RNZYS Mastercard Youth Training Programme
7th: Niall Malone – RNZYS PP / Royal Irish Yacht Club
8th: Alastair Gifford – RNZYS
9th: Frankie Dair – RNZYS
10th: Albert Stanley – Royal Port Nicholson Yacht Club
11th: Sean Herbert – RNZYS
12th: Celia Willison – RNZYS Performance Programme Edge Women's Match
13th: Megan Thomson – RNZYS PP 2.0 Women's Racing
14th: Isaac Mchardie – Royal Akarana Yacht Club
15th: Max McLachlan – RNZYS Mastercard YTP
16th: Will Wright – Royal Port Nicholson Yacht Club
Full results: https://www.matchracingresults.com/2020/nzl-national-championships/