Courtney Reynolds-Smith feels like the hard work is paying off after she claimed the Laser Radial title at the Mitre 10 Mega Laser National Championships in New Plymouth at the weekend.
The 19-year-old made the switch to the Laser Radial from the women's 470, which she had been sailing with her twin sister Brianna, about 18 months ago and this is her first big win in the single-handed class.
She finished four points ahead of multiple masters world champion Scott Leith, with youth sailor Thomas Mulcahy another three points back in third.
Luke Cashmore took out the Laser title, as well as the under-21 division, finishing 12 points ahead of Harrison Baker with Dave Ridley eight points back in third.
Phil Wild dominated the Laser Radial masters fleet, finishing ahead of Edmund Tam and Roger Winton.
Reynolds-Smith was a model of consistency across the eight-race series hosted by the New Plymouth Yacht Club, with seven results in the top four. She revelled in the generally light conditions and flat seas across the four days.
"It's fantastic," she said. "I have done a lot of training in the past year to step into the Laser class so I'm really happy with the progress I have made and my performance this week.
"The transition into the Laser has been ridiculously hard. I've put on 10-12kg, had to change my lifestyle and actually grown 3cm. My body has changed.
"It has been hard sailing by myself after having been in a double-handed class for most of my career. I have had to grow up, make decisions for myself. It has been a big step."
Reynolds-Smith now has her eyes on next month's Laser Radial world championships in Melbourne and she's also targeted a top-10 finish at July's Laser under-21 world championships in Italy. The ultimate goal is the 2024 Paris Olympics.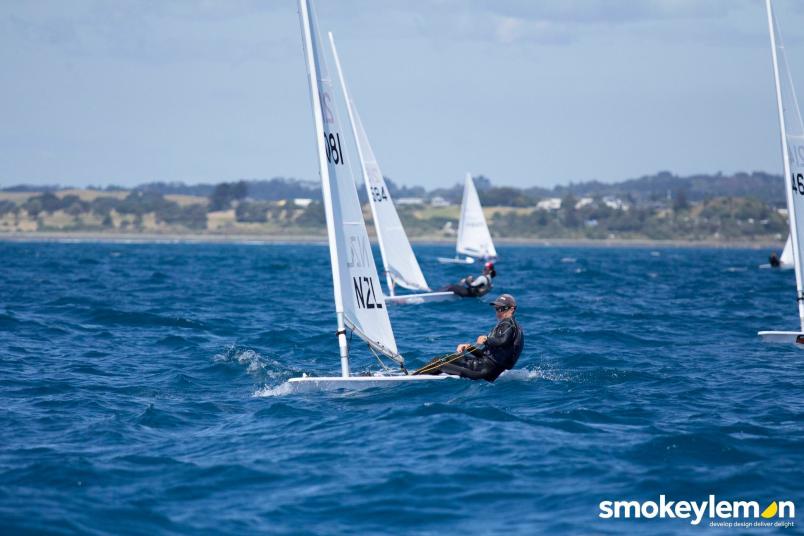 Luke Cashmore won four of the seven races to win the national title. Photos: Smokeylemon.
Cashmore is another just starting out in the senior ranks, having been part of the NZL Sailing Foundation Youth Team at last year's youth sailing world championships.
He raced out of the blocks in New Plymouth, winning four of the first five races, and was comfortably ahead when the last race of the regatta was abandoned due to light winds.
"It's really good," Cashmore said. "It's my first national title in an individual class after having won the teams racing [with Auckland Grammar] a couple of times.
"I have done a lot of sailing recently so the training is paying off."
Some of that training has been with New Zealand's top Laser sailors including Sam Meech, Tom Saunders and George Gautrey, who have been competing at Sail Melbourne this week in their buildup to next month's Laser world championships.
Results and standings from the Laser national championships at the New Plymouth Yacht Club:
Laser (43 boats)
1st: Luke Cashmore (Wakatere Boating Club) 1 1 1 2 1 2 (5) - 8 points
2nd: Harrison Baker (Torbay Sailing Club) 5 4 3 5 2 1 (13) - 20 pts
3rd: Dave Ridley (Pupuke Boating Club) 6 (8) 7 4 6 4 1 - 28 pts
Laser Radial (24 boats)
1st: Courtney Reynolds-Smith (Murrays Bay Sailing Club) 3 4 1 4 3 2 4 (7) - 21 pts
2nd: Scott Leith (MBSC) 5 7 3 1 (9) 1 3 5 - 25 pts
3rd: Thomas Mulcahy (MBSC) 2 (9) 2 3 8 3 2 8 - 28 pts
Laser Radial Masters (19 boats)
1st: Phil Wild (Manly Sailing Club) 1 1 1 1 1 1 1 (20 DNC) - 7 pts
2nd: Edmund Tam (Worser Bay Boating Club) 2 3 3 2 2 3 (6) 6 - 21 pts
3rd: Roger Winton (Onerahi Yacht Club) 5 (8) 2 3 3 4 8 4 - 29 pts