Isaac McHardie and William McKenzie are forging a good partnership, and the pair won two world titles in 2019. They collected gold at the under-23 49er world championships in Norway and also finished on top at the Red Bull Foiling Generation world finals. 
They also finished an impressive 11th at the 2019 49er world championships in Auckland and were second at the World Cup Series in Genoa earlier in the year.
Isaac started sailing when aged 10, and achieved considerable success in the Optimist, P-Class, Starling, 29er and Foiling Moth and he's now Olympic campaigning in a 49er with McKenzie. His ultimate goal is to win the America's Cup.
Isaac won the 2013 ISAF Youth Sailing World Championships in the SL16 catamaran and followed that up with bronze in the 29er at the 2014 ISAF Youth World Championships. He also finished second in the 2016 Red Bull Foiling Generation and was a member of the NZL Sailing Team who finished second at the 2017 Red Bull Youth America's Cup in Bermuda.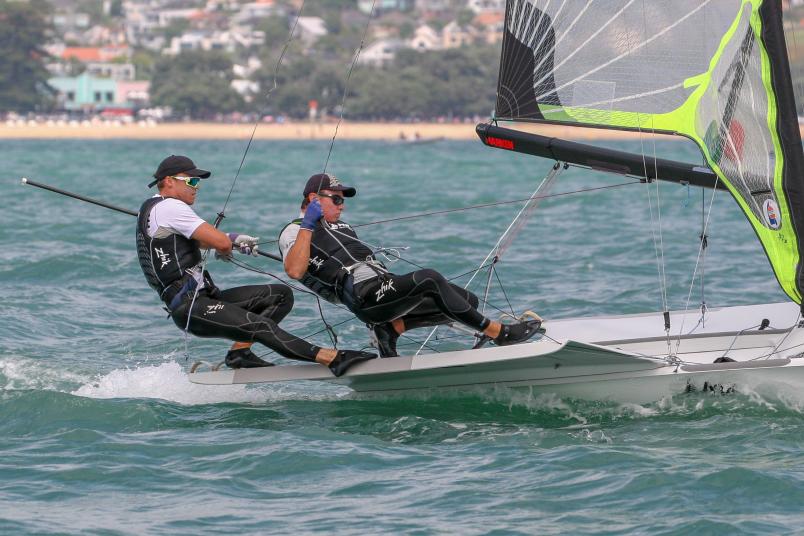 Career highlights
2020 49er world championships - 19th
2019 49er world championships - 11th
2019 Enoshima Olympic Week - 16th
2019 Kiel Week - 11th
2019 under-23 49er world championships - 1st
2019 Red Bull Foiling Generation world finals - 1st
2019 49er European Championships -15th
2019 World Cup Series Genoa - 2nd
2019 Princess Sofia Regatta - 35th
2019 Oceanbridge NZL Sailing Regatta - 2nd
2018 Oceanbridge NZL Sailing Regatta - 7th
2017 Sail Sydney - 4th
2017 Enoshima Olympic Week - 10th
2017 Gamagori World Cup - 5th
2017 49er world championships - 28th
2017 49er European championships - 38th
2016 Red Bull Foiling Generation - 2nd
2016 49er national championships - 3rd
2014 New Zealand 29er national championships - 1st
2014 Sir Peter Blake Memorial Champs, 29er - 1st
2014 Sail Auckland Champs, 29er, 2nd
ISAF Youth Sailing World Championships 29er - 3rd
2013 Waikato Junior Sportsman of the year finalist
2013 Yachting New Zealand Young Emerging Talent AwardGreat Britain 29er National Champion
2013 ISAF Youth Sailing World Championships SL16 catamaran - 1st
2013 Junior Sail Auckland Starling - 1st
2012 Optimist world championships team
2012 Winner P-Class Interprovincial Tanner Cup
2012 P-Class national championships - 1st
2012 29er Winter Championships - 1st
2011 Sir Peter Blake Memorial Trophy (most outstanding P Class Sailor Award)
Yachting New Zealand Volvo Young Sailor of the Year
2011 Optimist world championships team
2011 P-Class Interprovincial Tanner Cup - 1st
2011 P-Class North Island championships - 1st
Team mate: William McKenzie