In our regular focus on the regions, Hayden Whitburn takes a look at what has been going on in the north of the north.
---
This is my first Resene Regional Roundup since starting at Yachting New Zealand and I have enjoyed visiting a number of yacht clubs and meeting new people. It's really great to see clubs working together for key events, whether it's a local regatta or the Hyundai 49er, 49erFX and Nacra 17 world championships which are about to get under way.
I will be attending most key events over the next few weeks and am looking forward to meeting more great people in the sport. Please take time to thank volunteers, because without these people events do not happen.
Clubs are reporting that learn to sail programmes are on the up, which is a great sign for future participation. Please touch base with me or one of the other regional support officers if there's something Yachting New Zealand can help your club with. 
I will be in the far north from December 12-14 so please let me know if you want to catch up.
Bay of Islands Yacht Club
The junior learn to sail programme in the Bay of Islands is going from strength to strength. Many top sailors come from this area and it's great to see a number of those giving back to the sport.
Check out a recent training session
Bay of Islands Sailing Week
The CRC Bay of Islands Sailing Week is the biggest regatta of its kind in New Zealand and one of the Southern Hemisphere's premier yachting events, attracting entries from around New Zealand and overseas. The next edition of this much-loved event will take place from January 21-24, 2020. Remember to get a team together and get your entries in.
Foiling Fest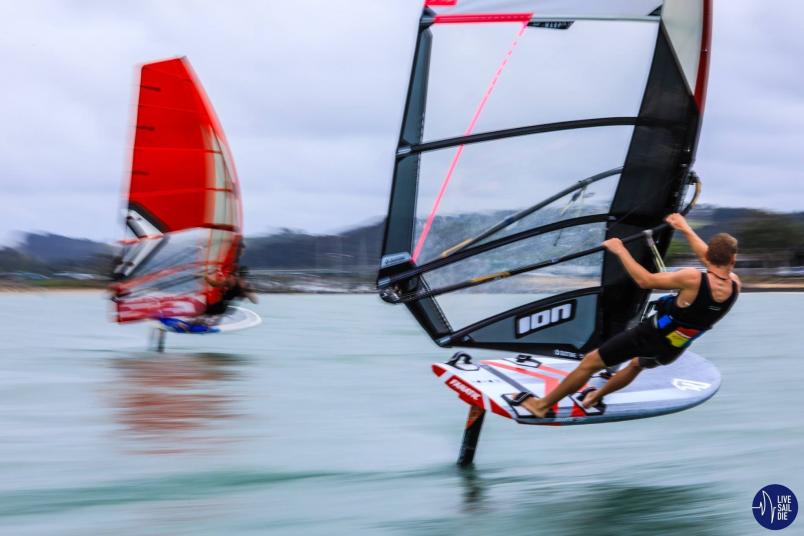 The Bay of Islands Foiling Week launched itself onto the Kiwi sailing calendar earlier this year and is now a regular event for anyone who loves to push foiling limits with their mates for an entire week.
Entries are now open for the 2020 event from February 10-16 and will once again be hosted by the Bay of Islands Yacht Club.
See here for more including entries.
Taipa Sailing Club
The Far North Championships attracted 30 boats across seven classes last weekend and it was awesome to see the sea scouts participating. Both days dished up amazing conditions with 8–12 knots.
Taipa's learn to sail programme is going well and they utilise Optimists, Starlings and 420s. They have a very good system in place where experienced club youth sailors coach the juniors one-on-one on the same boat.
Sail Northland Charitable Trust 
The Sail Northland Charitable Trust operate out of Parua Bay in Whangarei Harbour and provide coaching and sailing in boats for all ages.
The Trust was set up three years ago and initially offered one night of junior sailing and one of high school sailing. They now offer sessions from Sunday to Thursday and this week had 130 people out on the water ranging from have a go to adult learn to sail sessions and they also offer coaching for those looking for more of a speed edge in O'pen Skiffs, RS Fevas, 420s and Quests.
Englishman Matt Currell has come on board this year as the new fulltime sailing instructor and he works alongside part-time instructors Sarah Hall, Hana Maguire and Matthew Smith.
Parau Bay is a special place to sail and there's a good community feel on the back of Sail Northland's memorandum of understanding with the Whangarei Cruising Club which includes the use of their facilities and storage of boats.
The main goal, though, was to introduce and retain more people of all ages in sailing and it seems to be working.
Torbay Boating Club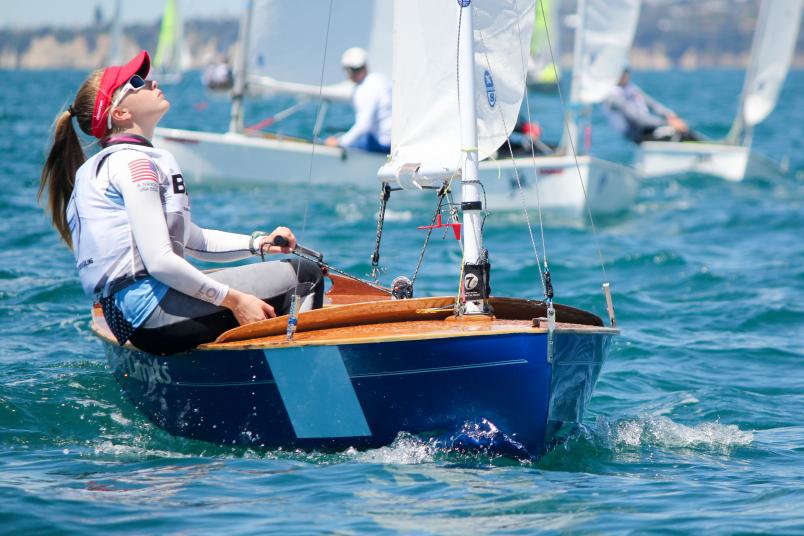 The Sir Peter Blake Regatta is always a highlight on the annual sailing calendar and is coming up this weekend so be sure to get your entries in if you haven't already.
Olympic silver medallists Alex Maloney and Molly Meech will be the special guests for prizegiving. Organisers are still looking for volunteers so please let me know if you can help out in any way.
More information and entries can be found here
Murrays Bay Sailing Club
Murrays Bay hosted the annual Stack Winter Champs last month, which was an opportunity for sailors to dust off their equipment and get into the new season.
It was a fantastic event and showed a good example of clubs working together, sharing chase boats and volunteers. The event attracted 187 boats and a range of conditions over the three days made for some awesome racing.
Well done to all of the sailors and check out the new Murrays Bay Sailing Club podium.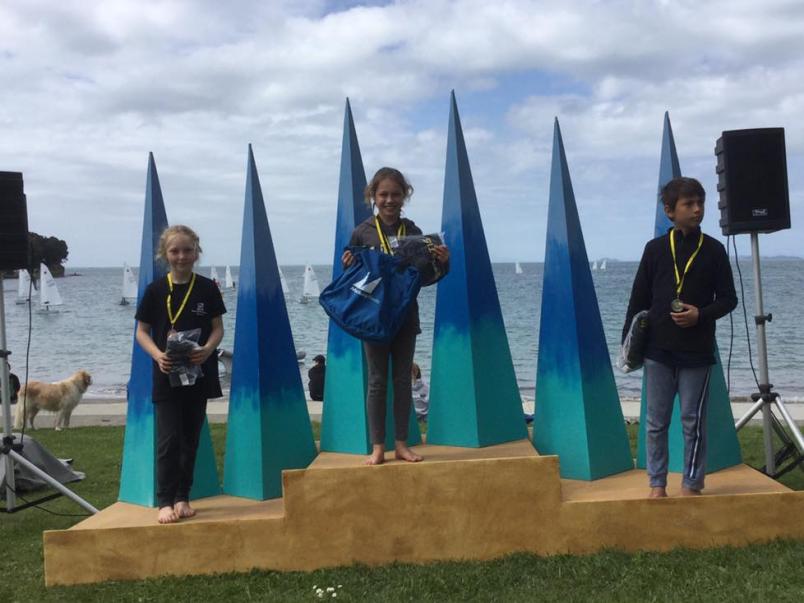 Manly Sailing Club
The Hibiscus Coast Youth Regatta was a big success with 57 boats, and it also included the 29er and Feva North islands champs. The 29er fleet was particularly tight, which made some great viewing for spectators. A big thanks to Manly Sailing Club for hosting this event.
The club's summer series is going well with more than 50 boats typically turning up to race days.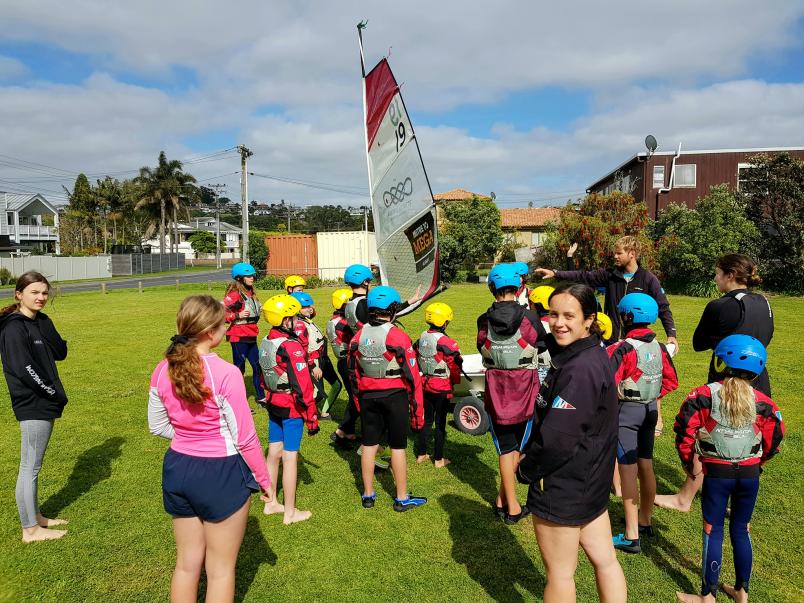 The Russell Coutts Sailing Foundation is clearly making an impact at Manly and they have about 140 sailors signed up this summer. They now have windsurfing equipment, which is proving to be very popular, as is the adult learn to sail programme.
Members of the foundation recently teamed up with Bianca Cook and locals for a beach clean. You can catch some of the action in a video here
If all that wasn't enough, congratulations to Fiona Rist for receiving a service award at the recent Volvo Yachting Excellence Awards. Fiona is a tireless administrator for the club and gets a lot of the work done behind the scenes.
Waketere win big at the Volvo Yachting Excellence Awards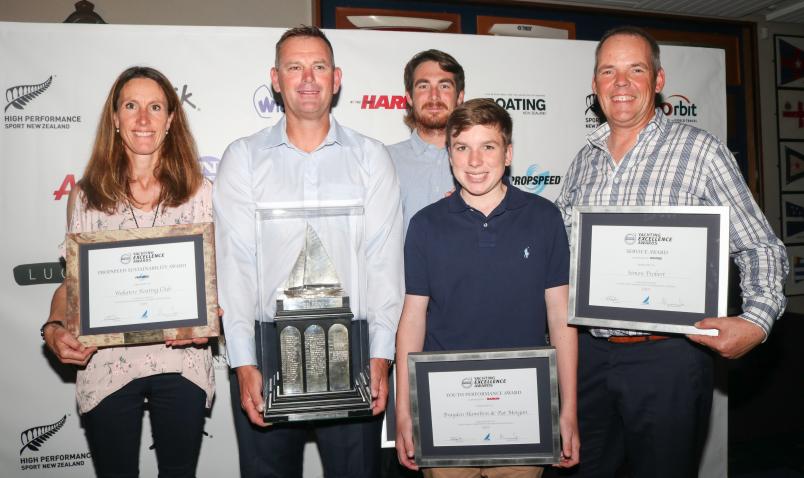 Speaking of the Volvo Yachting Excellence Awards, the Wakatere Boating Club enjoyed a successful night at the Royal New Zealand Yacht Squadron. 
Commodore Simon Probert won a service award for his outstanding organisation of the OK Dinghy world championships, Brayden Hamilton collected a youth performance award, Logan Dunning Beck (with Oscar Gunn) picked up a performance award, Delayne Salthouse accepted the sustainability award and Dan Slater won the big one of the night, the Orbit World Travel Sailor of the Year.
Propspeed sponsored the sustainability award and the prize included $1000 and two Propspeed kits. The donation is already tagged for a sustainable building initiative.
Thanks Delayne for your leadership and to club members for their support. The whole world needs to continue to change for the health of our oceans.
More about Wakatere Sustainability
The 2019 Wakatere Junior Regatta is back by popular demand on Saturday, December 7, which is a one-day regatta for junior and youth classes.
Northcote Birkenhead Yacht Club
The season at NBYC has got off to a great start, with record numbers for their pre-Christmas learn-to-sail programme and the February course filling up fast.
As well as their Sunday racing, they have also started Wednesday night sailing - alternating between racing and fun destination sails.
Commodore Chris Bowman reports the RS Quests are working out brilliantly. These are often used for learn to sail courses where two or three can join an instructor to give someone a taste of sailing without being on their own.
Yachting New Zealand Coaching Courses
Due to demand, we recently held a coaching course at the Wakatere Boating Club which was fully subscribed. The next one will be at the Manly Sailing Club at a date that still needs confirming but is likely to be at the end of January.