It's touted as the grandfather of modern match racing and a bunch of young Kiwi upstarts are keen to shake up the old world order.
Knots Racing, a group of six New Zealand sailors largely in their early 20s, will soon contest one of yachting's most esteemed prizes, the Congressional Cup.
Established in 1965, it's the longest-running and arguably most prestigious event of its kind in the United States and the winners will get to wear the Crimson Blazers in a custom similar to the green jacket handed out at golf's Masters.
There will be Taylor Canfield, the four-time winner and defending champion, former world No 1 and helmsman for the Stars & Stripes America's Cup team; six-time world champion, three-time winner and current world No 1 Ian Williams, as well as former winner and Swedish Sailor of the Year Johnie Berntsson.
And then there will be Nick Egnot-Johnson and his Knots Racing crew. They're not the only newcomers to the event, which will be sailed out of the Long Beach Yacht Club in California from April 3-7, but they're ready to make an impression.
"We want to show the top match racers in the world what our level is and how we can sail," said Sam Barnett, who works the main with Knots Racing. "We don't want to make mistakes with our boat-handling, we want to be quick and we want to start well.
"In terms of results, we don't really have a number. We just want to sail as well as we can and make the old guys we are going to be competing against take notice."
Many will have observed what they have achieved so far. 
Knots racing qualified for the Congressional Cup after impressing in last year's Grand Slam Series - a four-part run of grade 2 events. And more recently they've won their last two regattas, the Hardy Cup in Sydney and last weekend's 2019 Nespresso International Youth Match Racing Cup sailed out of the Royal New Zealand Yacht Squadron.
Egnot-Johsnon is presently 18th in the world match racing rankings, one ahead of Berntsson, but at 20 is one of the youngest in the top echelon. His crew aren't much older and he will joined at the Congressional Cup by Barnett, Zak Merton (trimmer), Brad McLaughlin (bow), Graeme Sutherland (tactics) and Tim Sneddon (pit).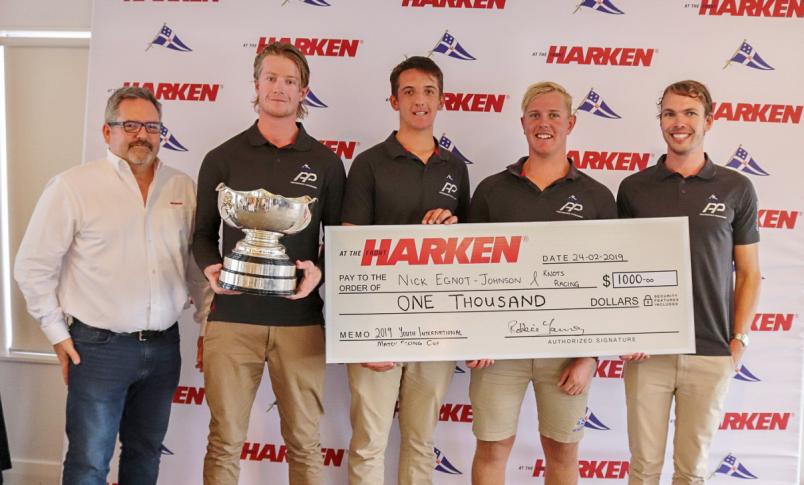 The Knots Racing team of Nick Egnot-Johnson (left), Alistair Gifford, Zak Merton and Sam Barnett celebrate their success at the Nespresso International Youth Match Racing Cup. Photos: Andrew Delves / RNZYS.
They know that future opportunities are just as much at stake as any silverware.
"That's what we're looking to achieve this year," Barnett said. "If we perform well this year, it will lead to a whole lot of opportunities so we are going to do our very best.
"As a team, we have been really focused on getting better and we want to be as good as we can be at all the different parts of sailing and sail lots of different boats. Everyone in the team wants to do the America's Cup, wants to win races and regattas. There are so many different ways we could go and we are open to being flexible and taking opportunities as they come along."
That's why they have very little inked in this year, aside from the Congressional Cup, Nations Cup in San Francisco immediately after and then July's Governor's Cup. And they've already seen what can happen after McLaughlin was picked up to race in the TP52 Super Series.
The biggest thing they can do is keep performing, starting with the Congressional Cup. It's why they will be out training at every opportunity under the gaze of Squadron training manager Reuben Corbett, who in 2016 was ranked as high as nine in the world match racing rankings.
"Qualifying for the Congressional Cup was our biggest goal when we formed as a team early last year," Barnett said. "We're thrilled to have qualified, now we want to do well and we'll be doing everything we can to achieve that."