More than 20 young females from a host of different classes came together on Sunday for the first Aon Girls Performance Clinic in Auckland.
Yachting New Zealand last year started work on better understanding the landscape for female sailors in this country and the Aon clinic was aimed specifically at talented individuals aged 14-18.
They included Optimist, P-Class, Starling, 420 and 29er sailors, as well as two involved in the Royal New Zealand Yacht Squadron's youth training programme. The day was headed up by Erica Dawson, who is heading up Yachting New Zealand's women in sailing project, along with two-time Olympic medallist and Nacra 17 coach Jo Aleh and Olympian Gemma Jones.
"It was really cool to see all the classes mix together and getting the opportunity to get all these talented and enthusiastic girls together in the same room beyond their normal peer group in sailing," Dawson said. "Everyone had a lot of fun.
"We would really like to use this community and keep doing activities together and supporting and pushing each other, especially as a lot of them are going through the sport at a similar time."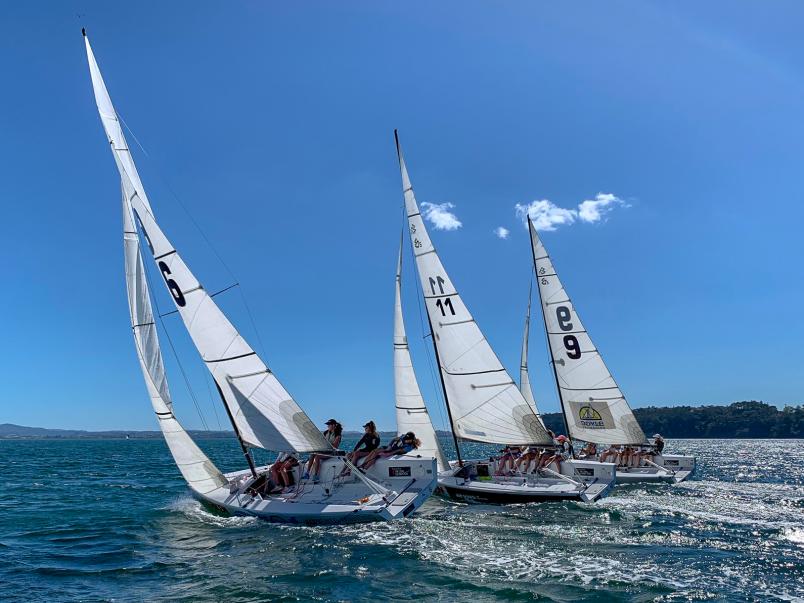 The day included a workshop led by Dawson, Aleh and Jones on their own experiences in the sport, pathways to the top and some of the things they had learned along the way. All three came from very different backgrounds and Dawson felt it was a valuable session for the youngsters to see they had options.
The 22 youngsters were then put into groups and eventually went out on the water for a series of races on the Squadron's Elliott 7s, when all of the sailors had the opportunity to try each role on the boats. The onus was on the sailors to take the lead to emphasise decision making and teamwork.
There were a number of goals for the clinic, notably:
illustrating the different pathways in sailing
creating a strong sense of community within the group
showing ways in which sailors can give back to the sport
building skills in different classes of boats
building confidence to enter different regattas and try sailing with different people
"We used this first one as a pilot to see how it would go," Dawson said. "The feedback we received was really strong so we'd really like to do this at least annually. We'd also like to extend it to a wider group of sailors and hold similar clinics around the country."