After 150 days of racing around the planet, Conrad Colman and Scott Cavanough have taken first place in Leg 5 of the double-handed, Class40 Global Ocean Race (GOR) and have also won the circumnavigation event overall with their Akilaria RC2 Cessna Citation.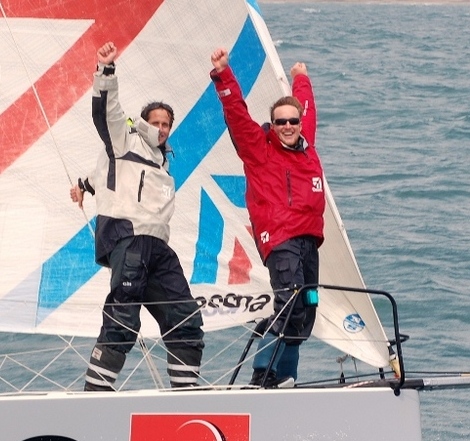 Having led the GOR fleet for the majority of Leg 5 from Charleston, USA, to France, Cessna Citation thundered towards the finish line hitting 17 knots under full main and Solent in a large, rolling, Atlantic swell, crossing the short, Vendée Globe finish line south of the Nouch Sud buoy off Les Sables d'Olonne at 13:20:14 GMT (15:20:14 local), with the finish gun fired by Class40 skipper and ex-President of the Class40 Association, Jacques Fournier, who fired the start gun for GOR Leg 1 in Palma, Mallorca, almost nine months ago. Cessna Citation completed the 4,000-mile North Atlantic crossing in 17 days 22 hours 50 minutes and 14 seconds.
Colman and Cavanough motored Cessna Citation along the short channel protecting the town's harbour and into Port Olona, tying-up on the Vendée Globe Pontoon as moored racing yachts sounded their horns in recognition of an epic round-the-world voyage. Stéphane Tournade, Conseiller Délégué in Les Sables d'Olonne and the government official responsible for all nautical activities in the town, presented Colman and Cavanough with a bottle of champagne as the French press and TV interviews began.
Drawing breath briefly following questions from the French media, Colman shared his thoughts on the circumnavigation: "It feels a bit shorter because it has taken so long that I've already started forgetting bits of it," he commented, clasping his bottle of victory champagne. "I started planning this when I finished the Mini Transat and that led to one year of searching for sponsors and another year of preparing the boat and then actually doing the race, so it has totally taken over my life," says the 28-year-old Kiwi
More from Oliver Dewar on the Global Ocean Race click here.
Photo © Global Ocean race