There was elation but also relief when Celia Willison and her crew took out the New Zealand Women's Match Racing title today.
Willison went into the event staged at the Royal New Zealand Yacht Squadron as the top-ranked skipper, with a world ranking of 19, and that brought both pressure and expectations.
There were a few nervy moments, most notably on the second day in the light winds, but they proved themselves to be the best team over the four days and comfortably won the final 3-0 over American Allison Blecher. 
Willison was joined on the boat by Paige Cook, Charlotte Porter, Alison Kent and Zoe Dawson.
"We were absolutely stoked when we crossed the finish line in the last race but it was also a relief," Willison said. "We had really wanted to do well in this event.
"We felt really comfortable and confident against Ali in the final. We knew that if we could start better than her we could definitely beat her around the course."
What bred this confidence was the fact the forecast breeze had kicked in on the final day. Willison's team, who go by the name of the NZ Women's Match Race Team, enjoyed the mostly moderate winds during the regatta, winning all seven flights in round robin 1 and then winning their semifinal 3-1 over Australia's Juliet Costanzo.
It was a different story in round robin 2, however, when they won only three of their seven flights in mostly light winds.
"We were a little broken [after the second day] and were hoping for seriously more breeze," Willison admitted. "We have sailed the boat a lot more than the other teams so we are really comfortable boat-handling wise. Also our tactics in the breeze are much better than the light.
"We were really lucky there was lots of breeze because Ali was a lot better than us in the light breeze. We were lucky that it swung in our favour today."
Many had expected two-time former national champion Susannah Pyatt and her experienced crew to progress to the final, especially after topping the standings after the two round robin phases, but they came unstuck against Blecher, going down 3-1. Pyatt went on to win the petit final against Costanzo 2-0 to finish third overall.
Willison rated the victory as her most significant as a helm, especially given the standard of competition. There were two teams from both the United States and Australia and one from India as well as three local combinations.
"It was a pretty good level," Willison said. "I would say it was equal to the Australian women's nationals and not far off the WIM Series event we went to last year."
The NZ Women's Match Race Team were invited to compete at a Women's International Match Racing Series event in Finland last year and are keen to continue competing internationally. 
Willison didn't know when they would do that again, citing an event in April as potentially their next, but a lot would come down to finances and other commitments.
In the meantime the NZ Women's Match Race Team wanted to celebrate getting their hands on the winner's plate.
"It feels really good," Willison said. "We've been working hard for this and we are so glad we managed to pull it off."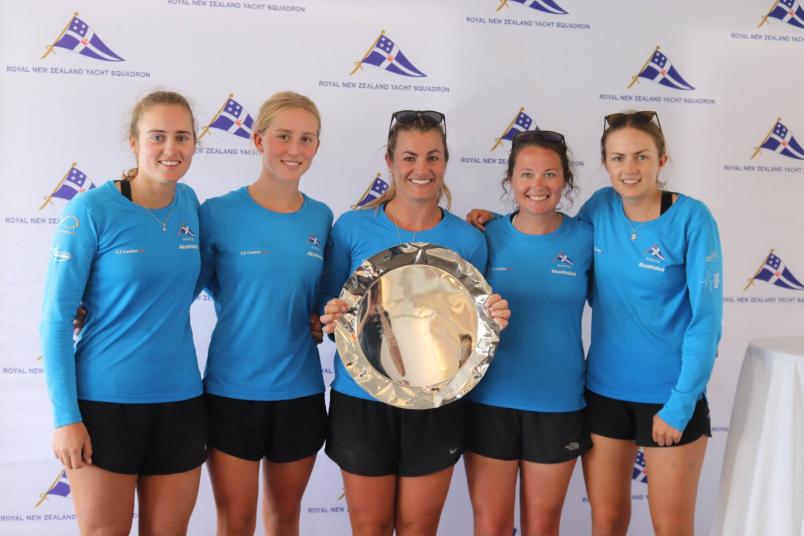 Celia Willison (far right) and the NZ Women's Match Race Team. Photos: Andrew Delves / Royal New Zealand Yacht Squadron.
Results from the New Zealand Women's Match Racing National Championships at the Royal New Zealand Yacht Squadron:
Final
Celia Willison (NZL) bt Allison Blecher (USA) 3-0
Petit final
Susannah Pyatt (NZL) bt Juliet Costanzo (AUS) 2-0
5th: Jess Tavener (AUS)
6th: Marilyn Cassedy (USA)
7th: Megan Thomson (NZL)
8th: Taramati Matiwald (IND)