Mixed sailing will be a major component of the Olympics from 2024, prompting Yachting New Zealand to hold a mixed 470 clinic this week with a handful of this country's top sailors.
As many as 12 sailors took part in the three-day clinic at the Murrays Bay Sailing Club, including New Zealand's top men's (Paul Snow-Hansen and Dan Willcox) and women's combinations (Susannah Pyatt and Brianna Reynolds-Smith) as well as boy's 420 youth sailing world champions (Seb Menzies and Blake McGlashan) and former NZL Sailing Foundation Youth Team members (Rebecca Hume, Alice Haslett and Sam Street).
It was an idea conceived and run by Yachting New Zealand talent development manager Geoff Woolley, who also coaches Snow-Hansen and Willcox, and 470 coach Andrew Brown. It covered everything from campaigning and boat setup to racing and technique and Snow-Hansen and Willcox were involved as both sailors and coaches.
Dan Willcox and Andrew Brown keep a close eye on Alice Haslett and Sam Street. Photo: Yachting New Zealand.
"It was a really worthwhile exercise," Woolley said. "We certainly got a lot out of it and the feedback from the sailors is that they did, too. We've already heard some of them intend doing some sailing together on their own.
"It was really impressive to see our youngsters mixing it up with the Olympians. We also saw some really good boat handling skills, even after not much time in the boat. One thing we noticed was how good the 420 fleet here is and how it had prepared them for something like this."
For some, though, it was their first time sailing a 470 and Woolley emphasised that the skills learned in a 470 would transfer well to other classes.
Gender equity will be a feature of the 2024 Paris Olympics and, on top of a mixed 470, there will also be a mixed offshore keelboat and mixed kitefoiling.
Woolley said they were always looking to develop strong squads across all of the Olympic classes and would be holding an intensive mixed 470 camp in 2020.
"There's so much history, knowledge and ability in the 470 in this country with the likes of Jo Aleh, Polly Powrie, Leslie Egnot and Jan Shearer, Paul and Dan, Simon Cooke and Hamish Willcox and we'll look to continue tapping into that," Woolley said.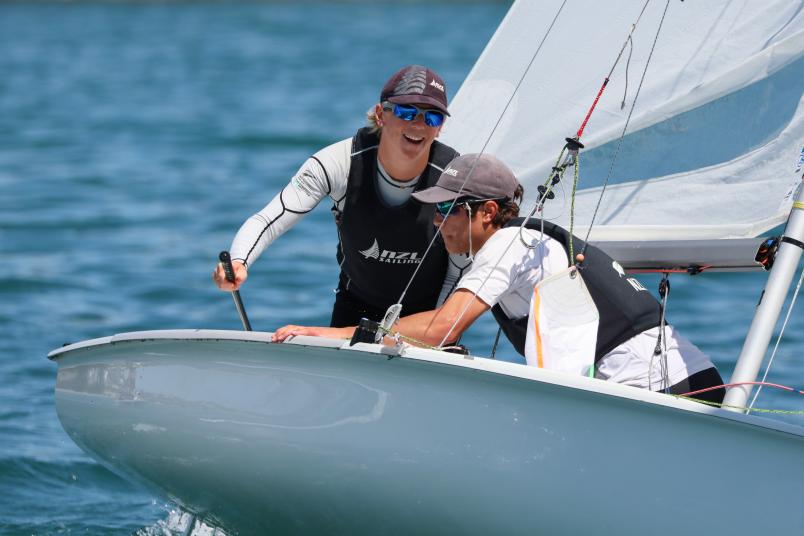 Susannah Pyatt and Blake McGlashan team up for one of the races. Photo: Yachting New Zealand.