The depth of 49er racing in this country was illustrated during the national championships at the weekend as Logan Dunning Beck and Oscar Gunn retained their title at the Murrays Bay Sailing Club.
Dunning Beck and Gunn, who were seventh at last year's sailing world championships and have recently stepped up to the NZL Sailing Team, finished five points ahead of Olympic champions Peter Burling and Blair Tuke in the 13-boat fleet with Australia's Will and Sam Phillips a point back in third.
Alex Maloney and Molly Meech dominated the 49erFX fleet, winning seven of the 11 races to finish 15 points ahead of Australian combination Tess Lloyd and Jamie Ryan, with Austria's Tanja Frank and Lorena Abicht a further two points back in third.
"Logan and Oscar sailed a clean and consistent regatta in tricky conditions," Yachting New Zealand high performance director Ian Stewart said. "It's always a good achievement to win a national title, particularly in such a high-quality fleet."
New Zealand has five world-class 49er crews who all train together and push each other in racing. Burling and Tuke won the Oceanbridge NZL Sailing Regatta earlier this month in their first regatta back in the 49er since winning gold at the Rio Olympics but were under pressure early at the nationals after receiving a U-flag disqualification in race two.
Isaac McHardie and William McKenzie (fourth) and Josh Porebski and Trent Rippey (fifth) are also part of that training group, along with Leonard Takahashi Fry and Ibuki Koizmi (seventh) who are representing Japan.
"We have seen in the past when New Zealand has had success in a class, it's when we have depth and teams pushing each other," Stewart said. "Pete and Blair's return has obviously lifted this group to another level. They have been very inclusive with their training and testing programme and are enjoying the decent standard here at home. "
The focus now will turn to international competition, when New Zealand's top sailors will compete in much bigger and stronger fleets. That starts at the Princess Sofia regatta in Palma at the end of next month as the European season gets into full swing.
Attention will switch to the Olympic venue in July and August before the year ends with the 49er, 49erFX and Nacra 17 world championships in Auckland.
As many as 400 sailors are expected to compete at the world championships at the Royal Akarana Yacht Club in December, including a number of this country's younger combinations who also raced at the national championships.
"It was encouraging to see the new talent in the 49ers and all bodes well for beyond the Tokyo Olympics," Stewart said. "It was an opportunity for the new combinations to benchmark themselves against some of the world's best and they will come away with a good indication of how much work they will need to do to get up there.
"It was also really encouraging to see some young teams in the FX really enjoying their racing and being able to line up against the likes of Alex and Molly."
Maloney and Meech don't have the benefit of strong domestic competition, meaning they often train with international teams. They had a training block in Auckland prior to Christmas with the Olympic champions from Brazil and European champions from Norway and are presently in the middle of another block with Austria's top two crews, who both raced at the nationals.
"We are stoked to be New Zealand national champs," Maloney and Meech said on their Facebook page. "It was so cool to have an international FX fleet to race with, and see all the new Kiwi teams coming through in the 49er classes. Thanks to Murrays Bay Sailing Club & all the volunteers for hosting a great event."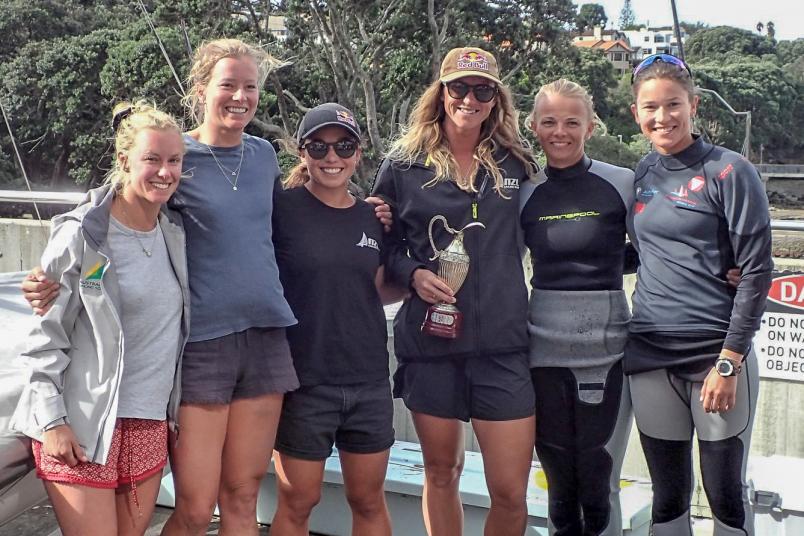 Results from the 49er and 49erFX national championships at the Murrays Bay Sailing Club:
49er (13 boats)
1st: Logan Dunning Beck / Oscar Gunn (NZL) (5) 3 1 2 2 5 4 3 3 1 3 - 27 points
2nd: Peter Burling / Blair Tuke (NZL) 4 (14 UFD) 2 1 6 1 3 8 1 5 1 - 32 pts
3rd: Will Phillips / Sam Phillips (AUS) 3 2 3 3 4 4 1 6 4 3 (8) - 33 pts
49erFX (7 boats)
1st: Alex Maloney / Molly Meech (NZL) 2 1 1 1 2 1 1 2 1 1 (4) - 13 pts
2nd: Tess Lloyd / Jamie Ryan (AUS) (10 UFD) 2 3 2 3 3 3 1 4 5 2 - 28 pts
3rd: Tanja Frank / Lorena Abicht (AUT) 3 3 2 5 1 2 2 5 (10 DNF) 4 3 - 30 pts