Dave Shaw overcame a broken rudder early in the regatta to claim silver at the A Class world championships in Weymouth over the weekend.
The Nelson sailor broke his rudder in the opening race of the series. The 21st placing in that race was one of his two drops for his worst results and in the second half of the regatta never finished outside the top four in an impressive show of consistency.
Mischa Heemskerk from the Netherlands dominated the foiling fleet, winning eight of the 12 races to finish 29 points ahead of Shaw to claim his third world title. Poland's Tymoteusz Bendyk was third.
Phil Robertson, who skippers the Chinese team in the Sail GP series and is a multiple match racing world champion, improved considerably as the week went on. He was 10th in the 64-boat foiling fleet and finished off on a high by winning the last race.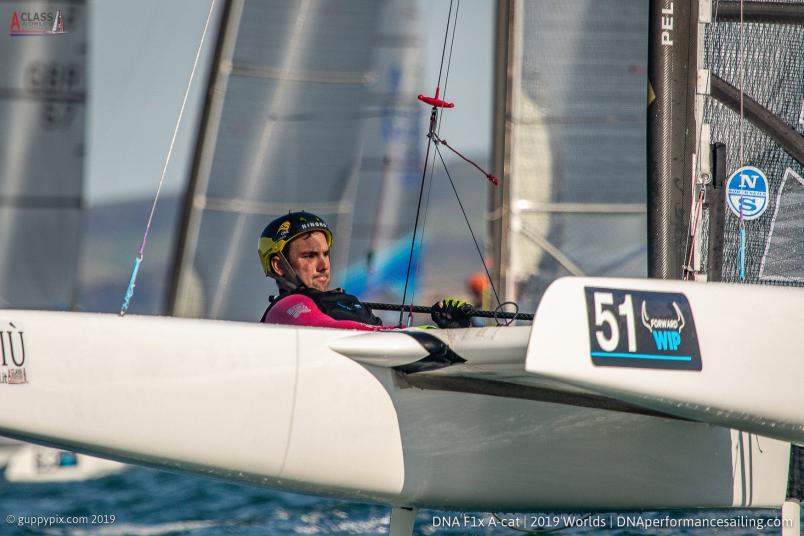 Phil Robertson won the last race and finished 10th overall. Photos: Guppypix.com.
Weymouth dished up all manner of conditions, from five knots early in the regatta to 21 knots. Both Shaw and Robertson were more prominent in the breeze and Robertson's race win was achieved in champagne sailing conditions of 14-17 knots.
Australians dominated the classic fleet, filling the top three places, with Andrew Landenberger showing out by winning the last seven races to claim the title.
The next world championships will be held in Florida in October 2020.
Results and standings from the A-Class world championships in Weymouth:
Foiling fleet (64 boats) 
1st: Mischa Heemskerk (NED) (6) 1 2 1 1 2 1 1 1 1 1 1 (3) - 12 points
2nd: Dave Shaw (NZL) (21) 3 (10) 10 7 5 2 2 2 2 4 4 - 41 pts
3rd: Tymoteusz Bendyk (POL) 1 7 (16) 2 (17) 7 6 5 7 3 3 2 - 43 pts
10th: Phil Robertson (NZL) 25 (DSQ 65) 23 25 10 4 3 4 (RET 65) 6 2 1 - 103 pts
Classic fleet (24 boats)
1st: Andrew Landenberger (AUS) 4 (18) 2 1 (5) 1 1 1 1 1 1 1 - 14 pts
2nd: Scott Anderson (AUS) (6) 1 (7) 6 1 2 3 2 2 2 3 4 - 26 pts
3rd: Andy Landenberger (AUS) 3 2 (6) 2 2 5 5 5 (25 DNF) 3 2 2 - 31 pts