In our regular focus on the regions, northern regional support officer Raynor Haagh takes a look at what's been going on in the southern area of the top half of the North Island. 
Have-a-go days at local clubs a success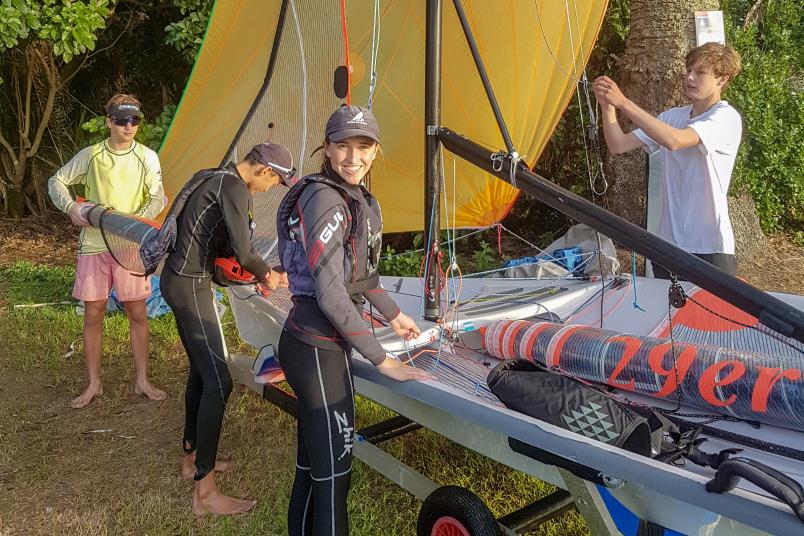 Megan Hume gears up with a handful of other sailors for the 29er have-a-go day.
The Kohimarama Yacht Club hosted a successful have-a-go day on 29ers where experienced class sailors introduced those interested in the class to the boats.
It is great to see a range of sailors from different clubs and stages and ages working together and having fun on the water.  
On the back of the success of the 29er day, Kohimarama are hosting a 420 have-a-go day this Sunday from noon. The list of interested sailors contains sailors from more than five clubs in the area.  
If you would like more information, please contact Ross Hume at Kohimarama Yacht Club.  
Bucklands Beach Yacht Club open day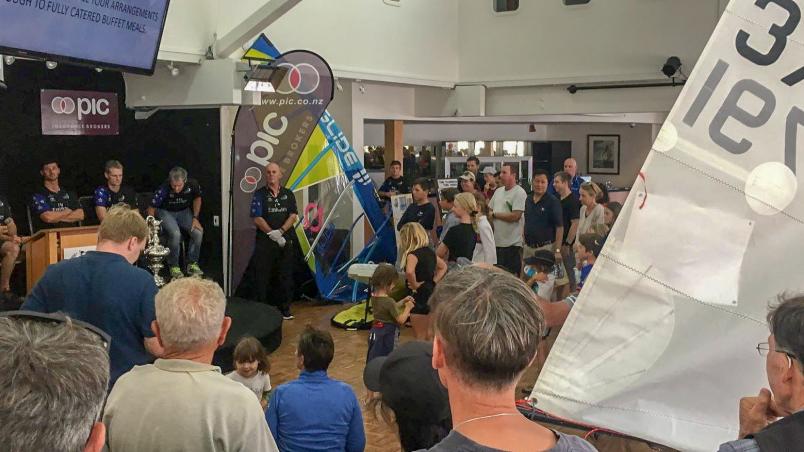 Bucklands Beach Yacht Club have for 70 years been the gathering place for the Bucklands Beach community and it is an important part of the club's strategic plan to continue this tradition. 
The club proudly offer programmes that encourage engagement with the whole family which are either on the water, in the club or community focused.   
The club recently opened their doors and hosted a public open day to not only demonstrate what they have to offer, but also provided an opportunity for other services to connect with the local community. 
The water police, Coastguard and local fire brigade were in attendance and a popular drawcard, as was having the America's Cup on display with Emirates Team New Zealand sailors Glenn Ashby and Joey Allen available for a Q&A session.  There was an extensive itinerary of activities for all ages, including face painting, a fishing competition, remote control yachts, paddleboard experiences, showcasing local food and club restaurant and the finale was guest speaker Olympic champion and Bucklands Beach Yacht Club member Bruce Kendall. 
"The day was a huge success and the really cool thing was that it was casual, relaxed and fun,"  Vice commodore Sara Poole said.
It also proved to be a successful formula, with more than 100 new members joining the club.  
Easter cruising  
A number of people were involved in racing over Easter, from little boats like the Optimist national championships to much bigger boats. But plenty also took advantage off the break to go cruising and it looked like it was a fantastic time as these photos highlight.
Little Jim. Photo: James Mortimer.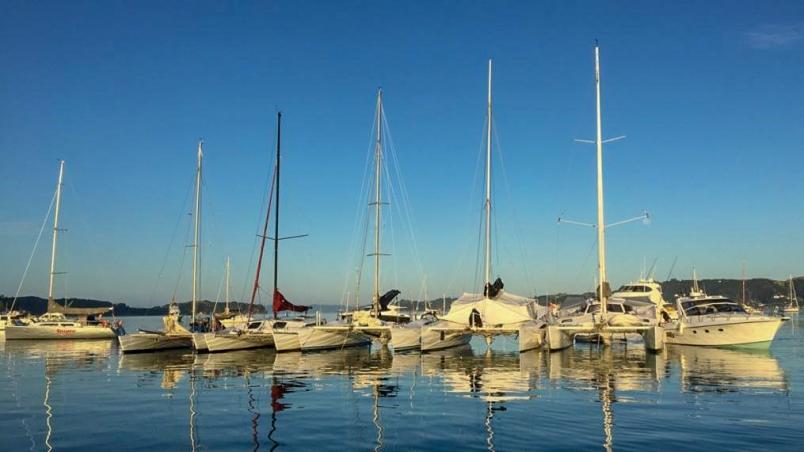 Multihull Yacht Club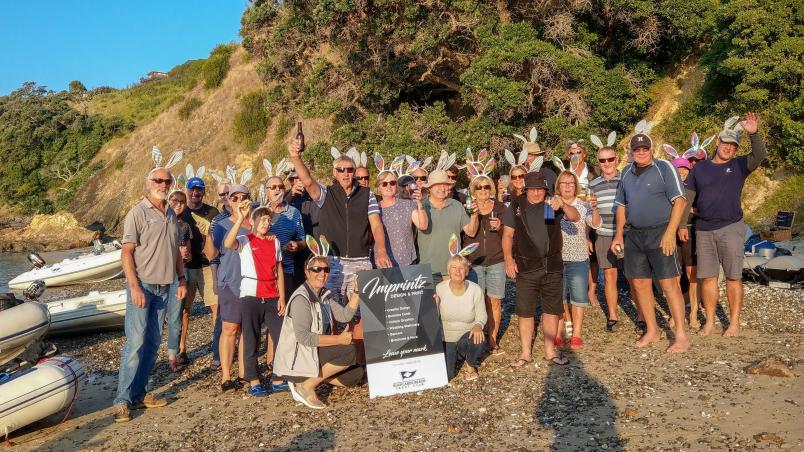 Bucklands Beach Yacht Club Easter rally  
Bucklands Beach Yacht Club Easter rally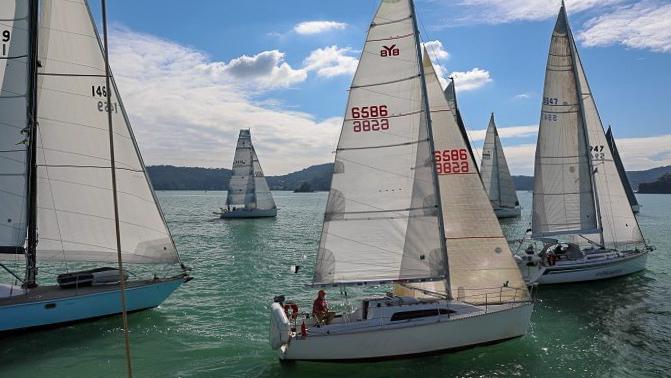 RNZYS rally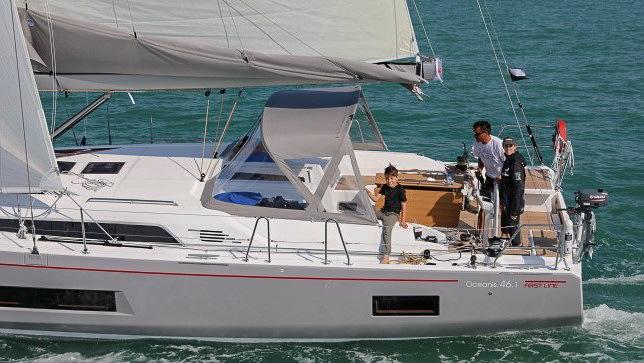 RNZYS rally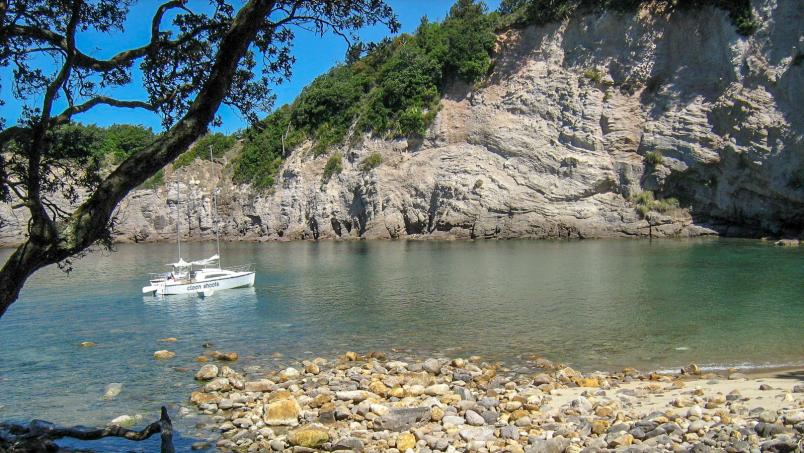 Easter cruising TYPBC 
2019 Hansa national championships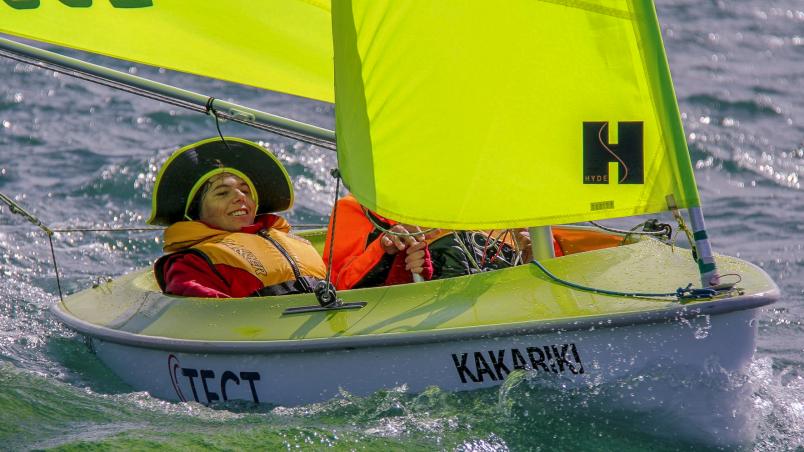 Alice Eminson in action during the national championships.
The 2019 New Zealand Hansa Class National Championship Regatta hosted by the Tauranga Yacht & Power Boat Club at the end of March was part of the 2019 Healthvision Festival of Disability Sport organised by Parafed Bay of Plenty. 
The Hansa class caters for people with disabilities as well as able-bodied individuals to sail as equals in the 303 singles, doubles or Liberty classes.  
Tauranga turned on good sailing conditions helped by the wind and tide coming from the same direction. Rain preceded and followed some of the racing but did not dampen spirits and all of the eight races scheduled were sailed. There were 20 entries from Wellington to Auckland. 
Tony Vaka from Auckland took out the Liberty national title, closely followed by Daryl Smith from Wellington. 
Sailability Tauranga skipper Paulien Chamberlain  won the 303 singles title ahead of John Williams, a Wellington Sailability trustee. 
The 303 doubles national champions are Sailability Tauranga crew Caleb Evans and Alistair Eagleson, closely followed by Christina Hansen and Rhonda Ritchie, also from Sailability Tauranga. 
The Kiwi Cup, which is awarded to the person with a disability with the lowest score when the Liberty and 303 singles classes are combined, was won by Tony Vaka.  
Blue Water Championship  
Royal Akarana Yacht Club are the home of blue water sailing and they continue to develop their sailing programme.
The club recently announced the inaugural Blue Water Championship for 2019/20. It is a three-race series, kicking off with the PIC Coastal Classic on Friday, October 25 followed by the White Island race and Balokovic Cup.  
Divisions include IRC, PHRF, shorthanded and multihull (six entries are required for a division). The White Island race will be a Round North Island qualifier for two-handed teams.  
"We've been planning a blue-water champs for a while," Akarana on-water manager Nic Finlayson said. "It seemed right in RAYC's wheelhouse, in terms of blue-water experiences."
 
For more information  - www.rayc.co.nz/bluewaterchamps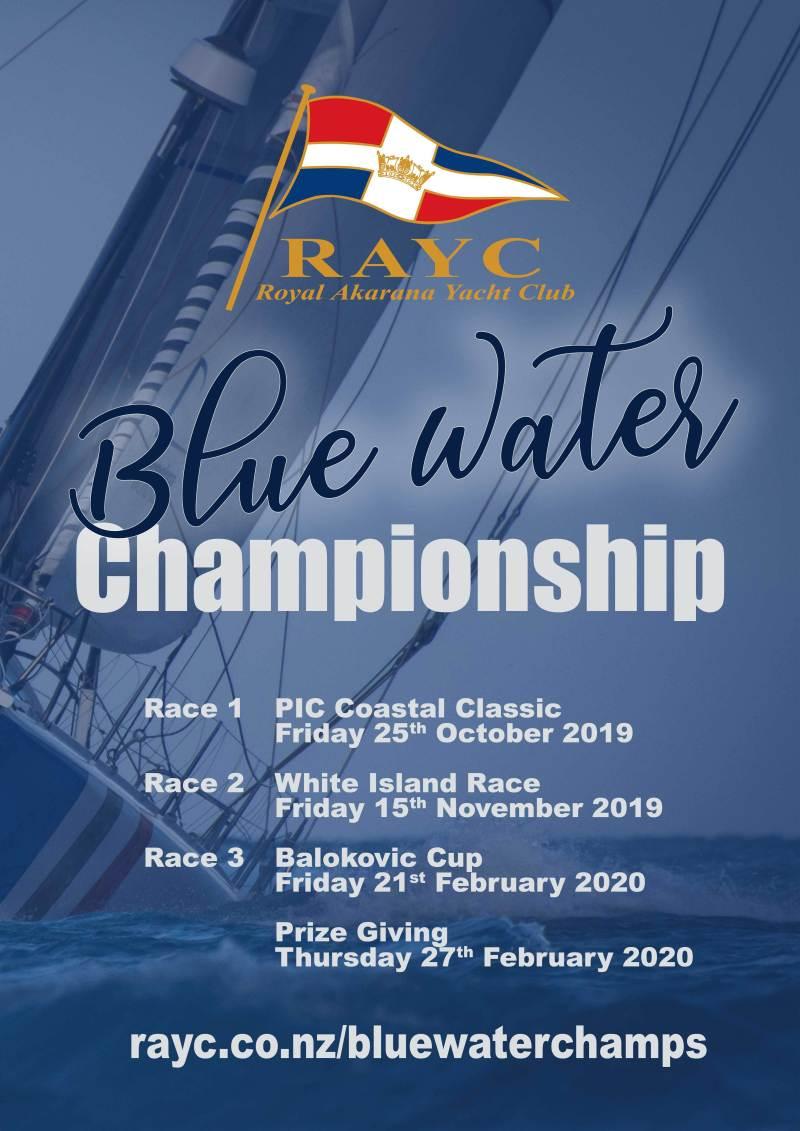 2019/2020 Gold Cup Series dates announced 
The Gold Cup Series is an annual event managed by the Royal Akarana Yacht Club in association with the Richmond Yacht Club, Royal New Zealand Yacht Squadron and Bucklands Beach Yacht Club. 
Five races ranging from 35 to 90 nautical miles provide a great training ground for teams aiming for larger events such as the Round White Islands Race, SSANZ Enduro Race, Round North Island and the RAYC-hosted Auckland Fiji Yacht Race. 
Dates for 2019/20 season 
Race 1 – Saturday 28th September: Spring Regatta (Richmond Yacht Club) 
Race 2 – Saturday 12th October: Roy McDell Memorial (Royal New Zealand Yacht Squadron) 
Race 3 – Saturday 9th November: Bean Rock Race (Royal Akarana Yacht Club) 
Race 4 – Saturday 7th December: Percy Jones Memorial (Buckland's Beach Yacht Club) 
Race 5 – Friday 21st February: Balokovic Cup (Royal Akarana Yacht Club)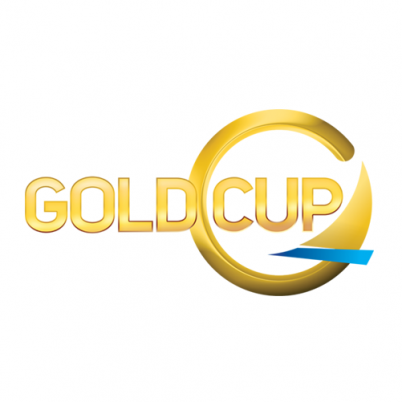 Winter racing time 
Plenty of winter sailing options available for everyone this autumn and winter. Here is a small sample of what's going on locally.  
Howick Sailing Club – annual dinghy autumn series has weekends left on May 19 and 26. Starling sailors have the opportunity to combine coaching with the series. See here for more details.  
Pakuranga Sailing Club – offering winter racing for all classes, including a strong Sunburst fleet. Check out the programme here. 
Tamaki Yacht Club – has Laser racing every second Saturday from 1.30pm from June 11. See here for details.  
Ponsonby Cruising Club – running a four-race women's winter series starting Saturday, June 8, as well as their Sunday club winter series. Check out the programme here. 
Royal New Zealand Yacht Squadron - winter series is under way for a wide range of keelboat and multihull classes. More information here.  
SSANZ – the popular Triple Series is set to start again on July 6. See here for more information.  
New national champions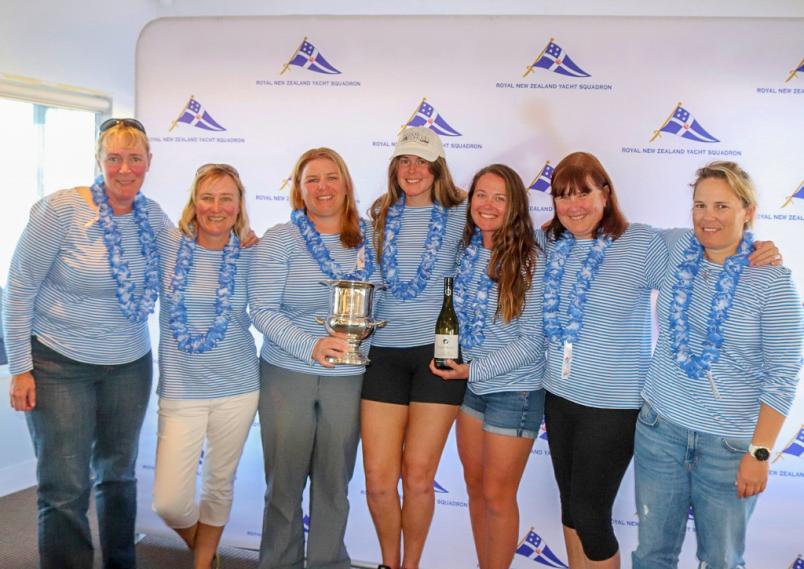 Sally Garrett and her crew won the women's keelboat national title. Photo: Andrew Delves / RNZYS.
March and April saw a string of new national champions crowned in the region. Congratulations to them all.  
3.7 hosted by Maraetai Sailing Club – Derek Snow                         
Finn (Maraetai Sailing Club) – Karl Purdie 
Jollyboat (Maraetai Sailing Club) – Hamish Hall Smith 
Hansa classes (Tauranga Yacht & Powerboat Club) – 303 Doubles Caleb Evans/Alistair Eagleson, 303 Single Paulien Chamberlain, Liberty Tony Vaka 
Javelin (Howick Sailing Club) – Peter Precey/Hamish Hey 
Harken National Secondary Schools Keelboat (Royal New Zealand Yacht Squadron) - Westlake Boys High School 
Young 88 (Royal New Zealand Yacht Squadron) – Raging Hormones Andrew Wills & crew 
Women's Keelboat (Royal New Zealand Yacht Squadron) – Sally Garrett & crew 
Open Keelboat (Royal New Zealand Yacht Squadron) - Knots Racing Team Nick Egnot-Johnson & crew