The Marlborough Sounds delivered a complete set of wind conditions over the weekend for the Giesen New Year regatta and Friday's First National invitation race.
Principal race officer Viv Butcher delivered a great course for Friday's invitation race in steady sea breeze of 12-15 knots enabling most crews to display their spinnaker or gennaker-handling skills.
In Division 1. Waikawa boat Honk n' Jack took the race ahead of Loco from Worser Bay Boating Club with Simply Irresistible third.
Division 2 saw Abracadabra, the Young 88 from Naval Point Yacht Club in Christchurch, take the win ahead of local Farr 1020 Prime Suspect with Legacy 2, another Naval Point Young 88 taking third.
In Division 3, local boat Midnight distanced the field to finish first on line and handicap, with fellow Waikawa boats Sequin and Khamsin second and third respectively.
Division 4 saw another Waikawa trifecta with Satu taking the win ahead of Waipunga II and Playwright.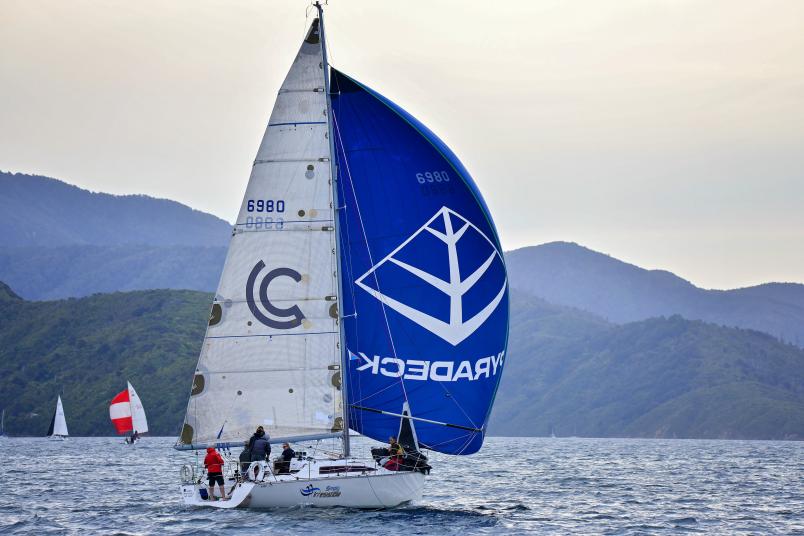 Simply Irresistible took out the Division 1 title. Photo: Karmyn Ingram Photography.
Saturday dawned with a light breeze but that changed quickly. From light airs in race one to challenging gusty conditions in race two, the fleet were able to display a wide range of skills.
Sunday brought heavier winds with some concern that racing might be cancelled due to the conditions, but racing got under way with the long harbour divisions heading for Onahau while divisions 1 and 2 took on the challenging conditions on a windward-leeward course near Allports Island.
With wind strength consistently in the 20-30 knot range, there was certainly no lack of motive power for the fleet, many crews enjoying the exhilaration of high-speed spinnaker and gennaker runs.
As wind gusts grew stronger and more unpredictable, the call was made to abandon the final race for divisions 1 and 2, with the regatta being decided over five races. Divisions 3 and 4 got their full quota of four races on the long harbour courses.
The Division 1 title went to Simply Irresistible, the Young 11 producing consistent performances to head off the flying Thompson 750 Honk n' Jack with overall line honours winner Loco placing third.
Division 2 was hotly contested, with the title going to Overspray, the Naval Point Yacht Club Elliott 780 taking the line and handicap double ahead of Waikawa Farr 1020 Prime Suspect while Royal Port Nicholson Yacht Club boat 88% Proof took third, the best of four Young 88s in the division.  
Division 2 line and handicap winner Overspray lives up to her name. Photo: Karmyn Ingram Photography.
Division 3 went the way of Raconteur, the Waikawa-based Hanse 400 continuing a recent run of good form to lead a local trifecta completed by Sequin, the Jenneau 36 taking second on countback ahead of Beneteau 456 Khamsin. Divisional line honours went to Midnight the Davidson 45 compiling a record of three wins and a second.
Division 4 went to Lotus 950 Satu ahead of Settimio, the Raven 26 second on countback ahead of Waipunga II. Line honours in the division went to Playwright, the Wright 10 assembling a perfect record with four wins from four races.
"Despite the absence of several well-performed boats committed to the Round North Island race and others due to mechanical issues, the regatta was a great success," Waikawa spokesman Duncan Mackenzie said. "A wide range of wind conditions gave everyone the opportunity to shine in their preferred conditions and all division winners were worthy title holders. Best of all, we didn't break any boats or people."