The Sanders Cup Senior Interprovincial Challenge will be contested for the 95th time next month and appears more open than in recent history.
Northland's Phil McNeil and Craig Gilberd have won the last five Sanders Cup regattas, marking an exceptional winning streak in the 99-year history of this competition and beating the X-Class Charade's record that had stood since 1970.
But the pair have not been able to sail in any event since last season due to injury, leaving the fleet guessing at the performance they will bring to Motuoapa on Lake Taupo (Febraru 22-24).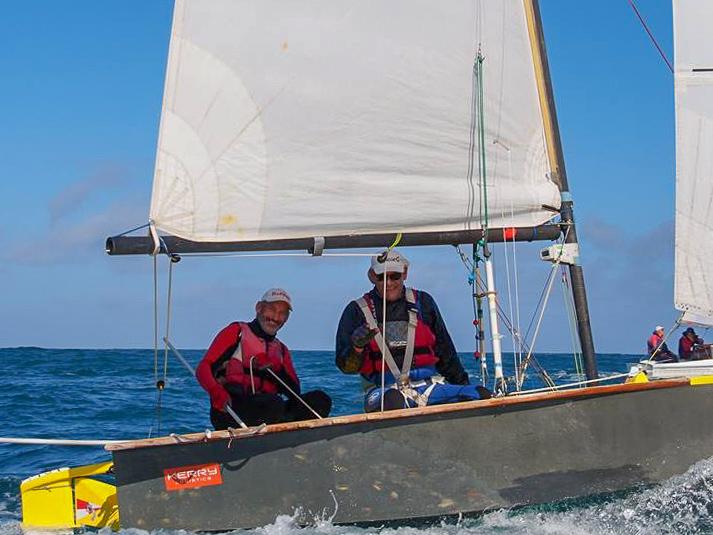 Phil McNeil and Craig Gilberd have won the last five Sanders Cup regattas.
Entries are confirmed from Northland, Auckland, East Coast and Wellington, with Bay of Plenty deciding their representative at the Tauranga Regatta the week before the event. 
The two family teams from the East Coast and Manawatu have both held the trophy before and are keen to get their hands on it again. The new combination from Auckland of Peter Precey and Hamish Hey is an unknown quantity, bringing the latest Lee design to a fresh water venue for the first time. 
The Sanders Cup is the oldest trophy sailed for in New Zealand under its original inception and is the only remaining senior interprovincial challenge competition still sailed for today. Racing is preceded by the Kingham Trophy, an invitation race.
See here for the notice of race
Anyone interested in giving these fast, affordable fun boats a try should contact the class on www.facebook.com/JavelinSkiff/  or at javelin@in4more.com. There are often crewing or helming positions available, as well as boats for charter.