Big fleets and great hospitality were once again features of the Interislander regatta at the Queen Charlotte Yacht Club last weekend.
More than 130 sailors lined up in the various fleets in the Interislander Optimist Championships and another 25 competed in the Port Marlborough Starling Championships.
The North Island took the Interislander trophy over the South Island as Auckland sailors collected the major spoils.
George Lee Rush (Wakatere Boating Club) won the Optimist open title on countback from his clubmate Harrison Loretz, with Noah Shirley (Kohimarama Yacht Club / Murrays Bay Sailing Club) in third. Lucy Leith (MBSC) was the first girl in fifth overall.
Jack Manning (Glendowie Boating Club) took out the Starling title from local Emily Overend (Queen Charlotte Yacht Club) and Tim Howse (Kohimarama).
The event was unfortunately marred by bad weather on the final day, which saw racing cancelled due to strong, cold winds and driving rain. The race committee had planned for this, however, running four races on both of the first two days.
The first day was raced in a developing north-westerly of 5-15 knots and the second depended on which course you were on. The green and rainbow fleets on the inner course close to the yacht club experienced light winds and sunny conditions - perfect for the crowds on shore to watch proceedings - but the course on the outer harbour had varying winds of 5-15+ knots and considerably cooler temperatures.
Lee Rush won the last two races of the day to jump to the top of the leaderboard on countback in the gold fleet to collect another trophy.
Manning sailed consistently well in the Starling fleet, never finishing outside the top three, to finish eight points ahead of Overend.
Ben Roff (Nelson Yacht Club) won the silver fleet, Jonty Leech (Charteris Bay Yacht Club) the green fleet and Liesl Angel Musto (QCYC) the rainbow fleet.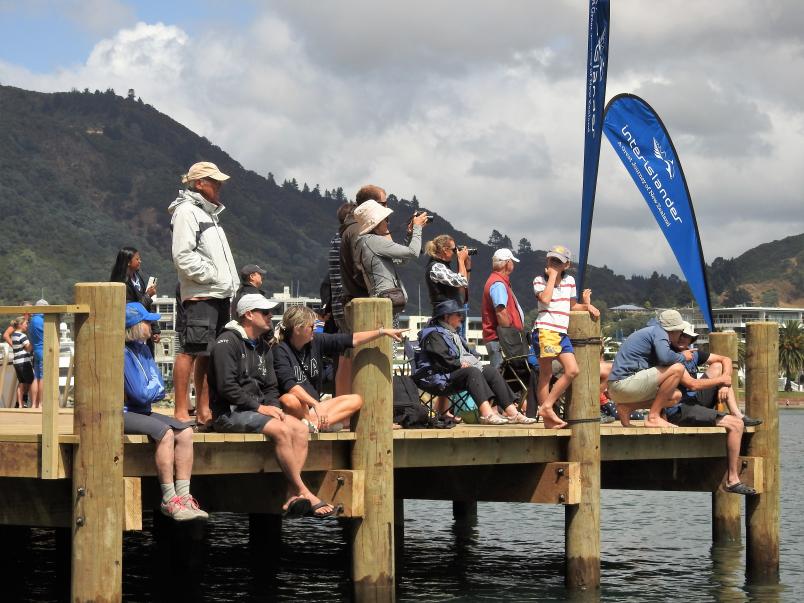 As usual, the onshore events and hospitality was a highlight for parents and supporters. The Taste of Marlborough event was a great success and featured tasting of local wines, wild meats and Marlborough seafood - all enjoyed on and around the floor of the yacht club which is being rebuilt.
Next year's Interislander regatta will be held on February 21-23.
Results from the 2019 Interislander Optimist Championship and Port Marlborough Starling Championships at the Queen Charlotte Yacht Club recently:
Optimist open gold fleet (45 boats)
1st: George Lee Rush (Wakatere Boating Club) 2 2 3 2 4 (6) 1 1 - 15 points
2nd: Harrison Loretz (WBC) 1 1 2 3 2 (5) 4 2 - 15 pts
3rd: Noah Shirley (Kohimarama Yacht Club / Murrays Bay Sailing Club) 4 4 1 5 1 9 3 (12) - 27 pts
Optimist open silver fleet (44 boats)
1st: Ben Roff (Nelson Yacht Club) (DNS 47) 17 26 15 8 3 2 1 - 72 pts
2nd: Logan Rodgers (Napier Sailing Club) 22 20 (28) 20 4 6 12 7 - 91 pts
3rd: Marcel van der Voort (French Bay Yacht Club) (34) 23 18 28 10 7 5 5 - 96 pts
Optimist green fleet (35 boats)
1st: Jonty Leech (Charteris Bay Yacht Club) 1 2 (10) 4 - 7 pts
2nd: Jimmy Scobie (CBYC) 2 1 5 (16) - 8 pts
3rd: Jack Pitts (Queen Charlotte Yacht Club) 6 (8) 4 3 - 13 pts
Optimist rainbow fleet (11 boats)
1st: Liesl Angel Musto (QCYC) 1 1 3 (4) - 5 pts
2nd: Wyatt Lindstrom (QCYC) 3 2 4 (5) - 9 pts
3rd: Nitai Carrington (QCYC) (7) 3 6 1 - 10 pts
Starling (25 boats)
1st: Jack Manning (GBC) (3) 2 1 3 2 1 1 3 - 13 pts
2nd: Emily Overend (QCYC) 4 1 2 5 1 (11) 4 4 - 21 pts
3rd: Tim Howse (KYC) 2 4 6 1 3 (10) 3 2  - 21 pts