The 2019 Starling match racing national championships threw up yet another surprise result, writes Brian Peet.
The 28-year history of the event has had more than its share of broken dreams from pre-contest favourites. Even during regattas, strong contenders in the early round robins are not immune to the fickle finger of fate and this year's event was no exception.
In the fresh conditions of day one, Emily Overend (Marlborough) performed in a class of her own with intelligent tactical selections and powerful upwind sailing, totally dominating the fleet and finishing the day on 11 wins and no losses.
Behind her were Max Scott (Auckland) and Lachlan Dillon (BoP) both with nine wins and two losses. Fourth on the leaderboard was her Nacra sailing partner Harry Edwards (Wildcard) with seven wins and four losses.
All points were set aside after day one and a series of semifinals, then finals races followed.
Day two saw much lighter winds of 3-7 knots and more opportunities for the smaller sailors.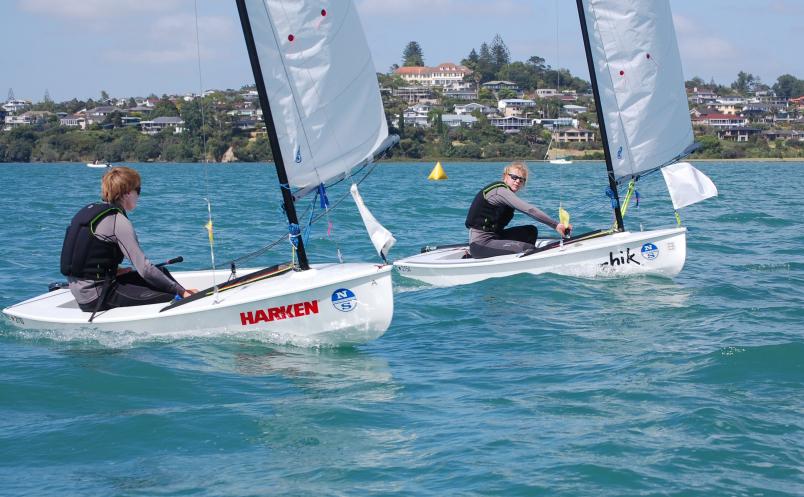 Harry Edwards and Emily Overend in a nail biting semifinal. Photos: Brian Peet.
The semifinal between Overend and Edwards became the defining round of the day and it came down to a deciding third race. Overend led for most of the race but was hunted down on the last run.
After gaining a leeward overlap, the ensuing luffing and evasions put both sailors well above the rumb line. Eventually Edwards made a dash to the finish with a rushed gybe and almost capsized.
While trying to protect her lead, Overend followed but, to her horror and the spectators' surprise, the gybe was a bit too aggressive and her capsize gave her opponent the race and entry to the finals.
Max Scott and Lachlan Dillon, both originally from Tauranga, sailed off in the other semifinal with Scott making a clean sweep.
The final between Scott and Edwards saw Edwards score three wins from four races and, in the process, add his name to a trophy studded with who's who of New Zealand yachting.
Richard Brown did trademark professional race management task, getting through 89 races in two days. Thanks to umpires, Mike Allison, Hamish Hey and Roger Purdie, order was maintained among extremely close, often aggressive and skilled boat racing.
Glendowie Boating Club's Paul Webber, Richard Beauchamp and a team of helpers staged the regatta, providing matching Mackay Starlings with identical carbon rigs. The wonderful sailor support came with the GBC's renowned friendliness.   
Results from the Starling match racing national championships at the Glendowie Boating Club recently:
1st: Harry Edwards (South Island Wildcard 2)
2nd: Max Scott (Auckland)
3rd: Emily Overend (Marlborough)
4th: Lachlan Dillon (Bay of Plenty)
5th: Peter Eaglen (North Island Wildcard 1)
6th: Cailen Rochford (North)
7th: Ella Wilcox (South Island Wildcard 1)
8th: Fergus Baxter (Wellington)
9th: Jordan Dakins (East)
10th: Georgia Schokking (Nelson) 
11th: Jack Webber (North Island Wildcard 2)
12th: Antonia Hill (Canterbury)