The 2018 Volvo Yachting Excellence Awards are just around the corner and some winners have already been announced. In the second of a two-part series, meet half of the winners in the service, youth performance and performance categories.
Service Awards
Amanda Michel - Wakatere Boating Club
Amanda has been a stalwart of the Wakatere Boating Club for more than 12 years, serving as the communications and membership manager. She manages all social media channels for the club,  as well as a number of class associations like the Starling, 420 and RS Feva, and is often the first person people meet then they visit or join Wakatere. She's always ready to help and never takes time off from club duties, even when on holiday in Europe. 
Jill Metz-Mayhead and Adrian Mayhead - Wairoa Yacht Club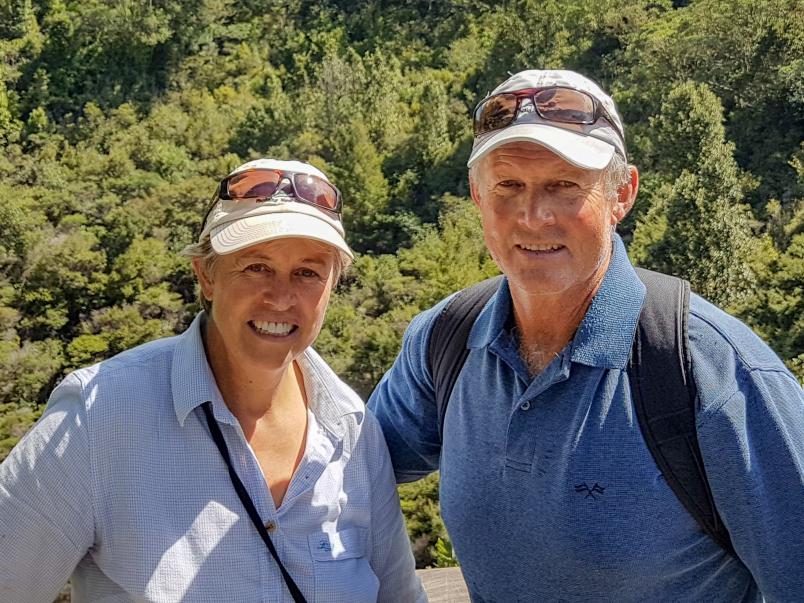 Jill and Adrian have combined to ensure the survival of the Wairoa Yacht Club. Jill has been a member for 50 years but her main contribution has been in junior sailing, as a junior training
officer, learn to sail coach and organiser of the learn to sail programme and junior sailing summer
camps. Adrian is into his second spell as commodore, holding the position for the past 17 years, and has been instrumental in club regattas and bringing together of other clubs. He's also a learn to sail coach.
Bryan Taylor - Royal New Zealand Yacht Squadron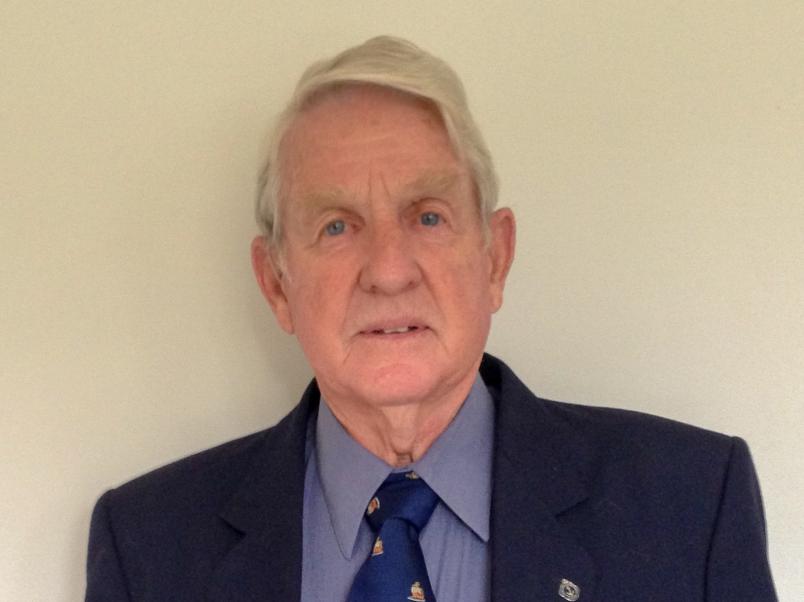 Bryan has been a member of the Royal New Zealand yacht Squadron for 52 years and for more  than half of that time has helped with race management. He's been involved in a number of national and international events, including the 2003 America's Cup, but it's his commitment to grassroots sailing that stands out. At present, for instance, he's managing races up to five
days a week and he's also happy to help with mentoring and training new club officers.
Richie Williams - Bucklands Beach Yacht Club
It would be hard to find anyone who knows more about H28 yachts than Richie Williams because, for the past 38 years, he has meticulously kept a record of H28 yachts, noting the details of location, ownership, sail and name changes. He is rarely without his camera, ensuring
that history is not lost to the association, and now has a database of 468 yachts that have connections with the H28 Association of New Zealand since it was incorporated 44 years ago.
Dennis Win - Nelson Yacht Club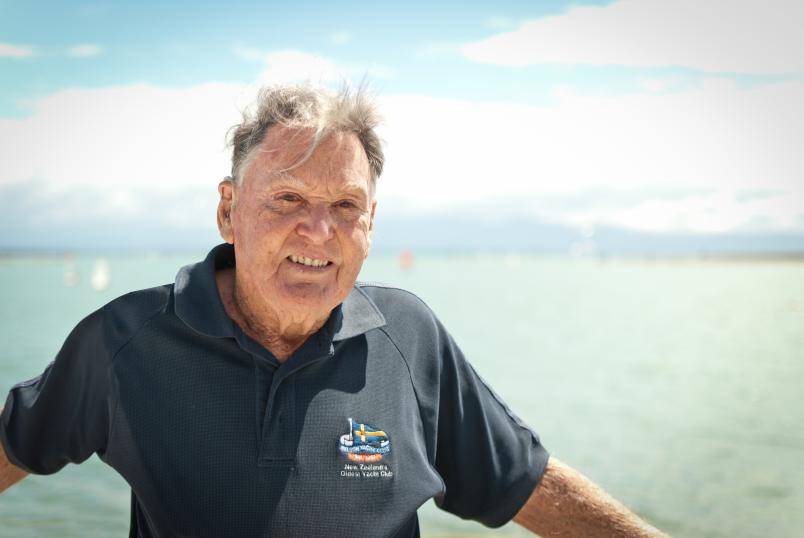 Dennis has been a member of the Nelson Yacht Club longer than many New Zealand clubs have  been around. Dennis joined New Zealand's oldest club, which was established in 1857, as a 14-year-old dinghy sailor and only recently stepped down from crewing on a keelboat. In the past 75 years, he has been involved in all facets of the club from major works projects and membership
drives to coaching and fundraising. Now aged 89, he still helps with club racing and Sailability and he's presently working on a legal submission seeking compensation for the club.
Cruising Award
Malcolm & Joan Dickson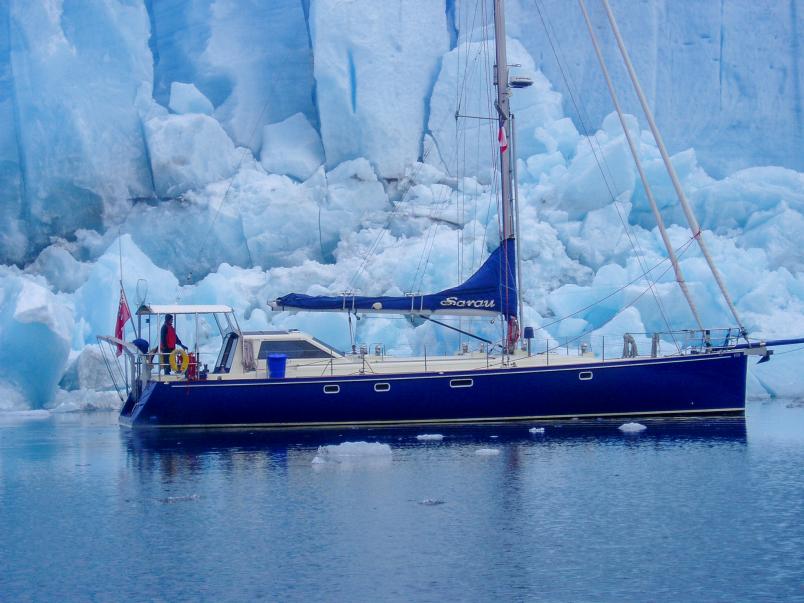 The pair have circumnavigated the globe, setting off from Tasmania in 2005 and rounding Cape Horn. They spent the next four years in the Atlantic, cruising around Argentina, Uruguay, Brazil, the Caribbean, the Galapagos and Easter Islands and Chile before returning to the Horn. They then sailed past the Cape of Good Hope and into the southern Indian Ocean before arriving at Freemantle. Given their circumnavigation started in Tasmania, they felt they needed to return to Hobart where they were given a great welcome. Nine years after leaving New Zealand, Malcolm
and Joan returned home, but they've rarely sat still and this year Malcolm was second behind his son Hamish in the Solo Trans-Tasman Yacht Race, 40 years after he won the race on handicap.
Youth Performance Awards
Greta Stewart & Tom Fyfe - Murrays Bay Sailing Club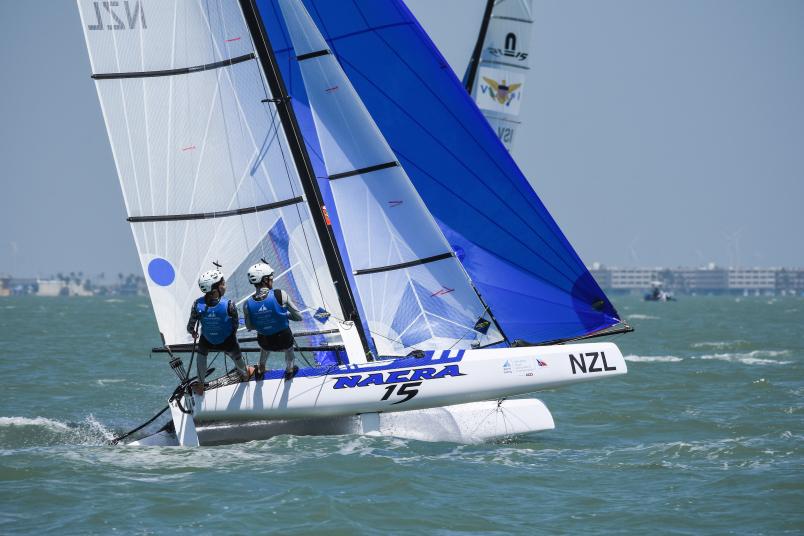 Greta and Tom claimed bronze at the 2018 youth sailing world championships in the Nacra 15  class. The medal was particularly significant for Stewart, who joined Chris Dickson as the only New Zealanders to win three medals at the youth worlds. Stewart and Fyfe had been sailing together for less than a year and dominated the local scene, winning both the NZL Sailing Regatta and Yachting New Zealand youth trials.
Crystal Sun & Olivia Hobbs - Kohimarama Yacht Club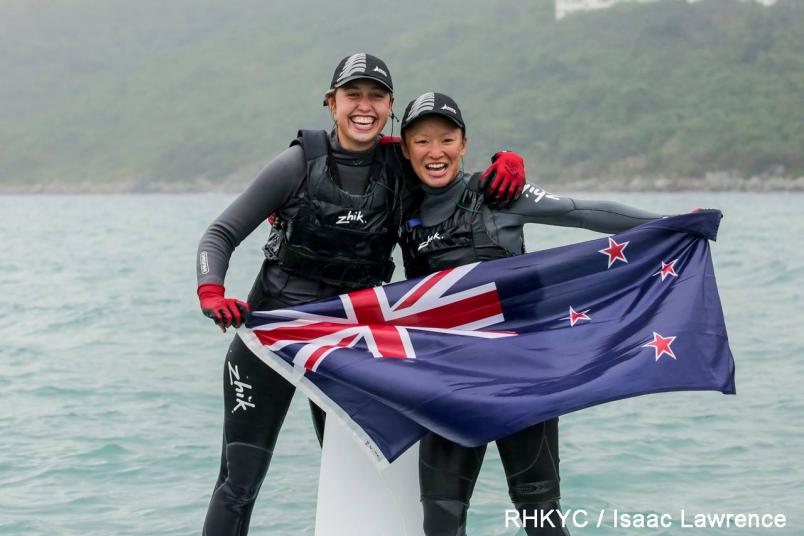 Crystal and Olivia won the girl's title at this year's 29er world championships in Hong Kong, being the only all-female crew to qualify for gold fleet in challenging sailing conditions. The pair, who have recently graduated to the 49erFX with ambitions of competing at the 2024 Paris Olympics, were also 15th at the 2017 youth sailing world championships in China.
Veerle ten Have - Tauranga Yacht & Power Boat Club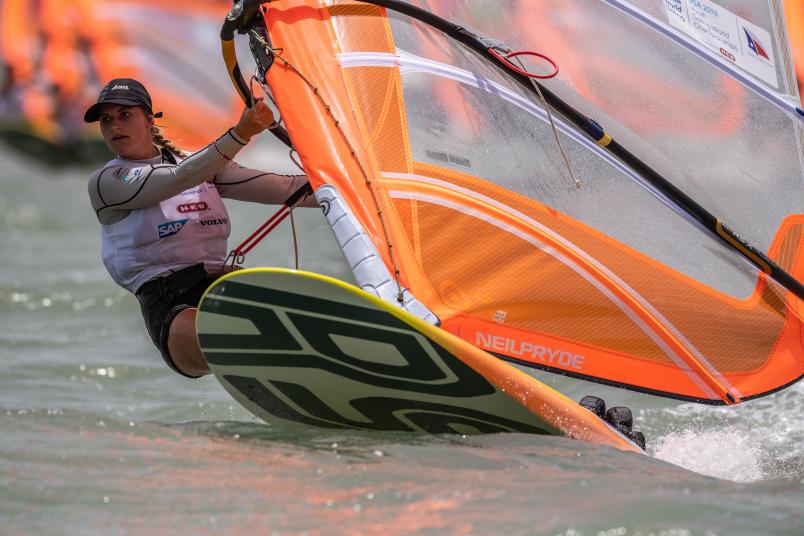 New Zealand has a great history in boardsailing and it's hoped Veerle will continue that legacy after collecting silver at the 2108 youth worlds. The Tauranga teenager also won the Oceania title, earning selection for the recent Youth Olympic Games which was sailed in the unfamiliar Techno 293+ class, and showed glimpses of her potential at this year's sailing world championships in Aarhus.
Performance Awards
Sam Meech - Tauranga Yacht & Power Boat Club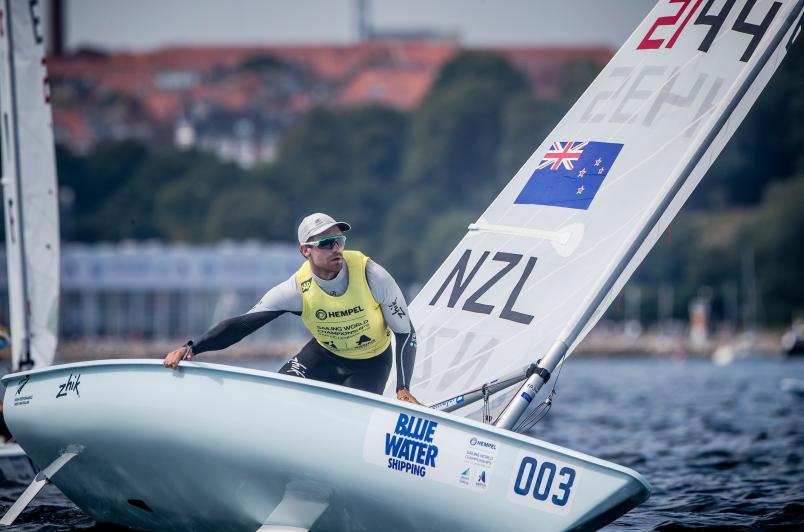 Sam has established himself as one of the best and most consistent Laser sailors and ended the
year as the world No 1. He started the 2018/19 season by winning his first World Cup regatta in
Gamagori and followed it up with podium finishes at the Princess Sofia regatta in Palma, World Cups in Hyeres and Enoshima and the Laser Europeans in La Rochelle. He wore the yellow bib for a number of days at the world championships in Aarhus before eventually having to settle for fourth.
Josh Porebski, Jack Simpson & David Hazard - Royal Akarana Yacht Club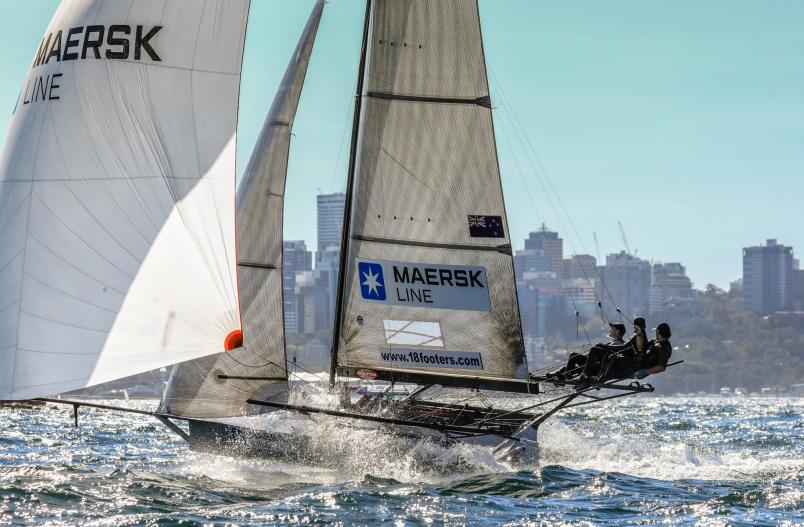 New Zealand not only won the JJ Giltinan Trophy for the first time 44 years but also finished second, with the Maersk Line trio of Josh Porebski, Jack Simpson, David Hazzard finishing
only one point behind Honda Marine. What made that even more remarkable was that they came
into the event on the back of only 15 days of racing in the 18-foot class prior to the world championships. Maersk Line were a model of consistency throughout, winning two of the
nine races and never finishing outside the top five in the 25-strong fleet.
Phil Robertson, William Tiller & Stewart Dodson - Royal New Zealand Yacht Squadron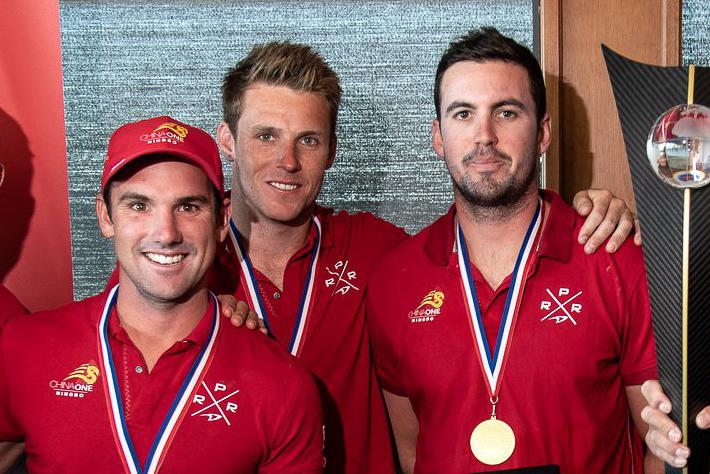 The trio were part of the China One Ningbo Sailing Team who won the World Match Racing Tour
Match Cup in Norway and backed it up by defending their M32 world title in Chicago. Dodson and Robertson, who spent most of the year ranked as the world's No 1 match racer, have also enjoyed success in the Extreme Sailing Series with Oman Air.
Daryl Wislang - Worser Bay Boating Club
Wisbang, as he is known, has rightfully developed a reputation as one of the world's best offshore
sailors, with his victory in this year's Volvo Ocean Race with Dongfeng Race Team following on from his success with Abu Dhabi Ocean Racing last time around in 2014-15. Wislang has now done five editions of the round the world race and has already hinted at trying to win three in a row in the next instalment in 2020-21. But he's also put a lot back into junior sailing in Wellington, helping to raise funds for learn to sail programmes and the rebuild of the Worser Bay Boating Club.