The Kiwi Racing Team recently defended their G.J. Gardner Open Team Sailing Championship title held at Kerikeri Cruising Club, going through the regatta unbeaten.
The team of captains Frankie Dair, Sean Herbert and Reuben Corbett with their crews Maeve White, Jeremy Mitchell and Serena Woodall were the standout among the 11 teams who gathered at Kerikeri for the second open team sailing national championships.
The event is largely about keeping everyone involved in team racing post-school days, however, open entry encourages teams to find additional sailors. It meant a wide range in the age of sailors, from 13 to some in their 30s, and the team names often reflected the spirit of the event, with the likes of Knot Likely, Sucking Fail, Thievery, Young Guns, Wasted Seamen and Tacktix among those involved.
"The nationals is more about getting people back out on the water in a team environment, as team racing used to just stop once you finished school," said Corbett, who also doubled as event organiser. "It's been great to catch up with old friends and get back into it.
"Most of the sailors were a little hesitant at first but all the old tricks came flooding back as people got rid of the rust. The vibe of the event involved a lot of reminiscing and people laughing at themselves because, at first, they couldn't pull off the moves like they used to. This resulted in a pretty chilled event yet the competitiveness came back once the knockout phase began and there was some top-notch racing in those knockout rounds."
There were a variety of conditions across the three days of racing of Queens Birthday, starting in blustery winds (gusts close to 30 knots were recorded) and ending on the third day prematurely with no wind whatsoever.
The team from the Royal New Zealand Yacht Squadron finished runners-up with Wasted Seaman third.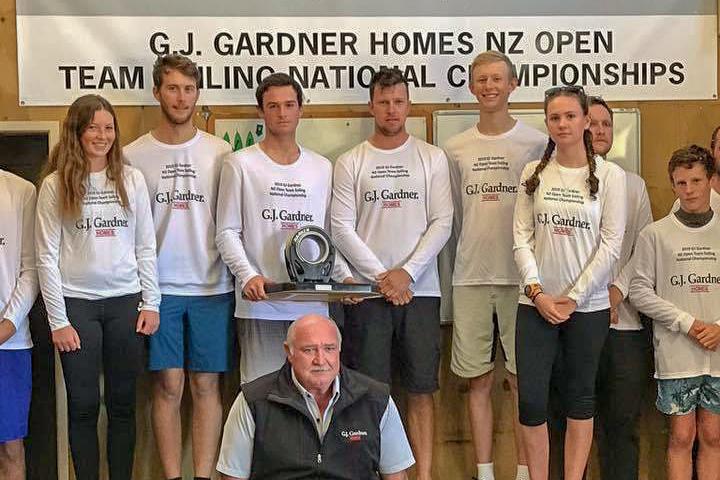 The winning Kiwi Racing Team.
Corbett said his team will look to compete overseas.
"We're looking at doing the biggest team racing event in the USA in mid-August called the Hinman Trophy," he said. "After winning last year, we did the Wilson Trophy in the UK which was a heap of fun."