Brayden Hamilton and Pat Morgan gave it a crack by winning the last race of the regatta but just fell short of picking up a medal at the 29er world championships in Poland today.
It meant the pair had to settle for fifth, just three points behind the third-placed team of Alice Moss and Carl Hörfelt from Sweden. France's Aristide Girou and Noah Chauvin won gold, finishing 13 points ahead of Stephan Baker and Ripley Shelley from the United States.
Competitors had to contend with a range of conditions in Gdynia throughout the regatta and on the final day endured a two-hour break before the wind returned just in time to get the last race away three minutes before the time limit.
Hamilton, 16, and Morgan, 18, adapted well, and their third, 16th and first in today's three races was the lowest combined score in gold fleet. They won two races overall in finals racing to help them jump up dramatically from the 23rd they found themselves in at the end of qualifying.
"The event was really up and down for us," Morgan said. "We had some good days and some bad days but we ended on a high.
"We had a good last day, climbing a few places and won the last race which was really good. We felt we sailed well throughout the event and adapted to the conditions quite well."
Morgan will now switch his attentions to the 49er and at the end of the year will sail with his brother in the 49er, 49erFX and Nacra 17 world championships in Auckland.
Hamilton, though, still has a couple of years left in the youth classes and will look to find another partner to continue 29er sailing in the hope of competing at next year's youth sailing world championships.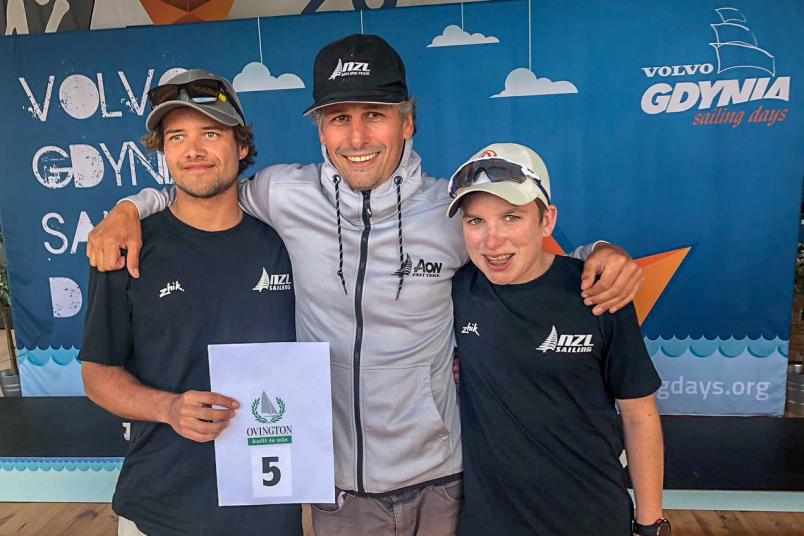 Pat Morgan, left, and Brayden Hamilton celebrate their fifth place with Yachting New Zealand head youth coach Matt Thomas. 
Eli Liefting and Jack Frewin represented New Zealand at this year's recent youth worlds, sailed at the same venue, and backed it up with 17th at the 29er world championships.
They showed their potential when they were first and second in races on the penultimate day to climb to 11th overall but struggled in the lighter conditions on the final day. 
"It was super-tricky conditions, probably the trickiest we're ever sailed in," Liefting said. "There were massive gains and losses on every day. It was a bit disappointing because we made a big loss on the last day but it was super-fun learning about different conditions." 
It was a similar experience for Seb Menzies and Sam Street, who finished 40th. The pair are more accustomed to 420 sailing - Menzies recently won the 420 class with Blake McGlashan at the youth sailing world championships - and also different partners.
"Usually we race against each other, so jumping in together we had a few communication issues sometimes, but we pulled through and had fun," Street said. "It was good racing. It was a good place to learn different sailing skills and meet good people."
Jack Honey, who competed in the Nacra 15 at the youth sailing world championships, was 44th overall with his Spanish partner.
Results and standings from the 29er world championships in Gdynia, Poland: 
Gold fleet (45 boats)
1st: Aristide Girou/ Noah Chauvin (FRA) 14 13 2 1 (37) 10 5 5 - 50 points
2nd: Stephan Baker / Ripley Shelley (USA) 8 5 28 6 12 1 (40) 3 - 63 pts
3rd: Alice Moss / Carl Hörfelt (SWE) 13 9 (21) 17 18 2 3 11 - 73 pts
5th: Brayden Hamilton / Pat Morgan (NZ) (33) 1 10 22 3 16 1 23 - 76 pts
17th: Eli Liefting / Jack Frewin (NZL) 28 23 1 2 (35) 21 18 25 - 118 pts
40th: Seb Menzies / Sam Street (NZL) 34 32 23 11 (42) 38 34 44 - 216 pts
Pic: Eli Liefting and Jack Frewin were 17th at the 29 world championships. Photo: Robert Hajduk / shuttersail.com.