The Manatū Taonga Ministry for Culture and Heritage are looking for 450 people to join Tuia 250, a flotilla of vessels that will sail around the country to commemorate 250 years since the first encounters between Maori and Europeans.
Six core vessels will take part in the flotilla - two waka hourua (double-hulled canoes), a va'a moana from Tahiti, two heritage ships and one youth ship - which will sail together from October to December to visit 15 sites around New Zealand with significant cultural and historical importance to both Pacific and European voyaging. 
"Tuia 250 acknowledges the stories from those first onshore encounters between Māori and Europeans, both good and bad, so we can learn about our history in a balanced and respectful way," Manatū Taonga Ministry for Culture and Heritage chief executive Bernadette Cavanagh said.
"This event will be so much more than simply focussing on what happened in 1769 when James Cook, Tupaia and the Endeavour crew arrived in Aotearoa.
"New Zealanders are ready for and want a balanced, respectful and honest reflection of our journey together from those encounters to now. The Tuia 250 Voyage will provide a framework for this discussion."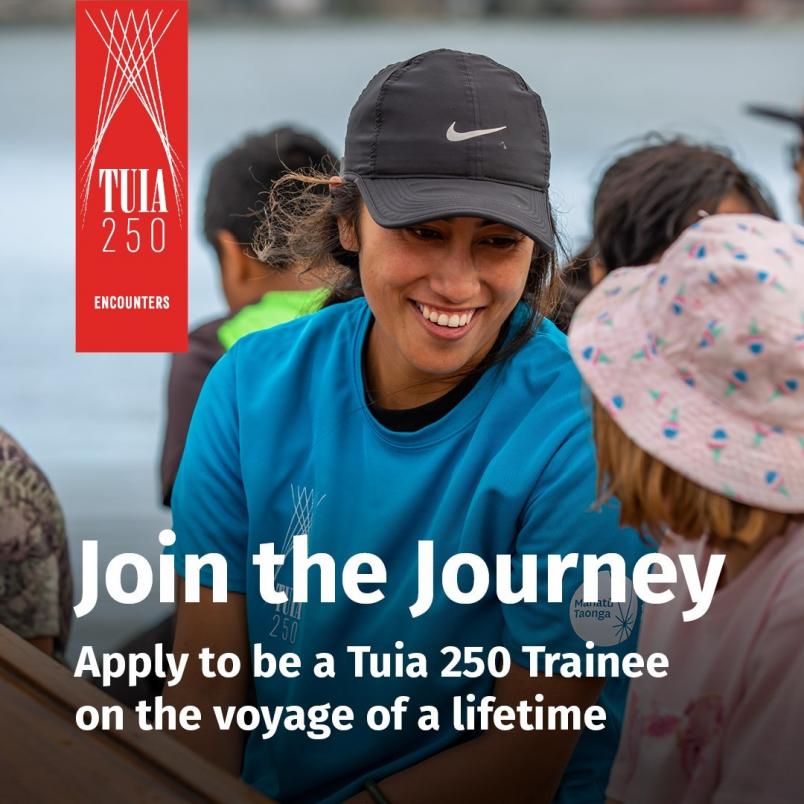 The programme has spots available for 450 New Zealanders, 220 of those will be allocated by region to ensure this is an opportunity open to all. There are also berths available for 230 students aged 14–18. Schools will nominate students for three types of voyages.
Free berths during September, October, November and December are available to adults and youth aged 16 and over, as well as Year 10 students nominated by their school. No sailing experience is necessary.
The Tuia 250 Voyage will travel to 15 sites around the country from October to December this year. Voyage legs range from overnight to 15 days.
Applications close at 5pm on June 23. To apply, visit the Tuia 250 website: tuia250.nz
The waka hourua are Haunui from Tāmaki Makaurau / Auckland, and Ngahiraka Mai Tawhitifrom Tauranga. The va'a moana is Fa'afaite i te Ao Mā'ohi and joins the Flotilla from Pape'ete, Tahiti.
The heritage vessels joining the Flotilla are the HMB Endeavour replica from the Australian National Maritime Museum in Sydney, the Spirit of New Zealand from Tamaki Makaurau / Auckland, and the R. Tucker Thompson from Pēwhairangi / Bay of Islands.
The Royal New Zealand Navy will be supporting the voyage with naval vessels at different sites.
What's happening at each site
Opportunities for the public to go on board the vessels
National Science Technology Roadshow about Pacific and European voyaging
Pop-up planetarium focusing on celestial navigation
Activities by waka hourua crew to instruct the public how to use waka sails and build a star compass
Speaker presentations about the Spirit of New Zealand youth programmes
Educational sessions hosted by the HMB Endeavour crew
Display of story boards about the R. Tucker Thompson
Wānanga and educational programme about sustainable oceans
Regional community events – head to Tuia 250 website for more information, or get in touch with one of the four landing site trusts: www.totaranui250.co.nz, teaumarie1769.org.nz , www.mercury250.org , www.teha2019.co.nz