Peter Precey and Hamish Hey recently claimed their first Javelin national title together as they finished strongly by winning four of the last five races.
The pair had been expected to challenge Phil McNeill and Craig Gilberd, who had won three of the last four nationals and are the current South Pacific champions. McNeill and Gilberd had age on their side (both are over 60) as well as experience sailing together and McNeill's own designed hull, mast and dacron sails.
Precey and Hey turned up to the event with their near-new one-off hull design, which boasted a radical layout and the latest high-tech fully-adjustable 12-footer styled rig. Interest was in whether their 205kg combined crew weight would give them a decided advantage in the windy conditions.
The seven crews from as far afield as Northland, Palmerston North and Gisborne battled conditions of 15-25 knots and choppy seas over the three days at the Howick Sailing Club.
It was McNeill and Gilberd who took an early lead, winning the first four races on the back of their superior boat handling in the fresh breezes before terminal boat and crew damage during race five saw them retire from the series.
They weren't the only ones to suffer boat damage, and Ross and Colin Shanks, who had been fighting for second overall after race five broke their jib traveller car. They tried a different setup but could not continue on the last day.
David Brown and David Feek finished second overall, six points behind Precey and Hey, with Antje Muller and Kez Cameron a further 10 points behind in third.
It was Precey's first national title but fourth for Hey and was just reward for a lot of hard work, tuning and training by the team. Even though the heaviest crew won the series, their high-tech approach and overall package will give the rest of the fleet something to digest over the winter leading into next year's national championships and South Pacific Championships in Noosa, Queensland.
See here for more on Javelin skiffs
Results and standings from the Javelin national championships at the Howick Sailing Club recently:
1st: Peter Precey / Hamish Hey (Royal Akarana Yacht Club) 2 2 (4) 3 1 1 3 1 1 - 14 points
2nd: David Brown / David Feek (Horowhenua Sailing Club) (4) 4 3 2 2 3 1 3 2 - 20 pts
3rd: Anjtje Muller / Kez Cameron (Opua Cruising Club) 5 5 (8 DNS) 8 DNC 3 2 2 2 3 - 30 pts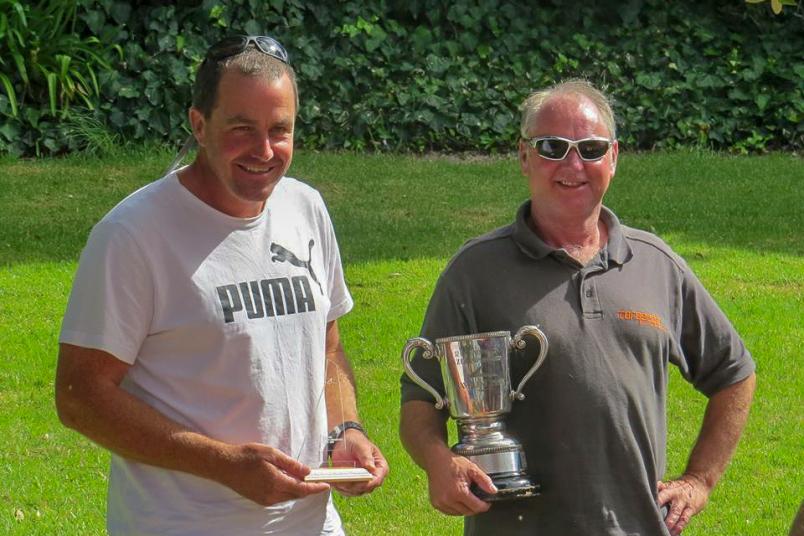 Hamish Hey, left, and Peter Precey celebrate their win. Photos: Howick Sailing Club.