It was not only the biggest Hansa national championships but it was also considered the best when the event wrapped up in Wellington last weekend.
As many as 60 sailors from around the country, as well as ones from Sydney, participated in the 11th running of the Hansa national championships, which also included the blind national regatta and Ability Trophy for those with intellectual disabilities or brain injuries.
Sailability is an international programme aimed at providing sailing opportunities to people with disabilities who would otherwise be excluded from the sport. Disabilities include sensory, intellectual and physical impairments; but to see the sailors out on the water, you would never guess the challenges they've overcome to enjoy their chosen sport.
While some are capable of sailing solo or single-handedly, other sailors require support in the form of an additional crew member who may also have a disability or be able bodied. Additionally, sound buoys were used to assist visually-impaired sailors keep to the course, enabling them to sail single-handedly.
Competitors raced in two classes of boat – the HANSA 303s and Liberties. Only one servo-controlled vessel was entered into the regatta, enabling the sailor to manoeuvre the vessel and sails by using a button.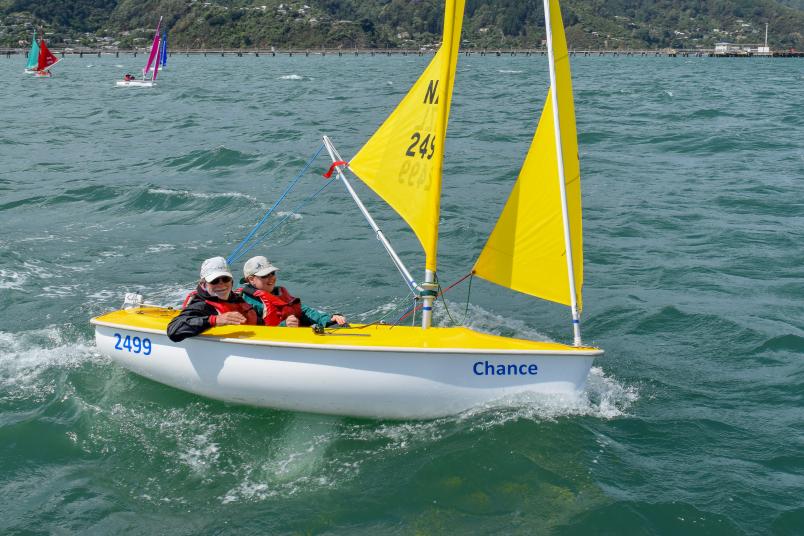 Photos: Peter Jackson
Strong, gusty winds and choppy seas provided challenging conditions for the competitors. Apart from Friday, which saw afternoon races cancelled on account of the conditions, participants raced in six races each day.
Racing was tight, providing the opportunity for some good strategic sailing for the more experienced participants.
"Everybody said it was a wonderful weekend, the best Hansa regatta ever, and it was certainly the biggest," Sailability Wellington spokesman Don Manning said. "It was an incredibly successful regatta and a big thanks to all the volunteers and officials.
"Anyone interested in coming down should make contact with their nearest Sailability centre and we always need volunteers to make the programme work."
A coaching clinic was held by World Sailing accredited coach John Sanderson leading into the regatta and Sanderson also competed.
"Thank you for inviting us to be part of this wonderfully inclusive event," Sanderson said. "It was great to be able to help with so many vision impaired and ability sailors and gives us a lot to think about in Australia."
Final standings from the Hansa national championships in Wellington:
303 singles: Paulien Chamberlain (Tauranga), Darrell Smith (Wellington, David Allerton (Taranaki)
303 doubles: Sue Morris / Chris Sharp (Northland), Sarah Plunket / John Sanderson (Sydney), Laura Stuart / Brent Porter (Wellington)
Liberty: Tony Vaka (Auckland), Darrell Smith (Wellington), Tom Scott (Tauranga)
Blind singles: Paulien Chamberlain (Tauranga), David Allerton (Taranaki), Dave Parker (Rotorua)
Blind doubles (B1) (sailed with sighted companion crew): Toby Ireland (Wellington), Stuart Nichols (Wellington)
Blind doubles (B2) (sailed with sighted companion crew): Sarah Plunket (Sydney), Christina Jessop (Tauranga), Natalie Fraser (Wellington)
Kiwi Cup: Tony Vaka (Auckland),  Paulien Chamberlain (Tauranga),  Darrell Smith (Wellington)
Ability Trophy: Sue Morris (Northland), Matthew Henderson (Wellington), Caleb Evans (Tauranga)
See here for more information about Sailability Wellington or visit their Facebook page