Volvo Sailing... Have a Go! instructor Justin Hurst knew he was in a different part of the world when a couple of 2m bronze whaler sharks cruised past the group of youngsters he was teaching how to sail.
"They were Great Barrier kids and are used to seeing sharks and they thought it was neat," Hurst said. "I would have had hysteria if that scene played out in most other parts of the country.
"They looked marvellous in the crystal clear waters just gliding along. They didn't think we were that interesting so left us to it."
More often than not, however, the presence of the 8m Volvo Sailing... Have a Go! trailer attracted plenty of interest. It was just the second time the programme had visited Great Barrier Island and Hurst spent two days teaching children from the three primary schools on the island.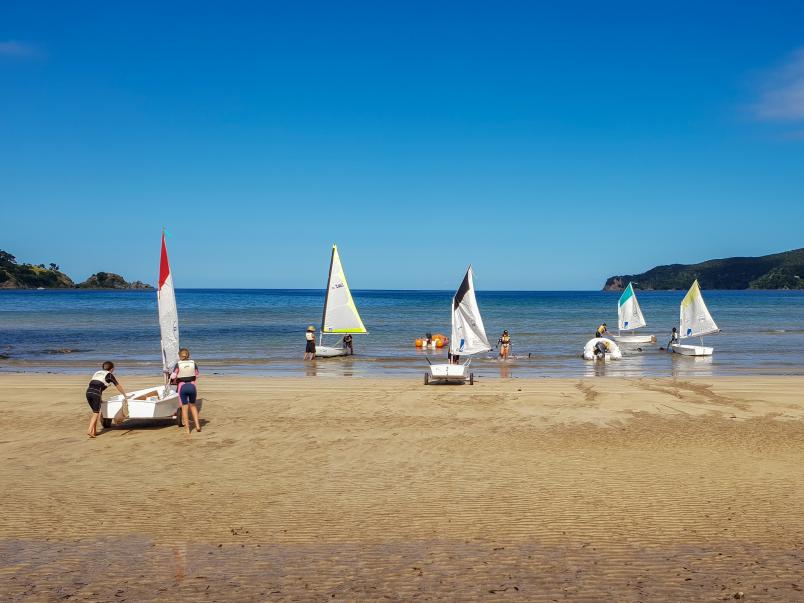 He also took the opportunity to teach some parents in the hope they will continue the sailing education of some of the children. A number of locals also offered to help, even though they didn't have children participating in the programme.
"It was such a rewarding trip," Hurst said. "Everyone was just so grateful to me and Yachting New Zealand for making the effort to go there and give the kids the opportunity to try something like this.
"There's such a great community spirit there - I was hosted each night and there was also a community dinner on the last night - and everyone would come up and ask me about the [Have a Go!] trailer."
See here for more on the Volvo Sailing... Have a Go! programme, including information on how you can register your interest in the trailer visiting your school.