The final day of racing in the Bayleys Young 88 South Island Championships saw an epic tussle between Craig Edwards' team on Flying Machine and defending champion Harry Thurston on One Way. 
A win and two seconds on the final day was enough to secure the win for Flying Machine's Team Machine, who reclaim the trophy they lost to Thurston last year. Thurston, a former Team New Zealand member and America's Cup World Series sailor, won the trophy last year in Lyttelton. 
"The calibre of competition is a real credit to Young 88 class racing in the South Island," Edwards said, noting the close competition among the fleet this year.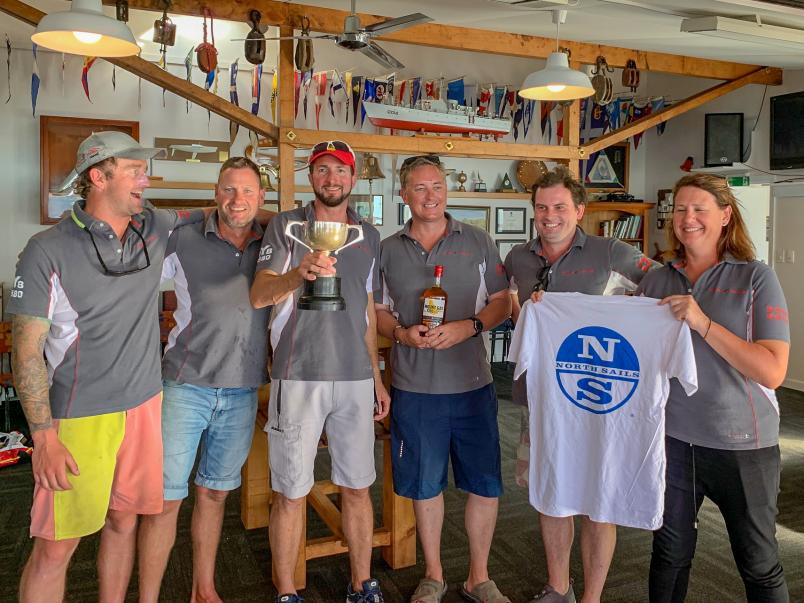 Craig Edwards and his team on Flying Machine celebrate their win. 
In third was Meltdown (Gil Smith) who piped Rick Hailfax (First Class) on countback for the podium finish. 
Sailing in ideal conditions on Akaroa Harbour on Saturday, there was an anxious wait on a calm Sunday morning before the sea breeze filled in and racing got underway. 
Thurston has recently acquired Auckland-based Young 88 Undercover and is expected to make his mark on the Young 88 scene at the Harken Young 88 nationals championships in two weeks time. 
With great support from Norths, Harken, Mt Gay Rum and Oborns Nautical host, Akaroa Yacht Club were thrilled with the success of the event and are looking forward to more top-level keelboat racing at the President's Cup Canterbury Keelboat Championships this weekend.