Like a lot of teenagers approaching the end of high school, Thomas Crook doesn't really know what he wants to do in the future but he has a better idea after participating in the recent BLAKE Inspire for Sailors programme.
Crook was one of 30 year 11-13 students from 21 yacht clubs around the country who spent the week in Auckland recently for the inaugural five-day environmental leadership programme designed for emerging New Zealand sailors and run in conjunction with Yachting New Zealand. 
It was a busy week packed with anything from conservation programmes and scientific testing to sessions with leading environmentalists, sailing on Lion New Zealand to Tiritiri Matangi and a visit to Emirates Team New Zealand's base. Each sailors learned a considerable amount about the environment and the haste with which we need to act to minimise the impact of climate change.
Crook's highlight, and something that proved very popular among the group, was examining plankton under a microscope. Plankton play a key role on Earth, not only in the food chain but also in producing more than half the oxygen we breathe.
"I had no idea plankton even existed anywhere other than Antarctica so to fish it up in a net from a bridge just five minutes outside of the CBD and to then go and look at it eating each other and swimming around under a microscope was pretty awesome," said Crook, who sails out of the Wakatere Boating Club. "I felt like a mini marine biologist, so that was super-exciting.
"One of the main reasons I came to the programme was to figure out what I wanted to do in the future. I realised, particularly recently, I have quite a passion for the marine environment and for saving it for the future but wasn't quite sure how to direct that. The programme has really put me in the position where I can talk to some really knowledgeable people and discussing what the pathway could be in to helping the marine environment. It's really thrusted me into a future of helping out."
That was one of the aims and it's hoped the young sailors will become leaders in their clubs and communities.
It's a responsibility Serena Woodall, a 17-year-old from Waiheke Island who is a member of the Royal New Zealand Yacht Squadron's youth training programme, takes seriously and she felt energised after the BLAKE Inspire for Sailors programme.
"One of the highlights, which I didn't expect, was being surrounded by so many people with the same passion and drive," she said. "Everyone here is into sailing and has a connection with the ocean, and everyone wants to become leaders and ambassadors for the ocean, which is awesome.
"If someone was interested in joining [the programme], I would say definitely give it a shot, even if you're not too sure. I wasn't sure what I was wanting or where I wanted to go but it's definitely opened my eyes and given me a lot more understanding and passion for the environment and for sailing. 
"It's really opened my eyes to the problems we have in our back yards and also given me some insight into what we can do to help improve that and how we can go back to our clubs and communities and help sustain our oceans."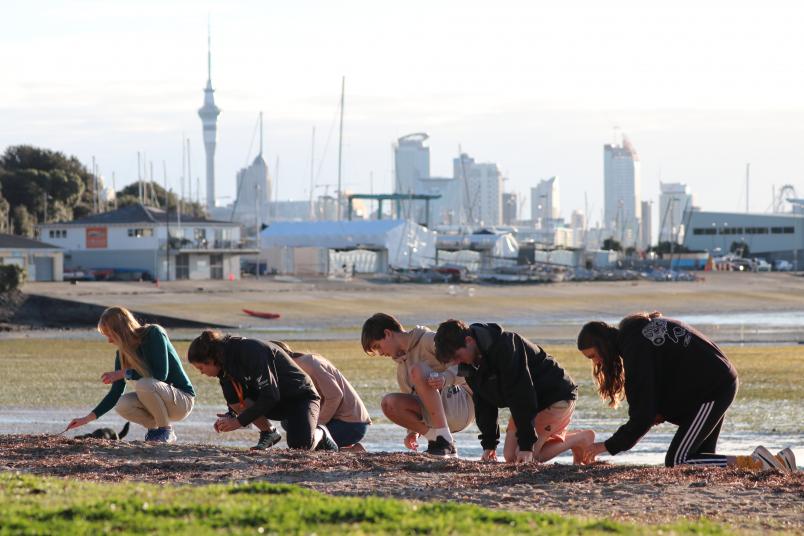 The students did a beach cleanup on the first day. Photo: Yachting New Zealand.
This year's Blake Inspire for Sailors programme was the first of what is expected to be an annual offering. Individuals from both BLAKE and Yachting New Zealand will meet to evaluate the success of the first programme and changes they can introduce to make it even better.
Yachting New Zealand regional support officer Raynor Haagh was a chaperonne, accompanying the students throughout the week and even staying with them at the hostel at Epsom Girls' Grammar.
Along with a mock parliamentary session, Q&A with people who sailed with Sir Peter Blake along with his daughter Sarah Jane Blake, and a beach cleanup that inspired visitors to get involved, Haagh was impressed by the action plans each sailor came up with to implement in their own yacht club or community.
"Blake Inspire for Sailors was a great week of total environmental leadership immersion," Haagh said. "I was particularly impressed with the input from the sailors into the clean club standard workshop undertaken and look forward engaging with clubs around this in the near future.
"I'm also excited to see the sailors' action plans take shape in their local clubs and communities in coming months."
See here for more on the Blake Inspire for Sailors programme