The lure of representing New Zealand motivated Chris Salmon to join a yacht club and participate in the Zhik New Zealand eSailing Challenge.
Salmon is one of around 30 club champions who have progressed through to this weekend's regional finals. The top three from each of the four regions will then compete in next weekend's New Zealand finals with the top six then going on to take on the top six eSailors from Australia.
The overall winner of the Zhik New Zealand eSailing Challenge also collects a $500 voucher from Zhik as well as a $500 Zhik voucher for their club.
Salmon wasn't previously a member of a yacht club but joined the Pupuke Boating Club when he heard Yachting New Zealand were running an eSailing challenge.
"After being involved in eSailing for two years, it's now my No 1 sport," he said. "I'm too old to be running around a rugby pitch any more.
"I don't think I will win because there are others out there better than me but finishing in the top six and competing against Australia is my real target. To me, the chance to represent New Zealand is what I really want to achieve."
Many expect Salmon to achieve that, given he has been ranked as high as 11 in the world and sometimes plays up to two hours a day, but he knows there are other good eSailors out there and is worried about finishing outside the top three in the northern region.
"I've got to get to the final first."
The competition's youngest regional finalist, Sebastian de Vos, is also feeling nervous about taking on the best eSailors from the central region (lower North Island).
The 10-year-old was surprised to emerge as the Napier Sailing Club's champion but had been racing in the club's lockdown cup during alert level 4 and had also wanted to beat someone a little closer to home.
"I started [playing Virtual Regatta] last year because Dad was playing and I wanted to beat him," Sebastian said. "I did OK in the lockdown cup and I play a lot but I was still surprised to win. I think it is going to be hard and close racing [in the regional finals]."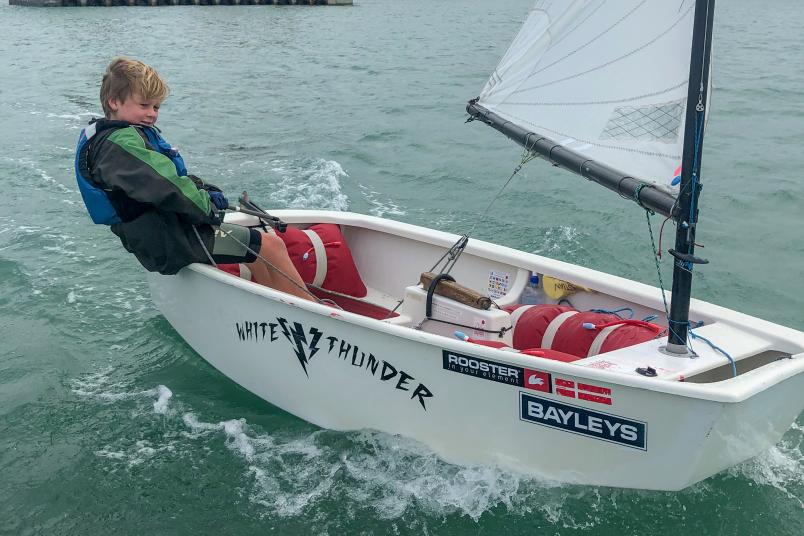 Sebastian, pictured, started sailing three years ago after watching Emirates Team New Zealand win the America's Cup in Bermuda and loves being out on the water - and in it when he capsizes. He won a green fleet trophy at the Napier Sailing Club last year and was second in the white fleet at this year's Interislander in Picton. 
He had planned to race in the open fleet at the Optimist national championships in Wellington but those plans were scuppered by Covid-19.
Salmon has enjoyed the community aspect of eSailing that has seen clubs and groups run their own competitions, but also the fact he can race against Olympians and America's Cup and SailGP sailors. 
It's also fertilised his interest in regular sailing and he plans on either buying a boat or crewing on a keelboat. After all, he only stumbled on eSailing when researching the rules of sailing as an interest in getting on the water took hold. 
Zhik New Zealand eSailing Challenge regional finalists
Northern region (north): Seb Menzies (Murrays Bay Sailing Club), Chris Salmon (Pupuke Boating Club), Jack Honey (Bay of Islands Yacht Club), Dave Ferris (Keriekeri Cruising Club), Mattias Coutts (Manly Sailing Club), Brayden Hamilton (Wakatere Boating Club)
Northern region (south): Logan Ross (Royal Akarana Yacht Club), Emil Rooseboom (Tauranga Yacht & Power Boat Club), Callum Ewing (Cambridge Yacht and Motor Boat Club), Leo Crawford (Waiheke Boating Club), Reg Sparrey (Richmond Yacht Club), Rowan Kensington (Kohimarama Yacht Club), Tom Pilkington (Royal New Zealand Yacht Squadron), Jack Frewin (Howick Sailing Club)
Central region: Josh Hayter (Lowry Bay Yacht Club), Scott Woodfield (Taupo Yacht Club), Will Pritt (New Plymouth Yacht Club), Simon Beck (Muritai Yacht Club), Andre Van Dam (Evans Bay Yacht & Motor Boat Club), James Bechener (Plimmerton Boating Club), Ryan Tait (Paremata Boating Club), Sebastian de Vos (Napier Sailing Club)
Southern region: Noah Malpot (Nelson Yacht Club), Graeme Rountree (Pleasant Point Yacht Club), Isaac Armstrong (Naval Point Club Lyttelton), Martin Langelaan (Tasman Bay Cruising Club), Andrew Colfelt (Lake Mahinapua Aquatic Club), Gardiner (Queen Charlotte Yacht Club), TBC (Wakatipu Yacht Club), TBC (Port Chalmers Yacht Club)