Sam Meech admits he found it strange having people to talk to during racing for a change but it certainly didn't hold him back from steering his team to the 2020 Theland NZ Open National Keelboat Championship title in Auckland over the weekend.
Meech and his Theland Racing Team of Alex Maloney, Brad Marsh, Matt Steven, Laurie Jury and Roy van der Hurk dominated the event, winning four races and finishing second in three others across two intense days of racing in the MRX keelboats on the Waitematā Harbour.
Harry Thurston and his team from the Akaroa Yacht Club in Christchurch finished second ahead of Sean Herbert (Royal New Zealand Yacht Squadron) on countback in the record 14-strong fleet.
It was Meech's first keelboat national title but the Laser sailor who won Olympic bronze in Rio in 2016 adapted quickly to the bigger boats.
"I'm used to talking to myself all the time out on the water, so it was really cool to have the crew there with me for the weekend," he said.
"A huge thank you to RNZYS for putting it on, Theland for sponsoring it, and all the race officials for running the racing. I would also like to give a big thank you to my crew.
"For me it's a completely different type of sailing, I haven't really sailed with a spinnaker before so that was a huge learning curve. I had to put a lot pressure on the team to make decisions and I just concentrated on steering the boat around the course, but I loved it and had a really good time."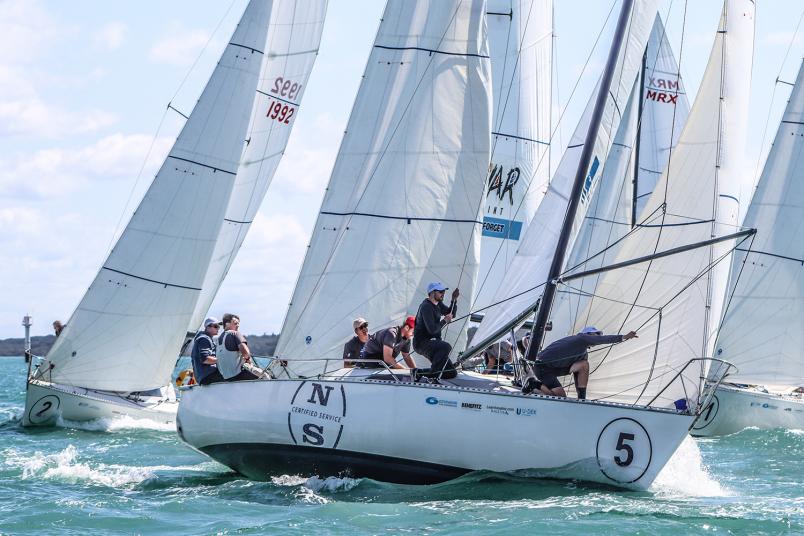 Pic: There was some tight racing across the fleet. Main pic: Sam Meech and his winning team. Photos: Andrew Delves / RNZYS.
With a record fourteen teams taking part this year, including top match racers Nick Egnot-Johnson and Jordan Stevenson, there was a plethora of talented teams from all over the country going toe-to-toe in what was a spectacular weekend of sailing. The weather gods turned it on, with two stunning days of sunshine blessing the race course.
Saturday saw some fairly light winds, but five races were completed by Colin Lucas and his experienced RNZYS race management team. 
The breeze came to party on Sunday, providing for some incredibly close racing right throughout the day.
"The Royal New Zealand Yacht Squadron would like to thank all of the sailors who were involved in making this the most successful Theland NZ Open Keelboat National Championship in history," a spokesperson said.
Final Standings from the Theland NZ Open Keelboat National Championship sailed at the Royal New Zealand Yacht Squadron:
1st: Sam Meech – Theland Racing Team
2nd: Harry Thurston – Akaroa Yacht Club
3rd: Sean Herbert – RNZYS
4th: Jordan Stevenson – RNZYS PP Vento Racing
5th: Rob Heilkema – Bay of Islands Yacht Club
6th: Nick Egnot-Johnson – RNZYS PP Knots Racing
7th: Matt Bouzaid – RNZYS
8th: Robbie McCutcheon – RNZYS Mastercard YTP
9th: Sally Garrett – RNZYS
10th: Niall Malone – RNZYS PP / Royal Irish Yacht Club
11th: Peron Pearse – RNZYS Clockwork Racing
12th: Megan Thomson – RNZYS PP 2.0 Racing
13th: Daniel Bain – Bluff Yacht Club
14th: Peter Sumich RNZYS