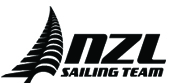 Men's One Person Dinghy- Laser
For Sam Meech Rio 2016 was his first Olympic Games appearance.
Recent highlights for Meech in his bid to secure the coveted Laser selection include a silver medal at Sailing World Cup Hyeres in April and a bronze medal at Sailing World Cup Miami in January.
The 25 year-old hails from the Tauranga Yacht & Powerboat Club and spent a good part of his childhood cruising internationally on the family keelboat.
Sam's younger sister Molly also represented New Zealand at Rio 2016 sailing in the 49erFX women's skiff event together with Alexandra Maloney.
Mark Howard is coach to the NZL Sailing Team Laser squad. 
Career highlights:
2016 Rio Olympic Games - Bronze
2016 Sailing World Cup Hyeres - 2nd 
2016 Sailing World Cup Miami - 3rd 
2015 Laser World Championships - 7th 
2014 Laser World Championship - 9th 
2014 Olympic Test Event, Rio - 9th 
2014 Delta Lloyd Regatta - 1st 
2013 ISAF Sailing World Cup Palma – 3rd

NZL Sailing Team with ETNZ - Red Bull Youth America's Cup Champions

2013 Laser World Championships - 13th 

2013 Sail for Gold Regatta - 1st 

2013 Delta Lloyd Regatta - 5th

2013 Laser Europa Cup - 1st

2012 Sail Sydney Regatta - 1st