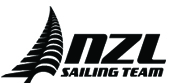 At the helm of New Zealand's 49er skiff crew is Peter Burling who will sailed in his third Olympic Games in 2016.
In 2008 Peter became New Zealand's youngest ever Olympic sailor when he finished 11th in Qingdao, China in the Men's 470 class at just 17 years of age. 
Subsequently pairing with his current sailing partner Blair Tuke, and switching to the 49er skiff, Peter won Olympic silver for New Zealand at London 2012. It was New Zealand's 100th Olympic medal.
Since then Peter and Blair have amassed an incredible run of victories in the 49er class including four consecutive World Championship titles in 2013, 2014, 2015 and 2016. The pair is coached by Hamish Willcox
Peter, who hails from the Tauranga Yacht and Powerboat Club, combines Olympic campaigning with his responsibilities as a key member of Emirates Team New Zealand America's Cup campaign.
Peter and Blair are coached by Hamish Willcox
Career Highlights
2016 Rio Olympic Games - Gold
2016 Kieler Woche - 1st
2016 Sailing World Cup Hyeres - 1st
2016 49er & 49erFX European Champion

2016 49er World Champion

2015 49er World Champion

2015 49er South American Championships - 1st 

2015 Olympic Test Event Rio - 1st 

2015 49er European Championships - 1st 

2015 ISAF Sailing World Cup Weymouth - 1st

2015 ISAF Sailing World Cup Hyeres - 1st

2015 Princess Sofia Regatta - 1st 
2015 International Moth World Champion
2014 49er World Champions
2014 Olympic Test Event, Rio - 1st 
2014 49er European Champions
2014 ISAF Sailing World Cup Hyeres - 1st 
2014 ISAF Sailing World Cup Palma - 1st 
2013 New Zealand Sailor of the Year
2013 49er World Champion
Red Bull Youth America's Cup Champions (2013 San Francisco)
2013 49er European Champion
2012 Olympic Silver Medal London Games
2012 49er World Championships – 2nd
2011 ISAF Sailing World Championships – 2nd
2011 Sail Melbourne – 3rd
2011 Weymouth and Portland Pre-Olympics- 3rd
2011 Delta Lloyd Regatta- 3rd
2010 Sail Melbourne 2nd
2010 Delta Lloyd Regatta – 2nd
2010- North American 49er Champions
2008 Beijing Olympic Games 470 Class – 11th
2007 420 World Champion
2006 420 World Champion
Teammate