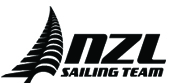 Men's Two Person Dinghy- 470
Date of birth:
Monday, September 3, 1990
Paul was the silver medallist at both the 2004 Optimist World Championships and the 2007 ISAF Youth Worlds in the 29er Class. He represented New Zealand in the 470 class for London 2012 finishing fifth sailing with Jason Saunders.
For his Rio 2016 campaign Snow-Hansen paired with long-time friend and competitor Daniel Willcox.  
He is at the helm of New Zealand's Men's 470 double-handed dinghy and sailed in the Rio 2016 Olympic Games with Daniel Willcox.
This was Snow-Hansen's second Olympic Games having sailed at the London 2012 Olympic Games in the same discipline. There, he sailed with Jason Saunders as crew, finishing 5th overall.
Snow-Hansen is from Auckland and grew up sailing at the Wakatere Boating Club at Narrowneck Beach on the North Shore, making his mark when he placed 2nd at the 2004 Optimist World Championships.
Snow-Hansen and Willcox achieved a career best performance at the 2016 Men's 470 World Championships held in Argentina in February with a silver medal. 
Career Highlights:
2016 Rio Olympic Games - 10th
2016 Sailing World Cup Hyeres - 6th
2016 Men's 470 World Championships - 2nd 
2014 Men's 470 World Championship - 12th 
2014 Olympic Test Event, Rio - 3rd 
2013 Men's 470 World Championships - 7th 
2013 ISAF Sailing World Cup Qingdao - 3rd 
2013 Open 470 European Championships - 8th 
2013 Delta Lloyd Regatta - 2nd 
2013 International 470 Spring Cup - 3rd 
2013 ISAF Sailing World Cup Hyeres - 8th 
2013 470 National Champions
2013 ISAF World Ranked #3
2012 London Olympic Games - 5th 
2012 Skandia Sail for Gold – 3rd

2012 Delta Lloyd Regatta – 2

nd

2011 ISAF Sailing World Championships – 8th 

2012 International 470 Spring Cup- 1st

2011 Sail Melbourne- 6

th

2011 Skandia Sail for Gold- 10

th

2011 International 470 Spring Cup- 2

nd

2008 ISAF Youth World Championship 29er- 4

th

2007 ISAF Youth World Championships 29er– 2

nd

2004 Optimist World Championships – 2

nd