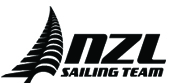 Date of birth:
Wednesday, March 31, 1993
Molly Meech is the tall, powerhouse on board New Zealand's 49erFX women's skiff crew to go to Rio 2016. It was Molly's (and sailing partner Alex's) first Olympic Games.
Molly comes from a sailing family and spent much of her childhood on the family cruising yacht going on to take up competitive sailing at the Tauranga Yacht & Powerboat Club following in the footsteps of her older brother Sam, who is an NZL Sailing Team Laser campaigner.
Sailing in the single-handed Laser Radial during her youth years Molly represented New Zealand at the World Sailing Youth Championships twice. When the 49erFX skiff was announced as an Olympic event in 2013 Alex and Molly quickly launched their Olympic campaign and went on to win the inaugural 49erFX World Championship crown that year.
49erFX Coach, Jim Maloney supports Molly and Alex. 
Career highlights:
2016 Rio Olympic Games - Silver
2016 Sailing World Cup Weymouth & Portland - 2nd
2016 Sailing World Cup Hyeres - 9th
2016 49er & 49erFX European Championship, Barcelona - 5th
2016 49er & 49erFX World Championship, Clearwater - 8th
2016 World Sailing Cup Miami Champions
2015 Olympic Test Event - 4th 
2015 World Sailing Cup Weymouth - Silver 
2014 Olympic Test Event, Rio - Silver
2014 49erFX European Championship - Bronze
2013 49erFX World Champion
2013 49erFX European Championship - Bronze
2013 ISAF Sailing World Cup Hyeres 49erFX Champion
2011 ISAF Youth World Sailing Championships, Laser Radial - 12th 
Team mate: Alexandra Maloney