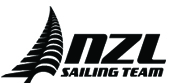 Women's Two Person Dinghy - 470
Rio 2016 was Jo Aleh's third Olympic Games for New Zealand.
In 2008 she sailed in the single-handed Laser Radial class placing 7th overall, later moving to double-handed sailing and pairing with Polly Powrie (in 2009) in the women's 470 discipline.
Together Jo and Polly, known as Team Jolly, won Olympic gold at London 2012 and followed that up with silver at the 2016 Rio Olympics.
Together they won five world championship medals in the women's 470 class, including a silver at the 2016 470 world championships in February in Argentina.
Jo Aleh grew up in west Auckland, convincing her non-sailing parents that she wanted to take up the sport after watching Team New Zealand win the America's Cup. She represents the Royal New Zealand Yacht Squadron.
Aleh and Powrie were coached by Nathan Handley. 
Aleh is taking a year out from the 470 following her success with Powrie at the Rio Olympics and hopes to race in the 2017/18 Volvo Ocean Race, which starts in October. She will be on the lookout for a new crew to put a campaign together for the 2020 Tokyo Olympics after Powrie's retirement from Olympic sailing at the end of 2016.
Career Highlights:
2016 Rio Olympic Games - Silver
2016 Women's 470 World Championships - 2nd 
2015 Olympic Test Event Rio - 3rd 
2015 Women's 470 European Championship - 1st 
2015 ISAF Sailing World Cup Hyeres - 2nd 
2015 Princess Sofia Regatta - 1st 
2014 Women's 470 World Championship - 2nd 
2014 Olympic Test Event, Rio - 1st
2014 Women's 470 Open European Championship - 3rd 

2014 ISAF Sailing World Cup Hyeres - 1st 

2014 ISAF Sailing World Cup Palma - 1st 

2013 ISAF Rolex World Female Sailor of the Year

2013 Women's 470 World Champions

2013 Women's European Championship - 2nd 

2012 London Olympic Games - Gold

2012 Skandia Sail for Gold- 1st

2012 470 World Championships- 4th

2012 International 470 Spring Cup – 1st

2011 ISAF Sailing World Championships – 3rd
2011 Weymouth and Portland pre-Olympics- 4th
2011 Skandia Sail for Gold- 1st
2011 Trofeo SAR Princess Sofia- 1st
2010 Women's 470 World Championship – 2nd
2010 Sail Melbourne – 1st
2009 Skandia Sail for Gold – 2nd
2009 Sail Melbourne– 1st
2008 ISAF Ranked #1 Laser Radial [February] 
2008 Olympic Games Laser Radial- 7th
2004 ISAF Youth Worlds (radial) – 2nd