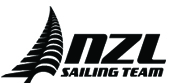 Mixed Multihull - Nacra 17
Gemma Jones, from the Murrays Bay Sailing Club, sailed at Rio 2016 with Jason Saunders in the mixed multihull event (Nacra 17), which was one of two events never seen before at the Olympic Games. Rio was her first Olympic Games.
Jones and Saunders paired up for a Nacra 17 campaign after its inclusion in the Olympic Games was announced back in 2013, and are one of the younger crews competing in this exciting class which features fast and furious racing, and has attracted some experienced and accomplished international sailors.
The young kiwis haven't let that intimidate them however and in 2015 they achieved some impressive results with a 4th place at the 2015 Nacra World Championships and a 5th place at the 2015 Olympic Test Event in Rio.
Career highlights:
2016 Rio Olympic Games - 4th

2016 Sailing World Cup Weymouth & Portland - 11th

2016 Sailing World Cup Hyeres - 11th

2016 Nacra17 World Championship, Clearwater - 14th

2015 Olympic Test Event Rio - 5th 

2015 Nacra World Championships - 4th 

2014 Nacra 17 World Championship - 5th 

2014 Olympic Test Event, Rio - 6th 

2013 9th Olympic Class Nacra 17 World Championships

2013 6th Kiel week - Nacra 17

2013 4th Garda Olympic week - Nacra 17

2012 1st Youth Hobie Nationals and 2nd overall - Selected to represent NZ at IYRU Youth Worlds in SL16 catamaran

2011 1st 420 W NZ Nationals and 2nd overall - Selected to represent NZ at IYRU Youth Worlds in 420
Team mate: Jason Saunders