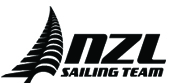 Alexandra (Alex) Maloney will be at the helm of New Zealand's 49erFX women's skiff when the class makes its Olympic debut in Rio 2016. It will also be the first Olympic Games for Alex, and her sailing partner Molly Meech.
A representative of the Murrays Bay Sailing Club Alex has sailed all her life, growing up on the family cruising boat, going on to prove herself as a talented competitive sailor with a 3rd overall at the 2007 Optimist World Championships with more medals in the youth class 420 and 29er boats.
When the 49erFX skiff was announced as an Olympic event in 2013 Alex and Molly quickly launched their Olympic campaign and went on to win the inaugural 49erFX World Championship crown that year.
They are supported by accomplished sailing coach Jim Maloney, Alex's father. Alex's brother Andy is an accomplished Laser sailor and member of the NZL Sailing Team. 
Career highlights:
2016 Rio Olympic Games - Silver
2016 Sailing World Cup Weymouth & Portland - 2nd
2016 Sailing World Cup Hyeres - 9th
2016 49er & 49erFX European Championship, Barcelona - 5th
2016 49er & 49erFX World Championship, Clearwater - 8th
2

016 World Sailing Cup Miami Champions

2015 Olympic Test Event - 4th 

2015 World Sailing Cup Weymouth - Silver 

2014 Olympic Test Event, Rio - Silver
2014 49erFX European Championship - bronze
2013 49erFX World Champion
2013 49erFX European Championship - bronze
2013 ISAF Sailing World Cup Hyeres - 49erFX champion
2010 ISAF Sailing Youth World Championships, 29er class - silver 
2009 Ladies 420 World Champion
2007 IODA Optimist world Championship - 3rd 
Team-mate: Molly Meech