Jason and Gemma Jones and have some unfinished business after narrowly missing out on a medal in the Nacra at the 2016 Rio Olympics. It was the first time the class had appeared at the Games but it's already undergone a change, with the class joining the foiling revolution for Tokyo 2020. They've had some good success, finishing fourth at last year's Nacra world championships and taking out the 2018 Oceanbridge NZL Sailing Regatta.
Gemma and Jason teamed up in the Nacra 17 after its inclusion in the Olympic Games was announced in 2013. They were fourth at the 2015 Nacra world championships and fifth at the 2015 Olympic Test Event in Rio.
Jason also went to the 2010 London Olympics, where he finished fifth in the men's 470 with Paul Snow-Hansen, and was part of the NZL Sailing Team who won the 2013 Red Bull Youth America's Cup in San Francisco.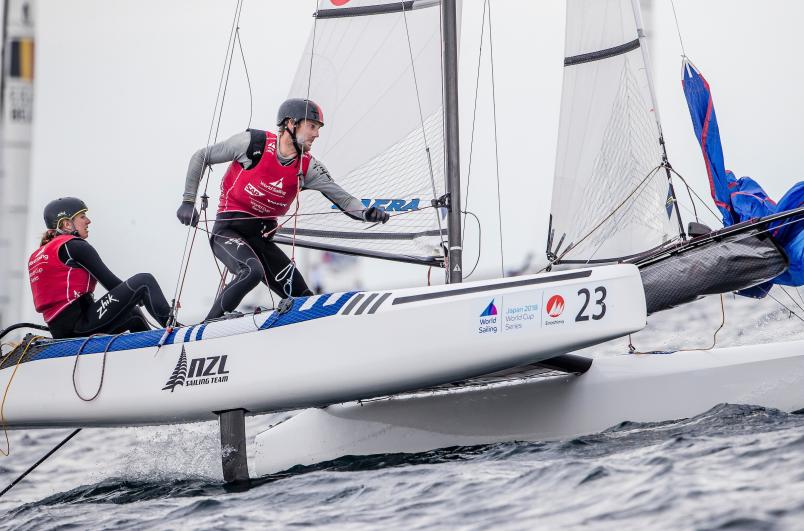 Career Highlights:
2019 World Cup Series Final Marseille - 9th

2019 Nacra 17 European Championships - 7th

2019 World Cup Series Genoa - 7th

2019 Princess Sofia Regatta - 5th

2019 Oceanbridge NZL Sailing Regatta - 1st

2018 Medemblik Regatta - 2nd

2018 Oceanbridge NZL Sailing Regatta - 1st

2017 Nacra world championships - 4th

2016 Rio Olympic Games - 4th

2016 Sailing World Cup Weymouth & Portland - 11th

2016 Sailing World Cup Hyeres - 11th

2016 Nacra17 World Championships, Clearwater - 14th

2015 Olympic Test Event Rio - 5th

2015 Nacra 17 World Championships - 4th

2014 Nacra 17 World Championship - 5th

2014 Olympic Test Event, Rio - 6th

2013 NZL Sailing Team with ETNZ - Red Bull Youth America's Cup champions

2013 Nacra17 World Championship - 9th

London 2012 Olympic Games, men's 470 - 5th

2012 Sail for Gold Regatta - 3rd

2012 French Spring Cup Regatta - 1st