Blair Tuke is one half of New Zealand's highly successful 49er combination and has achieved a considerable amount in his sailing career.
Together with Peter Burling, the pair dominated the 49er scene, winning virtually every regatta between the 2012 London Olympics and their gold medal triumph at the 2016 Rio Olympics - they won by a mammoth 43 points, the biggest winning margin in any Olympics regatta since the modern scoring system was introduced in 1968.
On top of that, they also won four consecutive 49er world championship titles (2013, 2014, 2015 and 2016) as well as silver at the London Olympics, which was New Zealand's 100th medal.
Blair became a key member of Emirates Team New Zealand's victory at the 2017 America's Cup in Bermuda and he's now chasing a unique feat - he's aiming to become the first person to win Olympic gold, the America's Cup and the Volvo Ocean Race and, if he achieves it, could do it within the space of two years.
Blair is a proud Northland local who represents the Kerikeri Cruising Club and returns home to enjoy recreational spear fishing when time allows.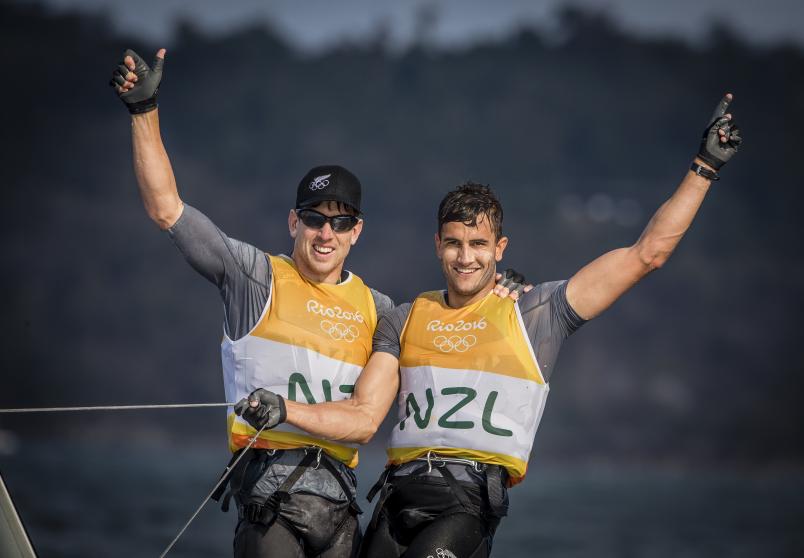 Career Highlights:
2019 49er European Championships - 1st

2019 World Cup Series Genoa - 3rd

2019 Princess Sofia Regatta - 7th

2019 Oceanbridge NZL Sailing Regatta - 1st

2017/18 Volvo Ocean Race - 2nd

2017 America's Cup winner

2016 Rio Olympic Games - 1st

2016 Kieler Woche - 1st

2016 Sailing World Cup Hyeres - 1st

2016 49er & 49erFX European Championships - 1st

2016 49er World Championships - 1st

2015 49er World Championships - 1st

2015 49er South American Championships - 1st 

2015 Olympic Test Event Rio - 1st 

2015 49er European Championships - 1st 

 2015 ISAF Sailing World Cup Weymouth - 1st

2015 ISAF Sailing World Cup Hyeres - 1st

2015 Princess Sofia Regatta - 1st 

2015 International Moth World Championhips - 1st

2014 49er World Championships - 1st

2014 Olympic Test Event, Rio - 1st 

2014 49er European Championships - 1st

2014 ISAF Sailing World Cup Hyeres - 1st 

2014 ISAF Sailing World Cup Palma - 1st 

2013 New Zealand Sailor of the Year

2013 49er World Championships - 1st

2013 Red Bull Youth America's Cup champion 

2013 49er European Championships - 1st

2012 London Olympics - 2nd

2012 49er World Championships – 2nd

2011 ISAF Sailing World Championships – 2nd

2011 Sail Melbourne – 3rd 

2011 Weymouth and Portland Pre-Olympics - 3rd

2011 Delta Lloyd Regatta - 3rd

2010 Sail Melbourne - 2nd

2010 Delta Lloyd Regatta – 2nd

2010 North American 49er Championships - 1st

2009 29er World Championhips - 1st
2007 ISAF Youth World Championships 29er – 2nd
2006 Splash World Championships - 1st