On one side is the Chelsea sugar factory, on the other the Auckland Harbour Bridge.
The Northcote Birkenhead Yacht Club is not nearly as prominent as these two major landmarks but it has been an important part of the Northcote and Birkenhead communities for the last century.
One of the biggest contributions they have made is through their learn to sail programmes but they have had to diversify in more recent times and that has brought both rewards and challenges.
The club raised close to $1.5 million to build new clubrooms and it is widely used by community groups from waka ama and rotary to real estate agents and Waterwise.
The club had been in a bad state – the building purchased from the wharves about 30 years previously had reached the end of its life - and they were virtually on the edge of folding with dwindling membership of less than 20.
They identified the need to arrest this and the work done by some on the previous committee was recognised when club stalwarts Graham Thow and Des Rouse received service awards at the 2016 Volvo Yachting Excellence Awards.
On top of that, the club also recognised the need to be more than a learn-to-sail club and raised about $75,000 to purchase a handful of new boats including a fleet of RS Fevas and RS Quests in an effort to recruit and retain members.
These were seen as ideal boats to help transition youngsters into bigger boats, especially as it allowed them to have an older sailor alongside them. It's also meant they've had as many adults through their learn to sail programme as children.
"The club was always strong in learn to sail so there were always kids coming through but membership was quite low and there wasn't really a racing programme because most of the effort was going into the clubrooms," commodore Chris Bowman said.
"We bought some new boats and that's made a huge difference to the club. It's rejuvenated the sailing programme and membership so we seem to be achieving our objectives on that front."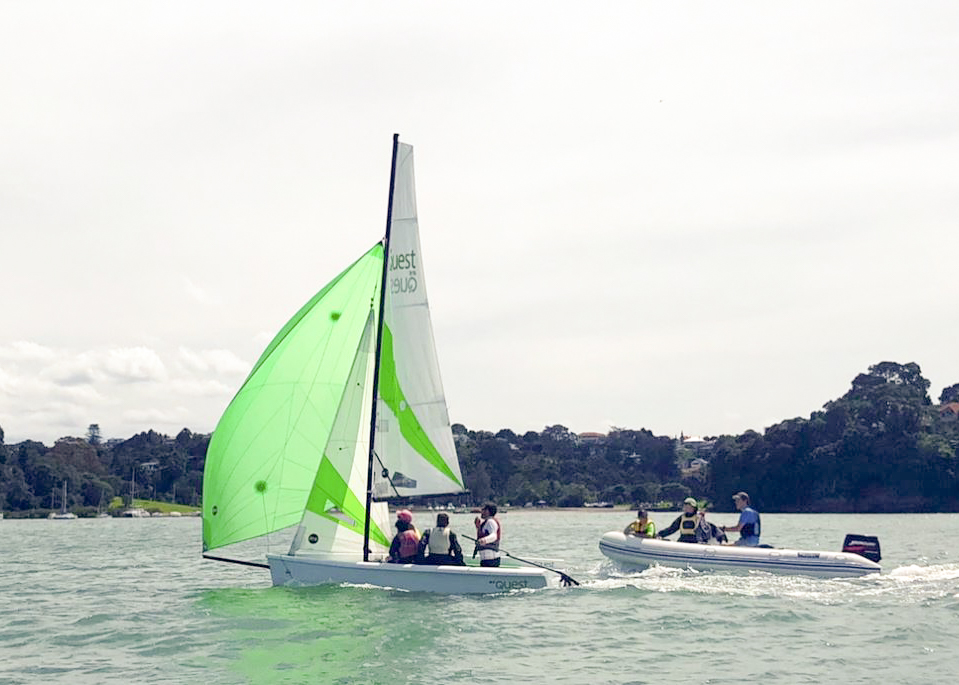 The club have also built a new website and recruited some new committee members to help keep things fresh and they received another boost by hosting this year's Feva national championships, the first major regatta they had hosted since the 2011 Secondary Schools teams racing national championships.
More than 30 crews from as far afield as Wanganui competed, although the second day was lost due to a lack of wind, and it has encouraged the club to look into hosting more big events in the future.
"It was a really good event for us to do," Bowman said. "A lot of the club members stepped up to help, from food and race management to rubbish and traffic so it helped bring everyone together.
"We had some really positive feedback and the event was a great success, apart from no wind on the Sunday and we can't do much about that. It would be good for NBYC to do more regattas in the future. The issue for us was the cost of it, particularly the cost to block off the road to traffic so we would look into whether we would have to do that in the future."
The balance sheet, as it is for most clubs, is a constant consideration, and the Northcote Birkenhead Yacht Club rely heavily on income generated from hiring out the clubrooms.
"Because our new clubrooms are so well designed and appointed over the harbour, the venue-hire aspect of the club plays a very large part in keeping us afloat financially," Bowman said. "The clubrooms are booked out most weekends, and this revenue is absolutely vital to the club remaining in business.
"There are challenges that go with running a yacht club and, although it is an ongoing job, it is great to be an active participant in our local community and we are looking forward to increasing our membership over the coming years." 
It will help them remain a part of the landscape for another 100 years.