The OKI 24-race has thrown up a host of storylines over the years and last weekend's race was no exception.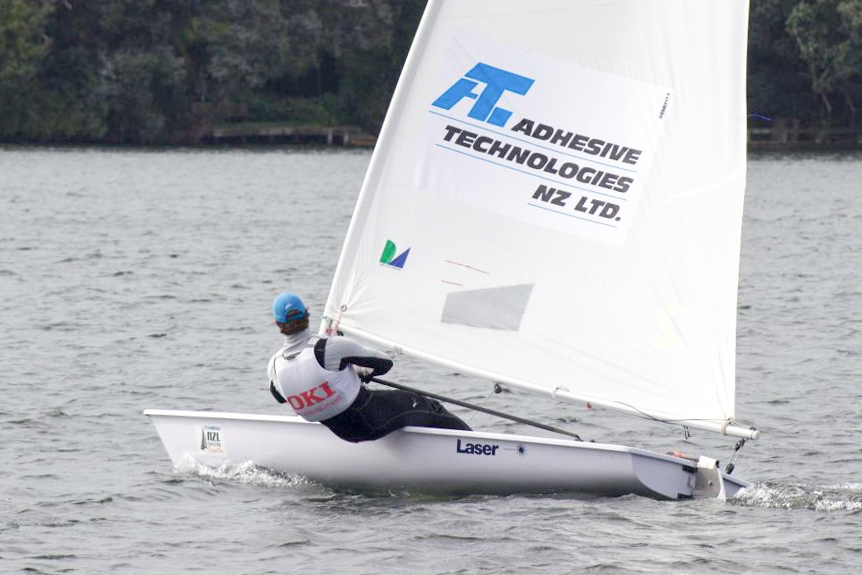 The masters team of Scott Leith, Dean Drummond and Rohan Lord took line honours, rounding Lake Pupuke 88 times, but they were ineligible for the overall title which is open to only pairs or solo sailors.
That meant Matthew Kempkers and Alastair Gifford, who also managed 88 laps, were crowned champions and had their names added to an honours board that contains some well-known individuals including Dean Barker, Peter Lester, Sam Meech, Tom Slingsby, Chris Dickson, Blair Tuke and Tom Saunders.
"This was an unusual finish for us because the first team weren't actually the winners, which has never happened before," said commodore Jane Pilkington of the Murrays Bay Sailing Club who run the regatta. "Masters aren't eligible to win the OKI because they are three-up. The OKi is an endurance event so it's a huge advantage to have three sailors."
Kempkers admitted it would have felt sweeter if they had also taken line honours and acknowledged how well the masters team sailed.
"But it's pretty cool to have won it," he said. "It's a nice-looking trophy and there are some big names who have won in the past. It's great to be in there with them."
The timing of the event meant the likes of two-time defending champion Tom Saunders and Olympic bronze medallist Sam Meech were missing, with the pair heading to Sydney for a training block with the top Australian Laser sailors before they started the European season.
Kempkers is also heading to Europe this year to test himself against the world's best but was looking forward to some sleep and rest first.
Sleep was hard to come by during the 24-hour race, even though Kempkers and Gifford had a tent and an airbed set up. They started off taking two-hour shifts in the blustery conditions but pushed them out to three hours through the night.  
"I didn't get a lot of sleep because I was worried the vang was going to break and that I would sleep through the alarm," Kempkers said. "Luckily it was only 24 hours and not the three weeks the Volvo Ocean Race sailors have to put up with."
Sleep was non-existent for Jackson Keon who took out the solo race. Incredibly, Keon finished only three laps behind the overall winners and fifth overall. He was pushed all the way by Connor Corgard and the pair were often only a couple of boat lengths apart as they sailed through the night.
Harrison Baker and Jayden Abbott narrowly won the youth section ahead of Lachie Stewart and Luke Cashmore with the two combinations managing 86 laps which saw them finish third and fourth overall respectively. Elly Warren and Samantha Stock, who will represent New Zealand at July's Youth Sailing World Championships in the US, were the first female crew and 10th overall with 84 laps.
The event was notable for a couple of other features, including the first sub-youth team of Amelie Black, Daniel Bull, Georgia Livingstone and Luke Tilsey to complete the full 24 hours (the other teams in that category had a curfew between 8pm and 8am) and the OKI 6-hour race had a record fleet of more than 70 entrants.
Mason Mulcahy and George Lee Rush won the open fleet and Leo Brown, Logan Ross and Kelly Su took out the green fleet.
Dan Slater won the one-hour legends race ahead of Susannah Pyatt and Phil Wild.
Results from the OKI 24 race at Lake Pupuke last weekend:
Open
1st: Alastair Gifford / Matthew Kempkers (Adhesive Technologies) - 88 laps
2nd: Andy Child / James Sheldon (National Mini Storage) - 85 
3rd: James Graham / Kirk Vosper (Lautrec) - 84
Masters
1st: Dean Drummond / Rohan Lord / Scott Leith (The Water Shed) - 88 laps
2nd: Ken Atchison / Scott McDougall / Wener Hennig (Harken) - 85
3rd: Arthur Ferguson / Ian Wallace / Marco Canegallo (NSA Tax) - 83
Solo
Jackson Keon (Hall & Parsons) - 85 laps
2nd: Connor Corgard (Allied Fastenings) - 84
3rd: Radostin (Burnsco) 17
Youth
1st: Harrison Baker / Jayden Abbott (Bretts Marine) - 86 laps
2nd: Lachie Stewart / Luke Cashmore (Mackay Boats) - 86
3rd: Elly Warren / Samantha Stock (GT Marine) - 84
Sub-Youth
1st: Amelie Black / Daniel Bull / Georgia Livingstone / Luke Tilsey (MATRIXX Software) - 77 laps
2nd: Campbell Stanton / George Pilkington / Greta Pilkington / Tom Pilkington (Benefitz) - 45
3rd: Mason Mulcahy / Seb Menzies / Thomas Mulcahy (Mulcahy Engineering) - 42
Legends race
1st: Dan Slater (Tanglin Consultants)
2nd: Susannah Pyatt (Scholarship NZ)
3rd: Phil Wild (Giltrap North Shore)
OKI 6-hour race
Open fleet: Mason Mulcahy / George Lee Rush (Wakatere Boating Club)
Green fleet: Leo Brown / Logan Ross / Kelly Su (Royal Akarana Yacht Club)